 Programme Overview
Degree: Bachelor of Arts (Honours) in Accounting and Finance (Awarded by Staffordshire University)
Duration: 3 years (Full-time)
Location: BUV Campus, Ecopark, Hanoi
Timetable: Student's timetable will be sent to BUV student's emails prior to the commencement date of each semester

Following British education system

Practical approach with work-based project

Covers both financial and managerial aspects of accounting

CFAB certificate once graduated
Career Opportunities: The Accounting and Finance programme will give you the skills to succeed in careers including Accountant, Auditor, Financial Analyst, Tax Advisor, and Financial Planner.
Essential Business Know-how: Accounting information is the language of business, and you will get a very thorough grounding in all the key areas of accounting, taxation, financial accounting, auditing, and corporate governance. Account and Finance presents an opportunity for everyone who wants to make a professional difference: fintech, cryptocurrencies, ethics, organisational decision-making, among many more.
Professional Certification: Completion of the degree also exempts you from certain exams in a professional accounting designation, providing you a head-start on your career.
Internationally Recognised Programme: BUV also has exchange programmes with leading UK universities, all at the cutting edge of finance.

Course structure

Year 1

Year 1
Introduction to Financial Accounting
Economics for Managers
Management Accounting
The Professional Toolkit
Ethics and Governance
Law for Managers

Year 2

Year 2
Financial Reporting
Business Creation and Innovation
Advanced Professional Toolkit
Advanced Management Accounting
Computerised Accounting
Work Placement Project
You will learn how to record accounting entries, record entries to t-accounts, prepare trial balance, prepare statement of financial positions and Profit and Loss statements.
You will learn how to apply accounting standards, theoretical frameworks and principles to a range of financial statements including a statement of financial position and a statement of cash flow, which conforms with international accounting standards. You will also explore the application of financial statements interpretation, group accounts preparation through case studies.
You will examine the development of financial strategy within an organisation. The starting point is the main financial objective of a company, which is to maximise shareholder wealth. We look at various financial and non-financial strategies to achieve this objective and ensure organisation goal congruence through effective decision making.

Programme outcomes
Knowledge & Understanding
Demonstrate a systematic knowledge, understanding and enhanced technical abilities of key aspects of Accounting and Finance. including the acquisition of coherent and detailed knowledge, at least some of which is at or informed by the forefront of defined aspects of Accounting and/or Finance. (QAA Bench Mark 6.2, 6.3, 6.4, 6.5, 6.6, 6.7, 6.8)
Scroll


Employability
Apart from Staffordshire University's internationally recognised degree, graduates in Accounting and Finance will also gain professional accounting qualifications while still in university such as:
ICAEW CFAB (the Institute of Chartered Accountants in England and Wales' Certificate in Finance, Accounting and Business)
ACCA (the Association of Chartered Certified Accountants)
CIMA (the Chartered Institute of Management Accountants)
CIPFA (the Chartered Institute of Public Finance and Accountancy)
Our graduates are more than ready to take on various opportunities in business-related and management roles in areas such as:
Financial services
Banking
Taxation
Insurance
Public sector

Admission requirements
Academic Requirements
Aged 17 or over. One of the following qualifications:
Vietnamese High School Diploma and Pathway to Staffordshire University Programme

Pass 2 subjects at Advanced GCE (A-Level)

An access programme passed at the required QAA-recognised standard for entry to Higher Education

An award of the European Baccalaureate Diploma, with at least 60 percent overall; English at 60 percent

An award of the International Baccalaureate Diploma with a minimum of 24 points; English at 4 points
English Language Requirements
One of the following:
A proficiency test within the last 2 years:

IELTS (non UKVI): 6.0 overall with a minimum of 5.5 in each component; or

TOEFL IBT: Listening: 17; Speaking: 20; Reading: 18; Writing: 17

A proficiency test within the last 5 years:

International Baccalaureate (taught in English) Pass in English B at Standard Level grade 5 or High Level grade 4; or

IGCSE English: IGCSE English as a first or second language: Grade C; or

Cambridge International English GCE O-Level/GCSE: English Language grade A – C
If you have not met one of the above requirements you need to complete IELTS Upper-Intermediate Course at BUV or equivalent.
You don't need to provide evidence of English language proficiency if any of the following conditions apply: If you're a UK national; If you've completed a full degree from a UK university.
*In case applicants would like to be considered for recognition of prior learning, interviews might be required (if applicable)

What do our students say?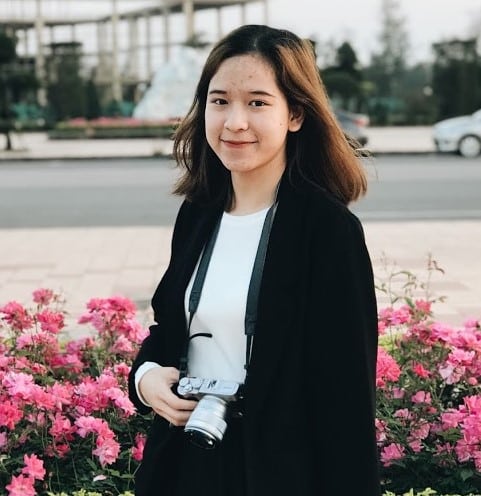 Nguyen Binh Mai Suong
2010 Accounting & Finance Cohort
Accounting & Finance is "the one" because I possess some characteristics that would benefit me in this field. I see myself as an organised and detail-oriented person (sometimes kind of a perfectionist). My interest in analysing and exploring the underlying reasons for financial trends also led me to pursue this major. I set a goal of studying at an international university since I was in high school and BUV was one of my top choices. The two main reasons were the opportunity to get an internship from the 1st year (I'm lucky to have my first internship in Y1S1) and a British degree right in Vietnam.
Internship opportunities provide us with hands-on experience to familiarise ourselves with the industry and map our career path. I'm grateful because BUV usually holds a lot of workshops and extra classes for us to learn new skills such as Microsoft Office and Digital Marketing, hence gaining a competitive edge when applying for a job.

Programme pass rate
The pass rate for Accounting and Finance programme in 2022 is 96.91%.

Fees & financial aid
Fees
For the course starting on 1st January 2024 the tuition fees are:
| | | | |
| --- | --- | --- | --- |
| | Tuition Fee | Other Fees* | Total Fee |
| Pathway Programme | VND 83,840,000 | VND 14,690,000 | VND 98,530,000 |
| Degree | VND 687,780,000 | VND 171,978,000 | VND 859,758,000 |
Scroll

*Other Fees include Educational Resource Fee and Student Affairs Fee
Tuition Fee & Fee Policy

Financial aid
The British University Vietnam (BUV) scholarship fund was established in 2018 with the goal of giving students the opportunity to study UK undergraduate and graduate programmes in an international learning environment. With an aim to improve and increase accessibility to high-quality education, BUV has officially launched the fund valued at 87 billion VND in 2023 with hundreds of scholarships and financial aid made available.
You can visit our Scholarship page to find out more and check your eligibility.