 PROGRAMME OVERVIEW
The Personal & Social Growth (PSG) Programme for undergraduate students is one of three key drivers of British University Vietnam (BUV), along with the accredited British and international higher education degrees and training programmes in Vietnam, as well as a 5-star university campus with state-of-the-art learning spaces and excellent support services.
Upon successful completion of the PSG programme, students will be awarded a detailed PSG transcript that documents their prizes, projects, activities, and PSG credit points accumulated throughout their time at BUV. The PSG transcript is a competitive advantage for students to confidently step into the real world.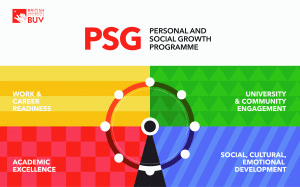 Important information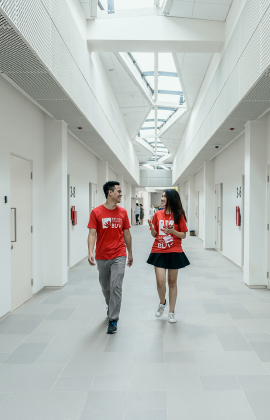 O
f
f
e
r
i
n
g
s
Actualising its missions, the PSG Programme offers students unlimited opportunities to join a wide range of meaningful, practical and creative activities outside the classroom in diverse areas. These activities are catered to the diverse interests, aspirations, career paths, and personal development plans of students, and are connected to British University Vietnam (BUV)'s missions and core values, graduate attributes as well as the needs of society in an ever-changing world.
PSG offerings are categorised into four main quadrants and 16 categories, supported by big interdisciplinary projects. The main four quadrants are:   
Work & Career Readiness
University & Community Engagement
Social, Cultural, Emotional Development
Academic Excellence
Throughout the journey at BUV, students will be provided with detailed information and guidance, as well as dedicated support from different departments to design a personalised development plan and adjust the plan regularly depending on each student's unique needs and aspirations.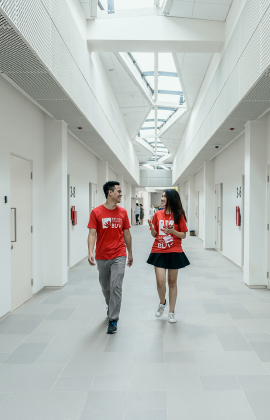 O
u
t
c
o
m
e
s
The PSG programme is a unique initiative exclusively for undergraduate students at British University Vietnam (BUV), which is designed with a mission to develop a young generation who:
Are well-rounded and adept in a wide range of personal, career, social, and academic aspects, which prepare them for future success
Are highly employable graduates with interdisciplinary knowledge, skills and experience, as well as a positive attitude and work ethics
Are innovative, imaginative, and respectfully confident with the ability to pioneer, lead themselves and others to empower positive changes on a local and global scale
Are socially and culturally inclusive with an understanding of their own values and a willingness to embrace different perspectives
Have excellent skills to study academic programmes effectively and are committed to continuous learning & development to explore and create new knowledge
Are representative of BUV's missions and core values: kindness and respect, collaboration and innovation, sustainability and responsibilities, learning and relearning