 BUV Daily
Lecturer at BUV shares about potential development and career opportunities of Computer Game Design and Programming at the event Level Up 2021
Jun 03, 2021

08:23:38
"Level Up 2021" held on 6th June 2021 wishes to convey the message "Conquer games – Conquer life – From gamers to conquerors". Its purpose is not only to connect young people who enjoy playing games, but also to provide useful and up-to-date information about the development of the Game industry in Vietnam and all around the world, as well as the implications and practical application of the industry, thereby helping students identify their real passions and be well-oriented in the future.
The event is organized by Level Up – a non-profit project founded in April 2020, by high school students in Hanoi, to learn and discover new aspects of Game.
During the event, students will have the opportunity to meet speakers such as Mr. David Holloway – Lecturer in Computer Games Design and Programming (CGDP) at BUV, who has many years of experience in teaching Game programming at various universities in the UK, as well as experts in the field of technology and game product development: Mr. Hung Vu – Founder and Gamification consultant at Ludo Lab, and Mr. Nguyen Ngoc Linh, Technology Director at Bread N' Tea.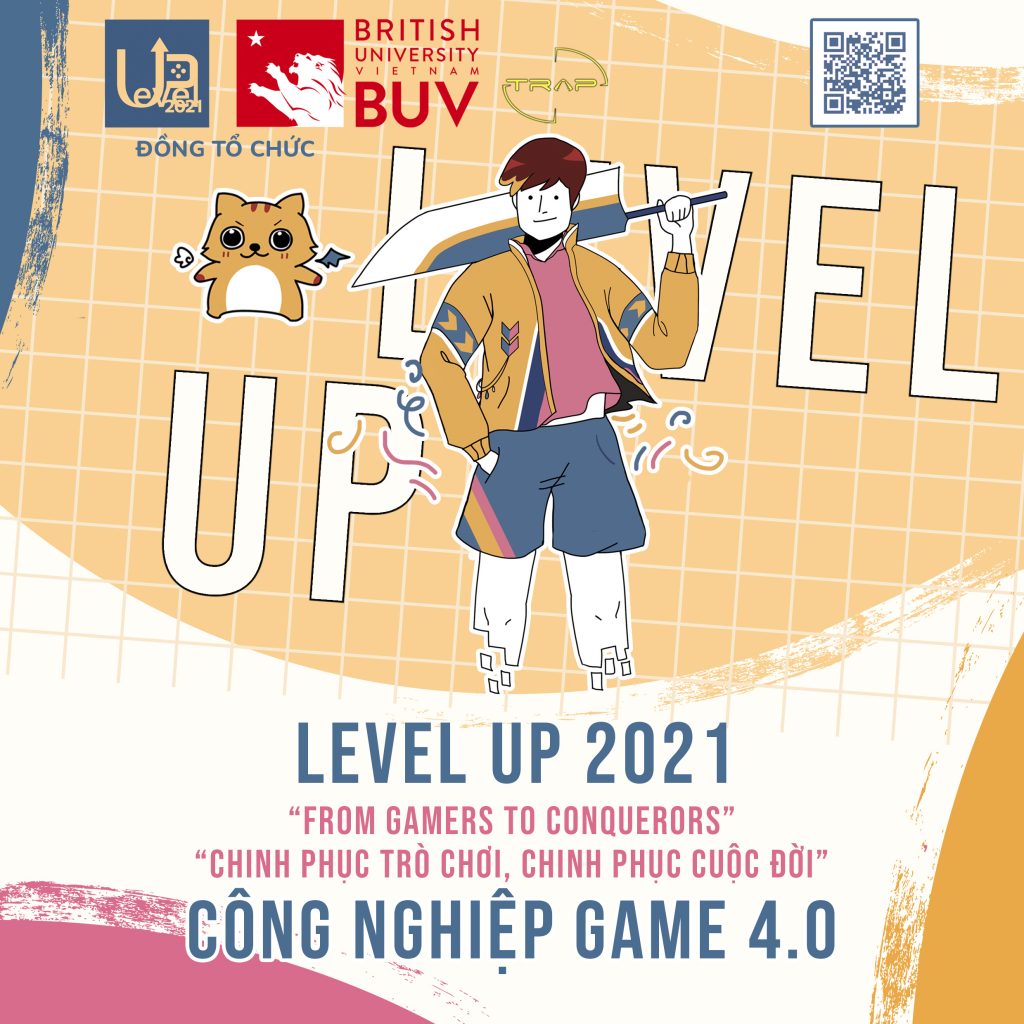 The three guests will share about two of the most popular topics, "Gamification" and "Game Industry 4.0". The topic "Gamification" – a fairly new concept in Vietnam, will be discussed from 8:00 a.m. to 10:00 a.m. Mr. Hung Vu will elaborate the applications of gamification in daily life, as well as bring in a new educational method for students.
"Game Industry 4.0" – an equally appealing topic, will assist young people in viewing the game industry objectively. From 14:00 to 16:00, speakers Mr. Nguyen Ngoc Linh and Mr. David Holloway will not only briefly introduce the history of the formation and development of this industry, but also delve into the production process of Game products.
Furthermore, David will discuss the teaching and learning methods of Computer Games Design and Programming at BUV, as well as the career skills that BUV students can acquire for future success. David will also provide an update on the game industry's development potential, and the opportunity to work at major game corporations around world that Vietnamese students can fully grasp in the IR 4.0.
Computer Games Design and Programming (CCGP) taught at BUV is a program that combines two contents: Game Design and Programming, providing students with in-depth skills in Game production, along with creative thinking and design ability.
Details of the event: Level Up 2021
– Time: Sunday, 06th June 2021, with 2 separate talks:
Gamification (from 8h00 to 10h30)
Game Industry 4.0 (from 14h00 to 16h05)
– Platform: Zoom
– Participants: Students who care about Game industry and its products
– No fee has been charged
To attend the event, please access to and register at: http://bit.ly/LevelUp2021_dangky

Read more