 BUV Daily
Gen Z shine their own ways by choosing jobs responsibly 
Nov 05, 2021

08:59:54
Career orientation is a long journey that requires students to understand themselves and their own capabilities, as well as proactively look for opportunities to get some early experience in the fields they are pursuing or related real jobs in order to select jobs that suit them. 
Start early, start right. 
Sharing at a career orientation event with the theme of "Responsible decision making in job selection" organized by British University Vietnam (BUV), career counselor Pham Thuy Chi, a producer of VTV7's programs for adolescents, affirmed that career orientation cannot take place in just a day but is a long process that requires a plan with clear steps. 
Gen Z, a generation born and raised amid the boom of technology, that understands their interests very early on as well as makes  career choices earlier than previous generations. However, Mrs. Thuy Chi said that, "If you decide on a  job you want based solely on your passion and some brief thoughts about this or that university rather than on a broader view, it is hard to make the right choices."  
 When deciding on a career, students should look for opportunities to gain hands-on experience in the fields they are interested in or in related real-world jobs. In their high school years, students can participate in extra-curricular activities, experience trial classes at universities, take part in visits to offices, attend career orientation workshops, and visit jobs that they are interested in. These are opportunities for students to get to know the ins and outs of such jobs, as well as to compare the reality to their expectations, thus allowing them to decide whether to pursue them or not. 
After their experiences, students can consider, assess, as well as prepare themselves for changes and make contingency plans.  
Jobs might not be "hot" forever, but skills are always necessary 
Also at this event, five steps for choosing a job were recommended by speaker Pham Thuy Chi to students: Understanding yourself; selecting a job is not a mistake; exploring and experiencing options; assessing options; and selecting the best options 
From understanding their own interests, academic performance, capabilities, characteristics, and values, students can narrow down their suitable jobs. According to Mrs. Thuy Chi, there is no perfect match between a job and a person. Instead of limiting yourself to a single choice, make a safe plan for a job that meets your capabilities and interests, a contingency plan for a second job, and a breakthrough plan for the dream job that keeps you motived to persevere. 
Understanding job trends and changes in the work environment is also necessary, but students should not rely solely on that to choose their jobs. In an ever-changing world where jobs always tend to change, so must your choices. Therefore, students need to invest in themselves, hone their capabilities and multitasking skills to adapt flexibly to all circumstances.
The "Responsible decision making in job selection" event is a part of a career orientation activity series named "Hey Gen Z, Shine Your Own Way" for high school students nationwide, and was implemented by BUV with the wish to accompany younger generations in finding their ways and developing successful careers. 
The program offers a variety of activities and useful information, including Career orientation with experts to understand how to recognize your own interests, passions, strengths and weaknesses, and identify suitable fields. Career orientation for specific jobs aims to help students learn more about their jobs of interest, employment trends and labor market demand, and opportunities and career paths for graduates through discussions with industry experts, recruitment experts, and alumni.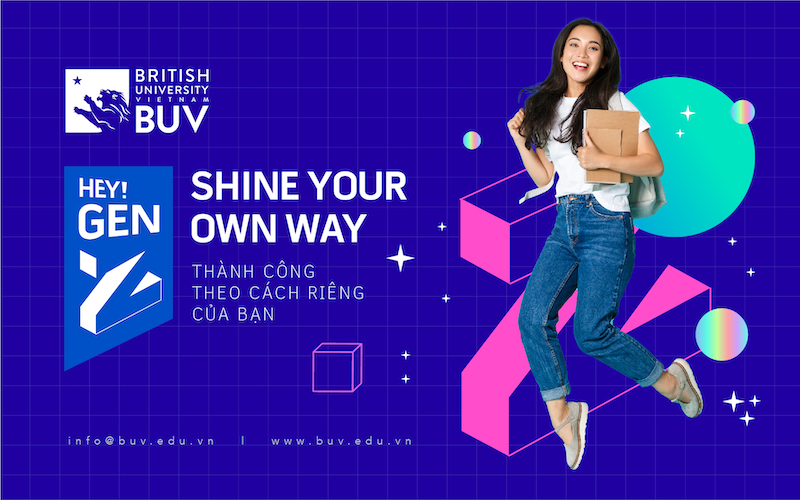 In addition, personal career orientation helps students directly experience the specialized trial class and university environment, interact with lecturers and other students at BUV and 1-on-1 intensive career orientation directly answers their questions about identifying their interests, capabilities, and dream jobs. 
While they share the common characteristics of their generation, each Gen Z individual still has different personalities and needs, which is always appreciated by BUV in the career orientation process and allows to take a suitable approach for each case, avoiding "labeling" all Gen Z as the same. 
On this matter, Ms. Vu Tra My, leader of the Career orientation team at BUV said: "For today's youth, we integrate technology applications and platforms in interactive activities; guide them on how to search and screen for trusted sources among an abundance of information on Google; encourage them to speak their mind; and listen with an open mind and welcoming attitude so that they can feel our respect." 
However, these are only the initial steps in the preparation, and then we will alter them as we contact different individuals and groups of young people. " 
As students venture out to look for their jobs of interest, BUV always strives to accompany them through experiential activities and appropriate approaches to assist them in their decision-making regarding the fields they want to pursue and give them the best experiences during their time studying at BUV, an educational environment of international standards. 

Read more