 BUV Daily
British University Vietnam (BUV) celebrates the bright future of new graduates  
Oct 25, 2023

11:02:36
On October 14th and 15th, nearly 500 students from the 11th cohort of British University Vietnam officially graduated. The graduation ceremony not only marked the end of their three-year academic journey filled with emotions and memories, but it was a meaningful milestone that openeds a new journey for the country's generation of young talents. 
A meaningful milestone opened a promising journey for graduates
The graduation ceremony for the 11th cohort of British University Vietnam (BUV) took place over two days, October 14th and 15th, within the university's campus in Ecopark. The ceremony saw the formal graduation of nearly 500 graduates from various majors, including International Business Management, Finance, Computer Games Design and Programming, Computer Science, and more, who had completed three years of education at BUV.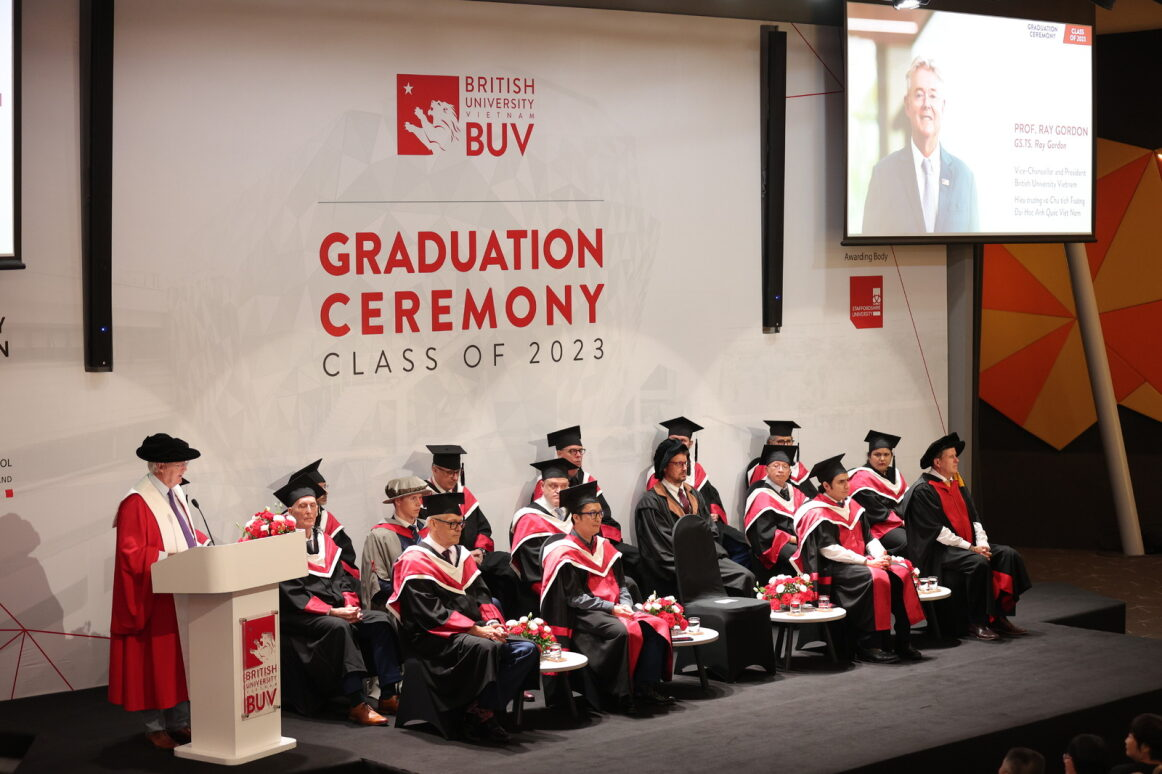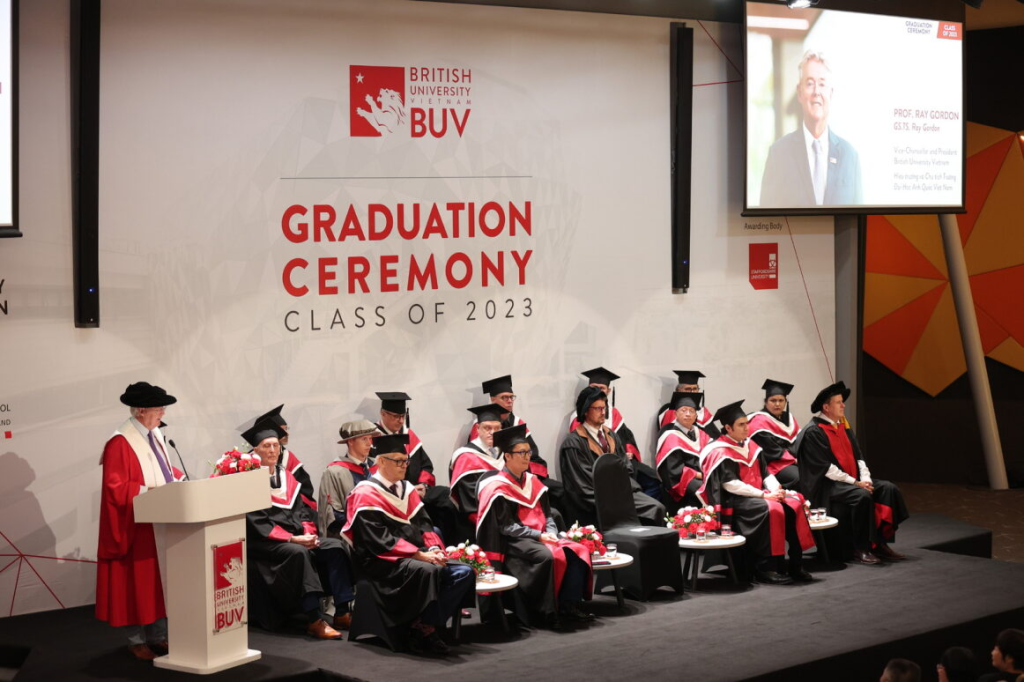 Under the theme "Soar To New Heights," the graduation ceremony delivered a message of encouragement to new graduates, inspiring them to keep a spirit of continuous learning, seize opportunities for self and societal growth, and strive for new achievements on their future journeys.
During the ceremony, Dang Trung Anh, a fresh graduate in Marketing Management from British University Vietnam, represented her fellow graduates and expressed gratitude to lecturers, parents, friends, and the entire BUV staff. She said, "I want to take a moment to shout out to all of my friends at BUV. Thank you for those overnight deadline camps, the caffeine-fueled work dates, the panic attacks over group projects, and also all the pep talks, … I'd like to extend my heartfelt gratitude to our amazing professors. To all our lecturers, your dedication to our growth hasn't gone unnoticed, and we thank you from the bottom of our caffeine-fueled hearts. A heartfelt thank you to British University Vietnam, and to all the dedicated BUV staff who have tirelessly supported us, making our university years an unparalleled and truly remarkable experience. Congratulations to the Class of 2023! Let's go out there and conquer the world".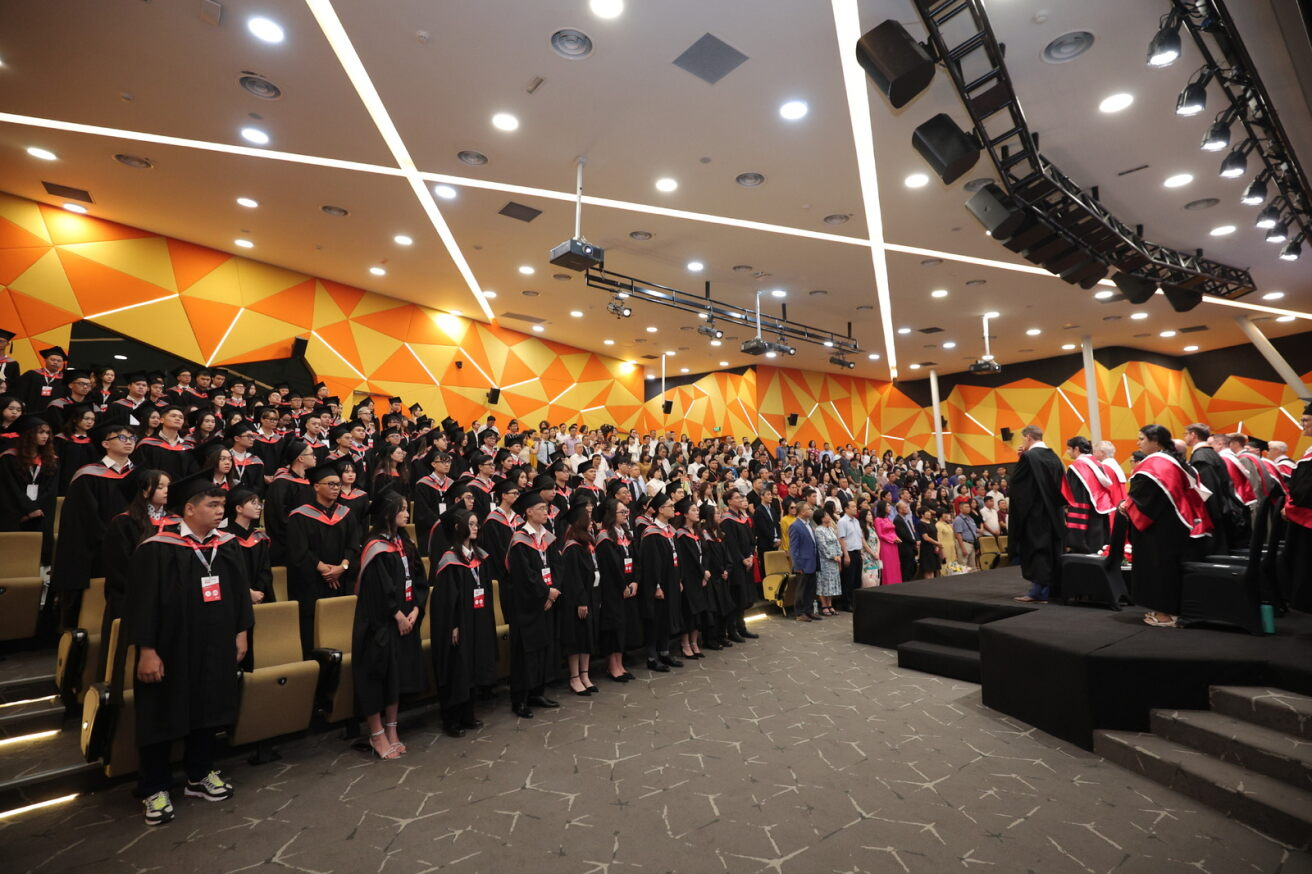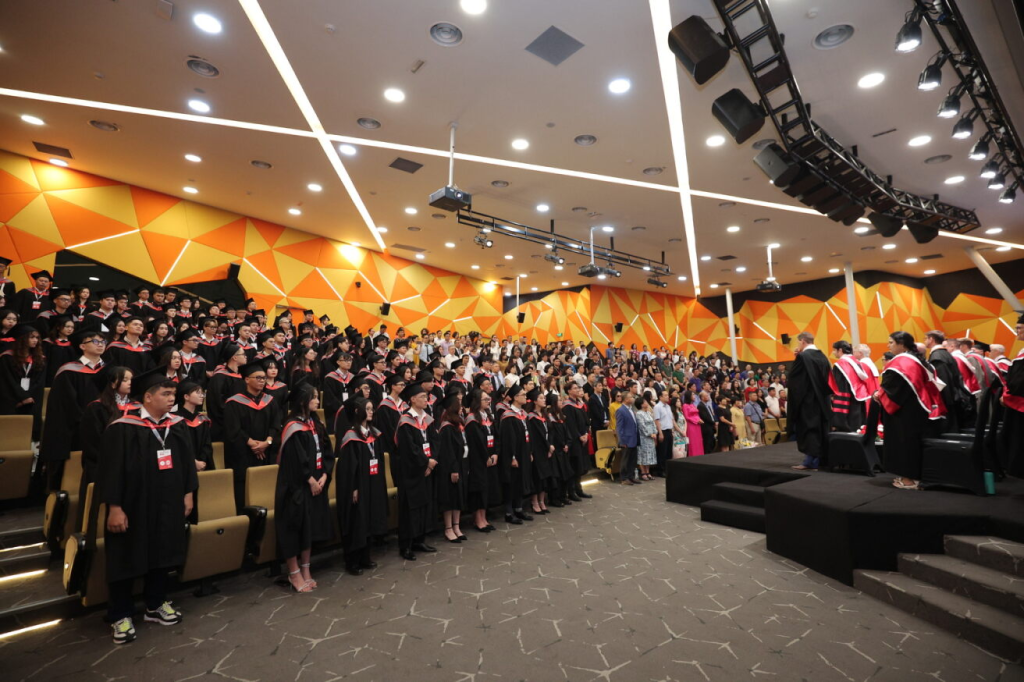 Continuing the journey of elevating international education at BUV 
During the ceremony, Professor Raymond Gordon, Vice-Chancellor and President of British University Vietnam, delivered a touching speech. He noted, "Our graduates have worked extremely hard and BUV is proud of each of them for what they have achieved. Personally, I have complete confidence in their ability to represent their University's testamur in work and social settings throughout the world. These graduates will move to the workforce with something that differentiates them from other graduates in Vietnam, a BUV and British degree! The value of such a degree is the provision of three key criteria that employers throughout Vietnam are seeking from University graduates – English language proficiency, a degree with international quality assurance, and currency in skills, disposition and mindset".
Professor Raymond Gordon further emphasized that, to date, BUV is the first and only university in Vietnam to have attained international accreditation from QAA (Quality Assurance Agency for Higher Education) and awarded a 5-star Excellent University rating from the internationally acknowledged QS (Quacquarelli Symonds) organisation, covering the aspects of Teaching, Employability, Academic Development, Facilities, Social Responsibilities, and Inclusiveness.
Furthermore, the university has designed a unique Personal & Social Growth (PSG) Programme for students, aimed at nurturing a well-rounded younger generation in various aspects. Each student is advised to build a unique, highly personalized roadmap based on PSG's four core areas, which include Work and Career Readiness; University and Community Engagement; Social, Cultural, Emotional Development; Academic Excellence. BUV has also continued to expand its campus and teaching facilities, with a total investment of 165 million USD planned for three phases completed by 2028 to provide a comprehensive learning experience for students.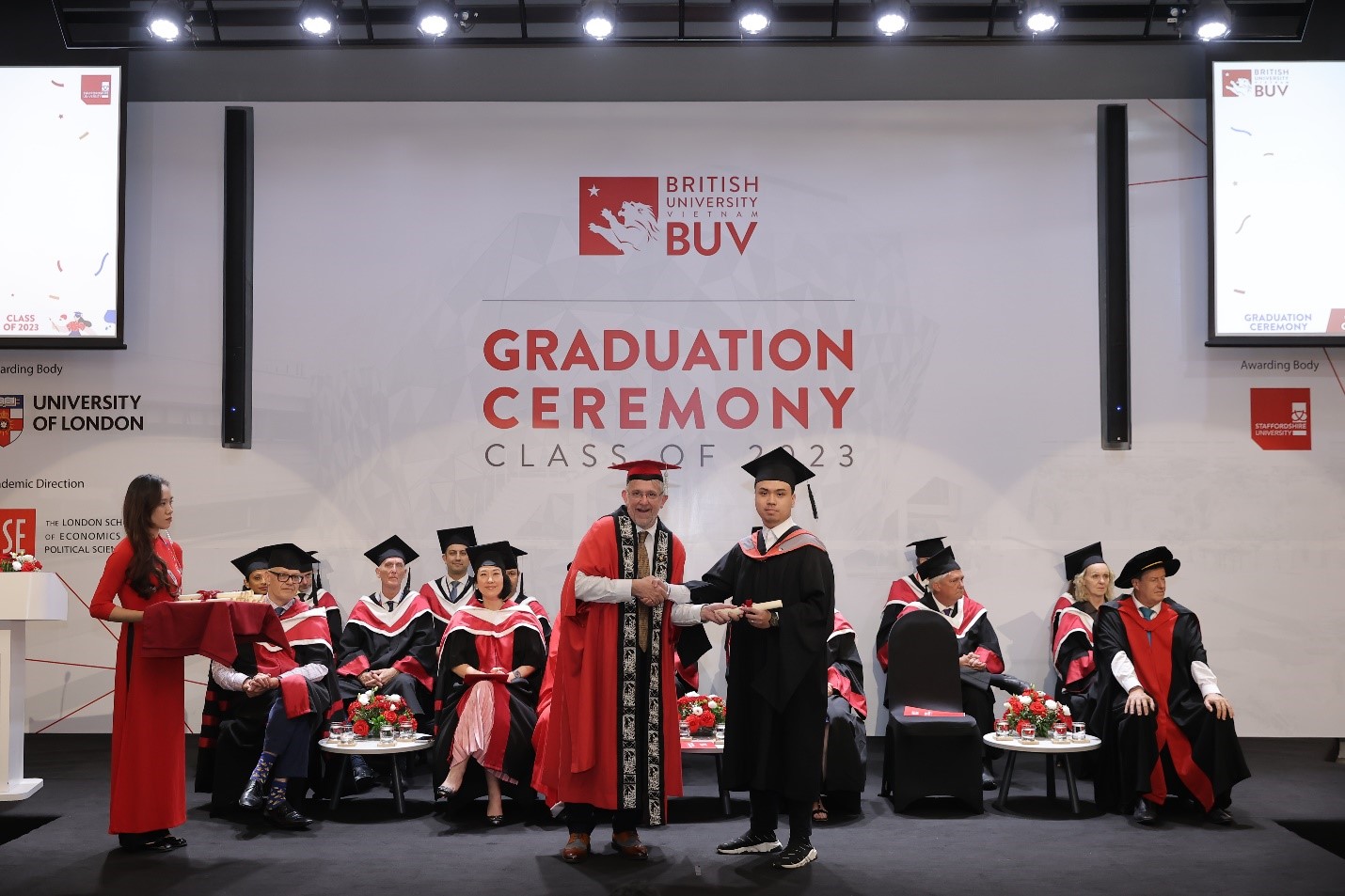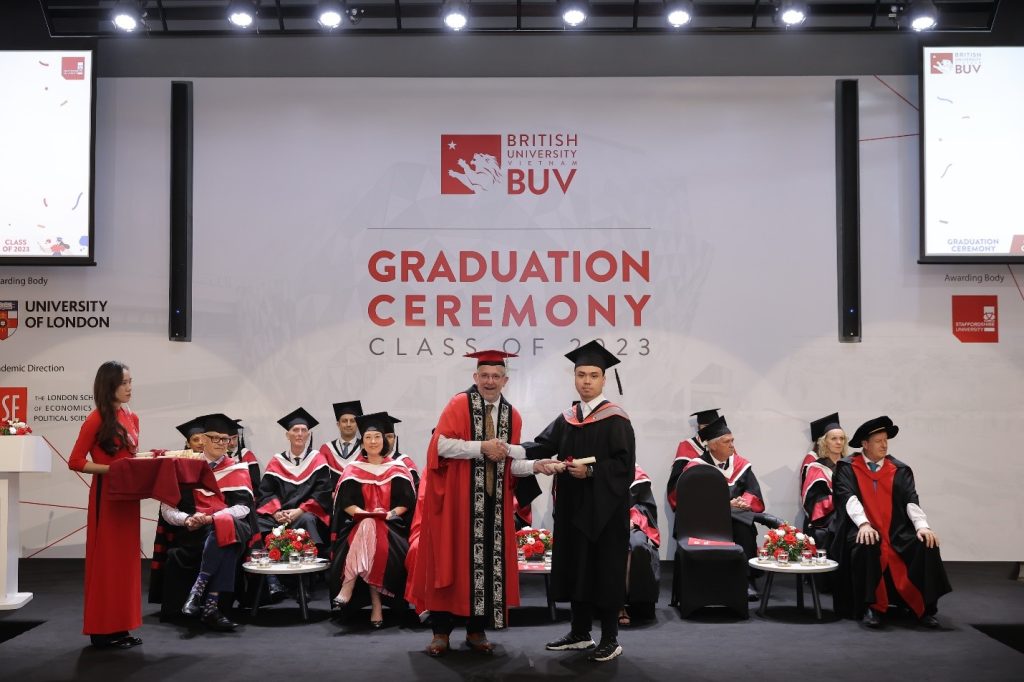 In addition, BUV offers graduates a strong network connecting them with alumni both in the UK and Vietnam, supporting their future career endeavours. Professor Martin Jones, Vice-Chancellor and Chief Executive of Staffordshire University, a partner institution that awards degrees to BUV graduates, congratulated the new graduates, "On behalf of Staffordshire University, I congratulate you on the completion of your Staffordshire University and British University Vietnam awards, because today you'll become a member of the international community of Staffordshire and British University Vietnam graduates who shape their future and marking their influences around the world. Your journey is taking place in the world that is changing economically, politically, and socially, and one thing guaranteed is that there will be more challenges and opportunities to come."   
Armed with knowledge and skills acquired from an internationally accredited educational environment, the recent BUV graduates hold the promise of making significant contributions to Vietnam in the near future and becoming part of the high-quality talent pool for the nation.

Read more