 BUV Daily
Talk show "Turn the pressure into motive force" with the top 50 most influential women in Vietnam.
Jun 04, 2018

10:58:32
With only 3 weeks left, the grade 12th students nationwide will participate in the national baccalaureate exams. According to new findings, the grade 12th students have to study overtime, at night, experience a trial exam…it is extremely stressed in order to prepare the real coming baccalaureate exam
Worries about the next exam plus parent's expectations, students' stress and anxiety for the future directions…all create significant psychological pressure on candidates and more or less influencing on their exam results. A recent study declared by United Nations Children's Fund in Viet Nam shows that one of the causes that results in psychophysiological disorders is study pressure. But stories about that excellent, dutiful students face unequable mind, anxiety depression, self-injury or ending their life because of major study pressure perhaps are enough to "be enlightened" mark expectations from parents. 
Although all parents hope the best to their children, it is impossible for all students to have got firmness, stuff to satisfy major expectations from their family, or exist in an environment in which there are too much pressures. In this final period, what do parents need to help their children reduce exam pressures? How do students select the most effective revision methods? How do parents share, listen to and help their children? Or do parents face difficulties in helping their children select a career and a university in the future?
In order to share the difficulties with parents and students, British University Vietnam (BUV) will organise a Take show spreading inspiration "A strategy to turn the pressure into motive force", at 08:30 Sunday, June 10th, 2016, at – BUV Ecopark, parents and students will take an opportunity to share with and meet the Inspirer: Journalist Tran Mai Anh.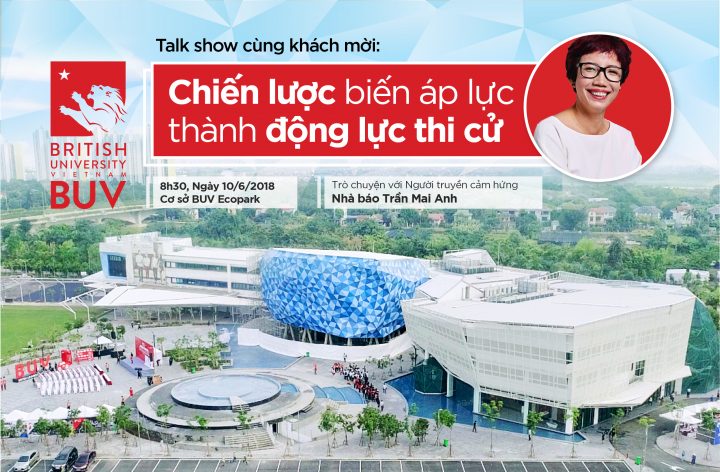 Respected as one of 50 most influenced women in Viet Nam by Forbes Magazine, journalist Tran Mai Anh is called a lot of names: Mother with gracious heart, Mother with loving heart. Being a parent having her child in the grade 12th class, standing at the threshold of the national high school exam, in the position of "insider", "secrets handed down from generation to generation", the story about journalist Tran Mai Anh accompanies her with worries is very truthful, close to the heart, inspiring to other mothers in this talk show  
At the talk show, parents and students could be able to talk to BUV's parents, alumni and current students – the people has been travelled with BUV to have got a lot of views with regard to non-pressured university route.
For details of entry requirements and scholarship conditions, please contact us via hotline 09666 299 09, visit website www.buv.edu.vn or send an email to the address info@buv.edu.vn.
Talk show "Turn the pressure into motive force" with the top 50 most influential women in Vietnam
 Time: 08:30 Sunday, June 10th, 2016
Address: British University Vietnam –  BUV ECOPARK (free pick-up at 08:00 am at 193B Ba Trieu, Ha Noi)
At the event, parents and students would have an opportunity to find out:
* Scholarship worth of 50% of total tuition fee.
* Getting early  bird discount worths of VND 30,000,000 and IELTS exam fee worth of VND 4,750,000 when making an application at the event
Link to register: http://bit.ly/BUV-talkshow-nationalexam
Further information of British University Vietnam:
British University Vietnam (BUV) is the first and only international university in Viet Nam to teach UK education and award degrees directly from Britain. Instead of study abroad, students would be getting a certificate with the global value, directly granted from honourable universities Staffordshire University and University of London.
New Ecopark campus would come to operation as of July, 2018. In the campus of 6.5 ha with total first phase investment of USD 25 million, this establishment would provide a lot of utilities, promising to bring to study experience and outdoor activities that are dynamic, creative and effective to students.

Read more