 BUV Daily
Sustainable development in business: A long and serious journey of determination
Sep 14, 2021

09:48:09
The pursuit of a sustainable development policy has always been tough for businesses. However, it is not an impossible mission with their immense determination, serious and proper strategies.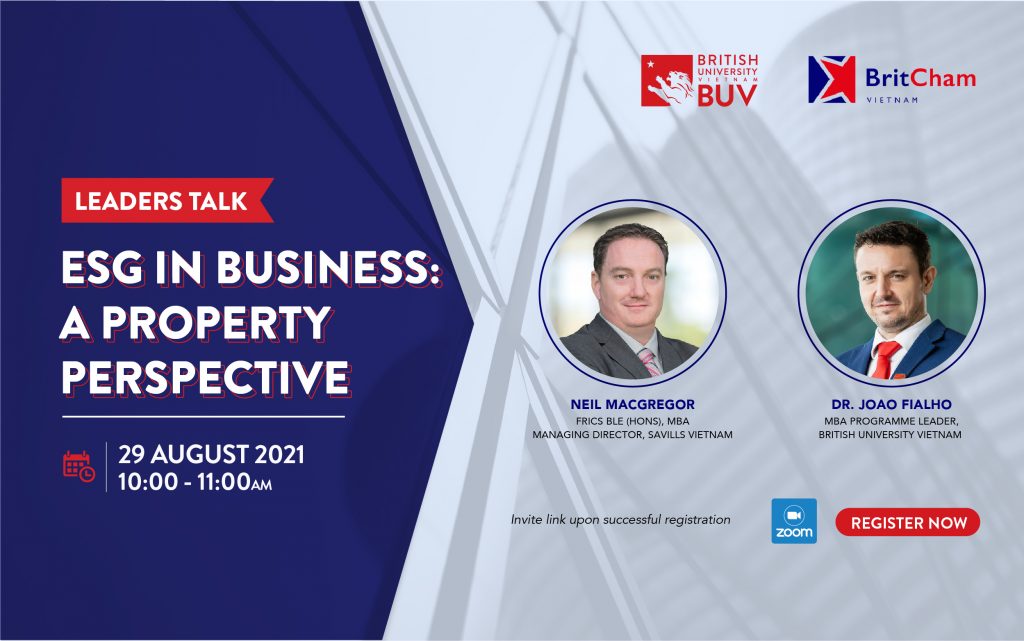 At the "ESG in Business – A Property Perspective" Leaders Talk, co-hosted and organised by British University Vietnam (BUV) and the British Chamber of Commerce Vietnam (BritCham Vietnam), attending managers, experts, and business representatives of various fields discussed issues around ESG (Environment – Society – Corporate Governance) in the production and business activities of enterprises. A guest speaker Neil MacGregor, Managing Director of Savills Vietnam, talked about the market potential and ESG practices in real estate business in Vietnam, especially with the Covid-19 pandemic having a profound impact on the economy in general and the real estate sector in particular.
Sustainable development is a must
"Any enterprise, small or large, can and has to take small and cumulative steps to achieve its long-term sustainability goals," highlighted Mr. MacGregor in his talk on the importance of sustainable development for businesses.
To do so, enterprises should be aware of market opportunities and challenges first. According to Mr. MacGregor, although the economy of Vietnam has grown at a remarkable pace and made a number of successful achievements, its urbanisation rate remains low compared to the rest of the region and the world. Hence, there is still a long way to go in the rural to urban transition. More and more people will move to and have housing demand in cities.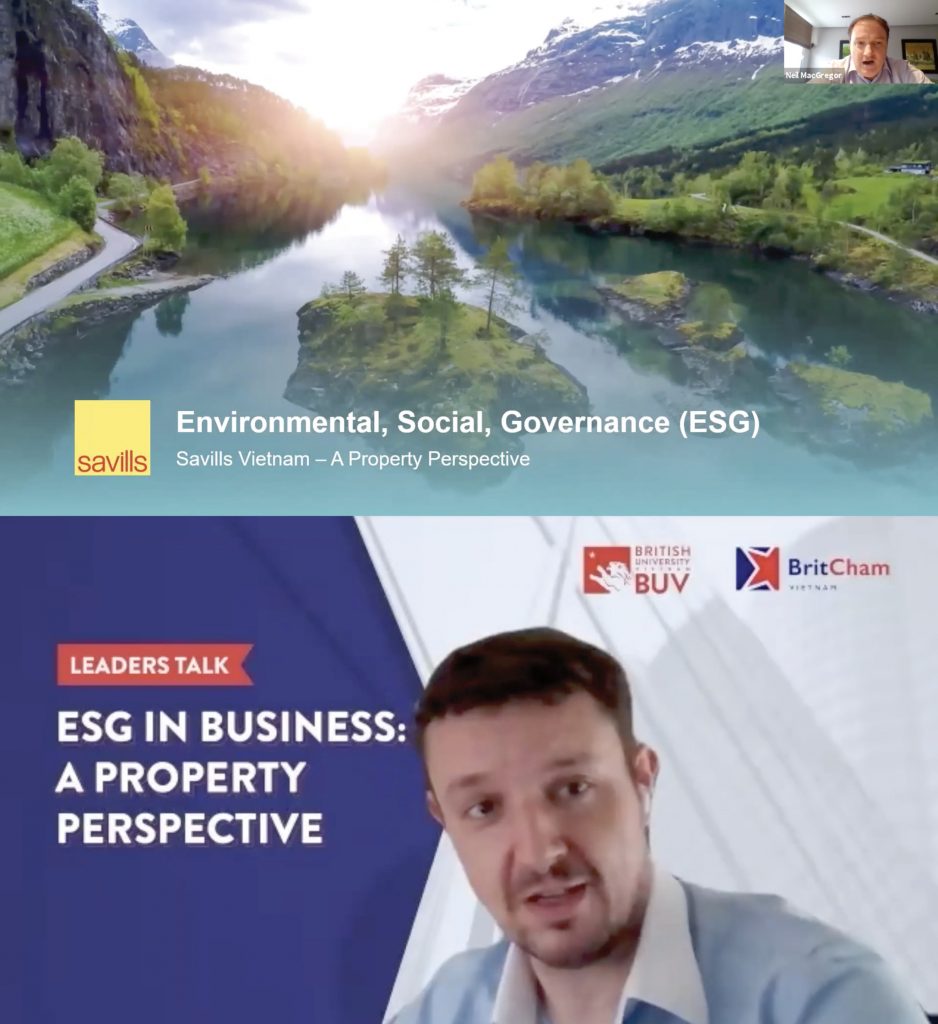 The talk show presented diverse practical information about sustainable development in business
The infrastructure will continue to be a key driver for the real estate market, opening up new markets outside major cities; for example, Dong Nai, Long An, and Binh Duong near Ho Chi Minh City, or Hung Yen and Bac Ninh near Hanoi. In recent years, Vietnam has also heavily invested in a various project, including tourism, airports and others. The expansion of the middle class is another market driver.
In addition, the Covid-19 pandemic has forced many business sectors to change and affected many aspects of sustainable development. In order to ensure business progress and performance, enterprises should consider better policies on the environment and working arrangements for the employees. According to Mr. MacGregor, some companies in Vietnam have done well at having work-life balance policies in place but not many. Such policies will benefit enterprises greatly and become the standard that all enterprises must strive for, not just in the real estate or any one sector.
Decoding sustainable development in real estate business
Mr. MacGregor believes that sustainable development in real estate business needs to start with developing talents to promote diversity and integration, followed by enhancing social activities, improving the quality of education, reducing emissions, and applying new technologies to save energy and resources at building level. These goals are ensured by partnering with suppliers, clients, and local communities.
"Among the 17 sustainable development goals of the United Nations, Savills has selected nine that we consider applicable to us. These goals range from health, education, gender equality to developing sustainable cities and communities, preventing environmental pollution, climate change and land pollution," said Mr. MacGregor.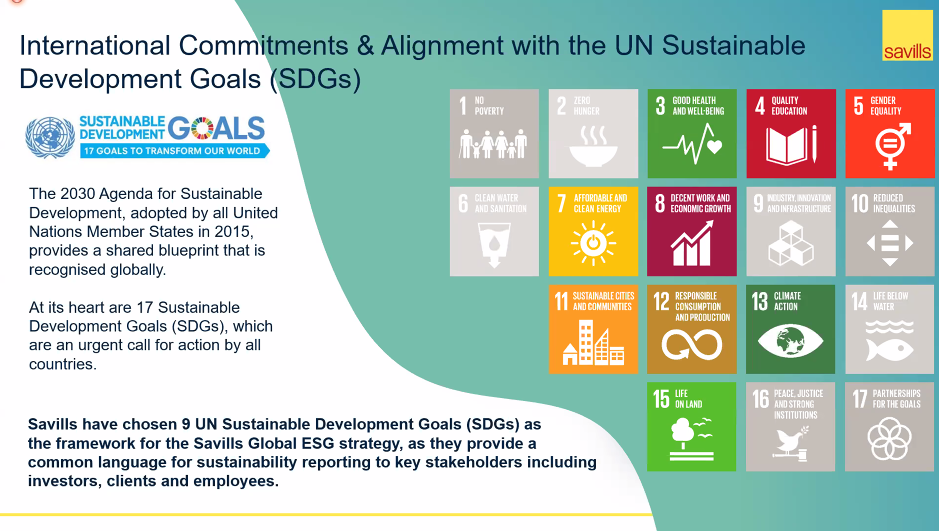 Nine sustainable development goals selected by Savills from 17 goals of the United Nation.
Apart from selecting a model for sustainable development, Savills' experience shows that enterprises should set specific "KPIs" for what they will achieve in the near and far future. Furthermore, sharing valuable experiences not only helps enterprises in the same industry develop further, but inspires and creates sustainable habits for all.
Savills' shared global goal is to achieve net-zero-emission by 2030. "Currently in Vietnam, in the buildings that Savills operates, there are plans to install charging stations for Vinfast's electric vehicles. With around 100 projects in Vietnam, 50,000 apartments and 300,000 residents, Savills believes that the cooperation with the local electric vehicle manufacturer can help solve many environmental problems," Mr. Macgregor emphasised.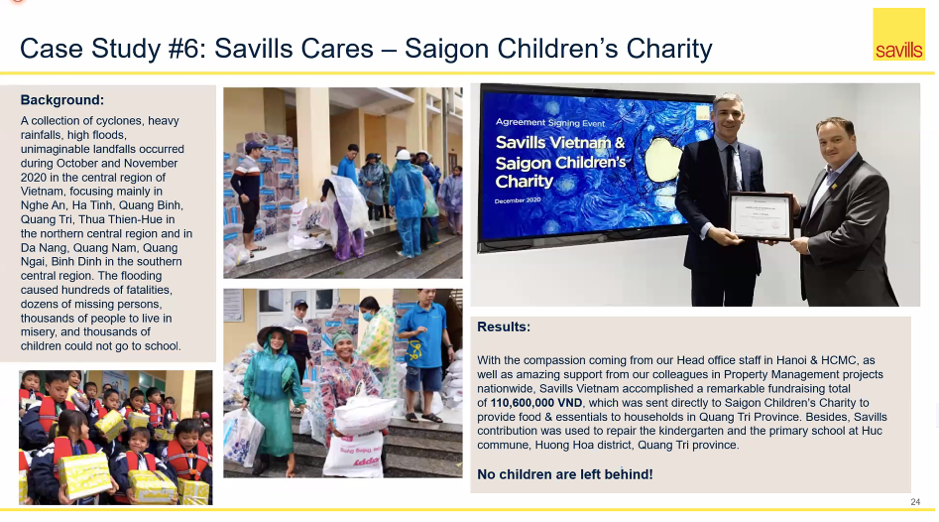 Savills' CSR programmes mainly focus on activities that support education for children.
In addition, sustainable development also needs to focus on gender equality and community activities. In particular, gender equality needs to be ensured throughout all stages from recruitment and training to authorisation and promotion. According to Mr. MacGregor, at Savills, 52% of senior leaders in Hanoi and 47% of those in Ho Chi Minh City are women, many of whom have been with the company for many years.
Savills is also working with many organisations to deploy community campaigns to support education for children, notably the "Savills Cares" campaign in 2017, and playing a major role in many activities to help startups succeed on their entrepreneurial paths.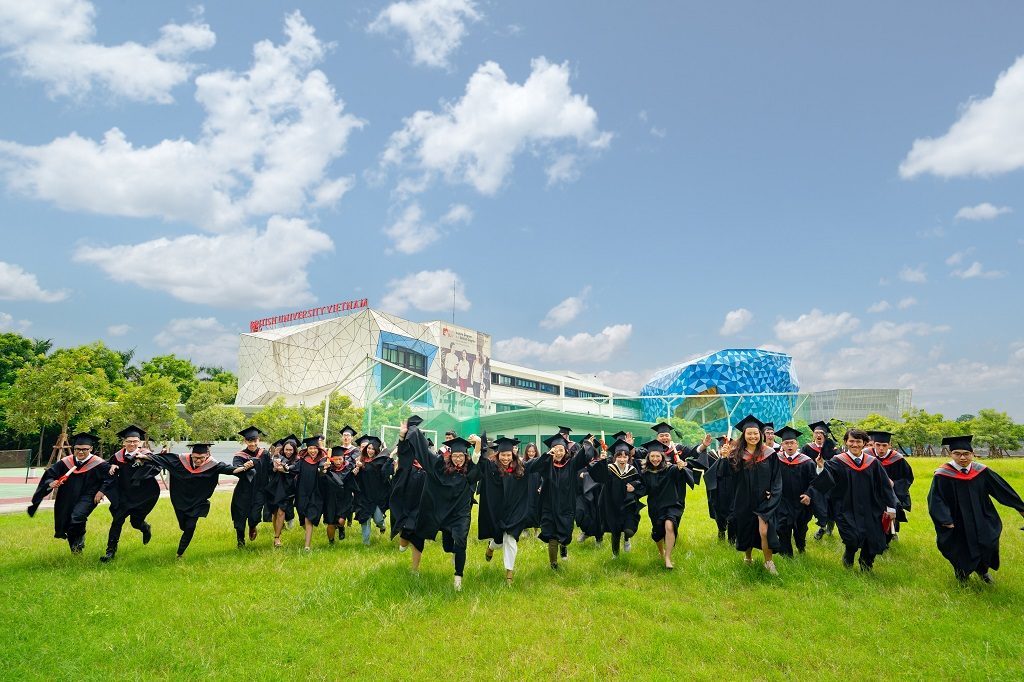 The Leaders Talk series organised by BUV targets individuals, who wish to take their careers to the next level, and shares insights on business management and operation. (Photo: BUV)
The "Leaders Talk" series is part of the Leaders Link programme, developed by British University Vietnam (BUV) with the goal of creating a platform for sharing knowledge, experience, and ideas. At the same time, Leaders Link aims to give participants opportunities to build professional relationships and enhance other required skills for their careers.
This is also the goal of BUV Master of Business Administration (MBA) programme, which is to equip students with personlised, up-to-date, highly practical business administration knowledge and advanced management skills.
To learn more about the MBA course at BUV, visit www.buv.edu.vn/mba/ or contact hotline 096 662 9909.

Read more