 BUV Daily
Rich learning opportunities for Vietnamese students from University of London
Apr 27, 2018

03:13:11
The Vice-Chancellor of the nearly 200-year-old University of London (UoL), Professor Sir Adrian Smith, has paid an official visit to Vietnam with the intention of building bridges to profound knowledge and world-class quality education for Vietnamese students. This business trip is part of the cooperation between UoL and British University Vietnam (BUV) as BUV is the first and only education institution in Vietnam to offer comprehensive Business Degrees directly from UoL.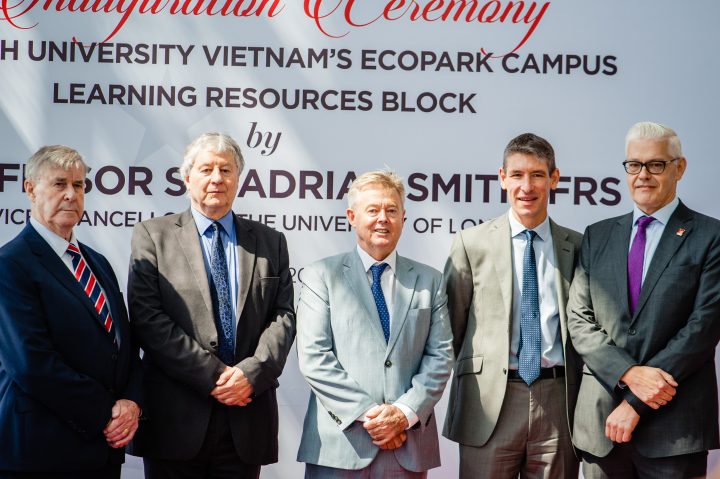 UoL's Vice chancellor, Professor Sir Adrian Smith (second to the left) during his visit to Vietnam
University of London – a school of great heritage and renowned academic quality
Holding the vision to bring to Vietnamese students the knowledge, skills and confidence gained from studying UK quality-assured programmes, UoL has always considered BUV as a key strategic partner in supporting and delivering UoL's values and philosophy. Established in 1836, the University of London (UoL) is one of the oldest and the largest, most diverse universities in the UK with over 120,000 students in London, and a further 50,000 studying across 180 countries for a University of London degree. Throughout their long history, the University has offered access to a wide range of academic opportunities. As a world leader in higher education for hundreds of years, the University has pioneered changes in various sectors and become the first university to admit students regardless of their gender, race or religion, and the first to admit women to degree programmes.
UoL is a federation of 18 independent member institutions which are recognized to award degrees by The Department of Business, Innovation and Skills. They are all funded by the Higher Education Funding Council for England (HEFCE) and are all subject to audit by the Quality Assurance Agency for Higher Education. Students graduating from UoL have won Nobel prizes, governed countries, and written great works of research. They also work in the legal profession, in finance and banking, and as business leaders and managers. For almost 200 years, the University has improved the lives of millions of people around the world through their unique approach to education, prompting Charles Dickens to term them the 'People's University'.
A new chapter for UoL in Vietnam as the University strengthens its collaboration with BUV 
In 1865, UoL became the first university to give students the opportunity to study wherever they are, providing access to higher education across the globe. They were also the first University to give external students the opportunity to continue to earn a living while studying, and to study privately and take exams without coming to London.
Sharing the same vision of a flat and borderless world of education with BUV, UoL collaborates closely with BUV in terms of managing and controlling the quality of teaching, course content and an extensive shared online library to bring students a genuine UK learning experience. Students who complete the degree are awarded an internationally recognized Bachelor's Degree from University of London. The visit from UoL's Vice-Chancellor, Professor Sir Adrian Smith marks another big milestone in deepening this cooperation.
After being the Principal of Queen Mary – University of London for 10 years, Professor Sir Adrian Smith joined the University of London as Vice-Chancellor in 2012. As a world-renowned statistician, in 2001 Professor Smith was elected a Fellow of the Royal Society in recognition of his contribution to statistics and received a knighthood in the 2011 New Year Honors list.
During his time in Vietnam, Sir Adrian visited BUV's brand new campus at Ecopark which is now undergoing the final stages of construction. The new campus holds great ambitions to raise the bar in Vietnam and bring an exceptional studying environment to which no others can compare. The Ecopark campus is expected to commence operation in May 2018. With a total investment of 70 million USD, the campus promises to be the first UK-standard university environment in the country, hosting 7,000 Vietnamese and international students.
In a private talk and sharing session with BUV's students, Sir Adrian, together with the management board of BUV, also opened up a great global internship opportunity to UoL's students from across the world, includings those who are doing their degree at BUV. Students from UoL can apply for internships at one of UoL's business partners, namely Vietnam Airlines, VP Bank, Deloitte, and more, with direct support from UoL and BUV in terms of information and training resources. Once students succeed in their application, UoL will further support students to adapt to the new working and living environment. The global internship programme aims at supporting students to learn new skills and gain industry knowledge, to explore their future career and achieve a sense of accomplishment as well as responsibility by contributing to a professional organization. To companies, this internship programme offers a great number of benefits in increasing productivity, enhancing perspective and giving back to society. 
Equal opportunities in a borderless world of education 
In the flat world we are living in, globalization has touched every area of life including education. Attaining world-class degrees from a distance has become a leading trend among Vietnamese students over the past few years. With academic institutions devoting themselves to developing the education industry like BUV and UoL, distance, culture shock, and an expensive cost of living overseas are no longer boundaries to attaining an international education

Read more