 BUV Daily
Khanh Vy, guest speaker of BUV Open Day, shares her advice to overcome the pressure
Dec 20, 2021

01:58:57
Opening up on the pressure she experienced, MC Khanh Vy talked about her journey of turning that pressure into motivation to fuel the pursuit of her dreams.
The meeting themed "Shine your own way" joined by Khanh Vy was held as a part of BUV Open Day of British University Vietnam (BUV) on December 5. Different from discussions around approaches to study or personal achievements she had shared before, this time, Khanh Vy spoke about the pressure and hardship behind her success, something that this MC had never mentioned before.
Pressure on Gen Z – a multi-talented generation
Khanh Vy started her MC career with early success. This 9X got her first job in the television field in her freshman year of university, and then became the MC of a series of English programs that saw her loved by many young audiences. However, in this period, she had to deal with the pressure of balancing between her work and study.
"At the time, my workplace and my house were 25 kilometers apart. I traveled back and forth on my motorbike day after day for three months," Khanh Vy shared. One time when it was three days before Lunar New Year, while her friends had already returned to be with their families, Vy was still diligent with her job. Khanh Vy had to handle everything by herself amid the cold of Hanoi's winter with neither money nor family members by her side.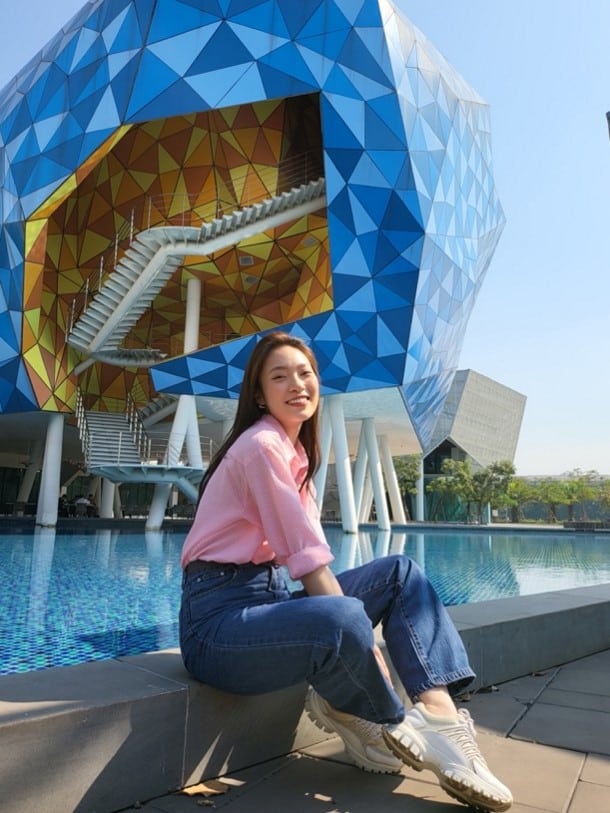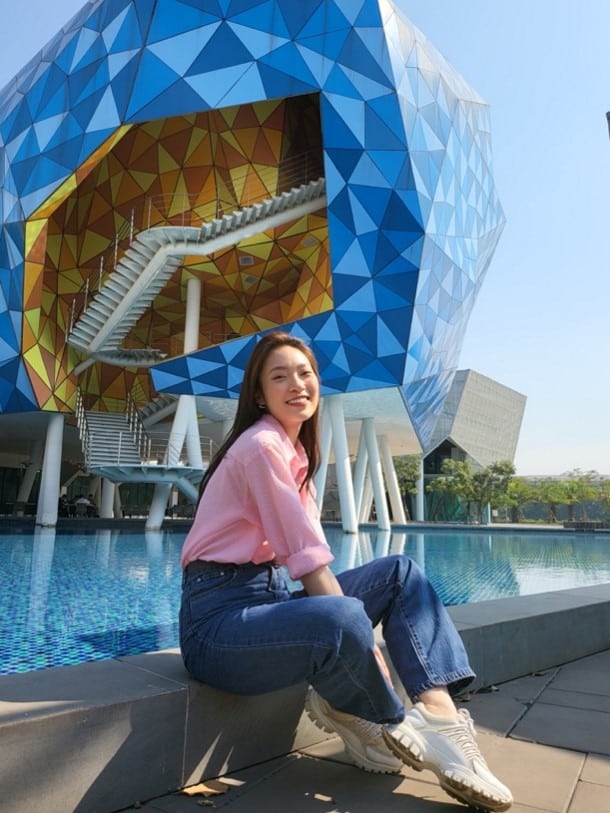 While she always appears with a smile on her face, the hardship of being an MC, at times, has caused her tears. "In my early days as an MC, mistakes were inevitable and resulted in many scenes having to be re-shot repeatedly," said Khanh Vy. Vy recalled in a scene on Long Bien bridge, she had to travel from one of the bridge's ends to the other, which was a steep and long journey, on high heels. "I was crying while walking," Vy shared.
There have been times when Vy was not confident enough in herself. After the video in which she spoke seven different languages went viral, Khanh Vy once considered her achievements as just a fluke. "At that time, I saw myself as a regular person with an unrefined voice and a face that is nothing out of the ordinary. There are hundreds of people who are more talented than I am, what chances do I have?", Vy opened up.
Turning pressure into motivation
"One's resilience determines their failure or success," Khanh Vy shared a quote of her liking. To Khanh Vy, apart from advantages in talents, family background, and origin, how one overcomes their challenges holds the key to their desired outcomes.
At the starting line, Gen Z does not necessarily need to be perfect, the best, or all-around but the important fact is being resilient enough to walk the chosen path to the end. That motto helps Khanh Vy strive to reach her dreams.
This 9X MC also shared the secrets to a happy life, which is to treasure and be grateful for the little things. Vy realised: "When we get to live, to breathe, to see our surroundings, everything is solvable."
Khanh Vy advised Gen Z to look for people who bring positive energy. To her, these people are her close friends, family, and seniors who give her useful advice. "People who share the same energy will attract each other. When you radiate positive energy, you will attract people of the same positive energy," Khanh Vy emphasised.
In this online meeting, many people raised the question of how to overcome peer pressure. Accompanying Khanh Vy in this meeting was Do Duc Manh, winner of the President's Scholarship of BUV, who answered the said question through his own story. Despite winning scholarships from BUV and some of the US top universities and reaping prominent achievements in extracurricular activities, Manh also had to deal with peer pressure. It was a semester where his friends achieved multiple impressive results, while Manh's report card did not match his expectations.
"I did not ignore my feelings and allowed myself to be sad for a time. Afterward, I contemplated my ultimate goals, to which degree my problems at the time would affect such goals, and other ways that I could achieve those goals," said Duc Manh. With that rational mindset, Manh tested himself at the NielsenIQ Case Competition 2021 and came runner-up. This is how Manh becomes an intern of major corporations – the ultimate goal that he aims for.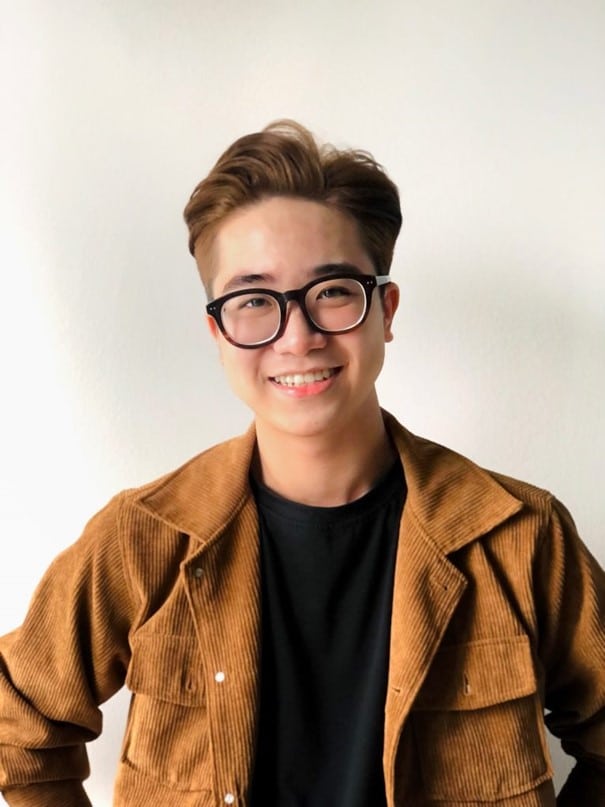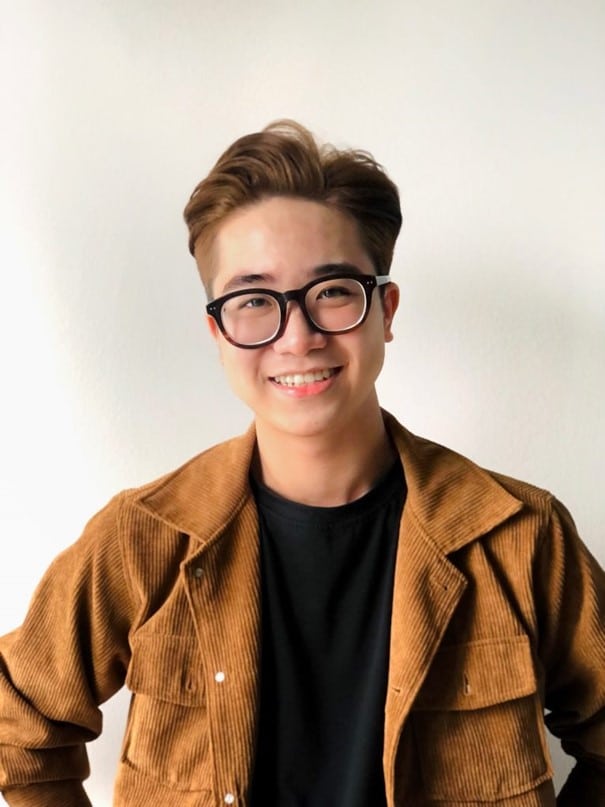 Khanh Vy and Duc Manh, representatives of the multi-talented Gen Z, overcome pressure through their resilience and positive thinking. Throughout the event, the message that these two want to tell Gen Z is to believe in your chosen path and shine your own way.

Read more