 BUV Daily
Calling All BUV Creative Minds: Join the "Digital Visionaries Design Contest" and Shape the Future of Education!
Oct 10, 2023

09:34:55
Are you ready to unleash your creativity and make a significant impact on the future of Higher Education in Vietnam? British University Vietnam (BUV) students, this is your exclusive opportunity to be part of a collaborative project that aims to revolutionize higher education. Introducing the "Digital Visionaries Design Contest," a unique initiative designed specifically for you!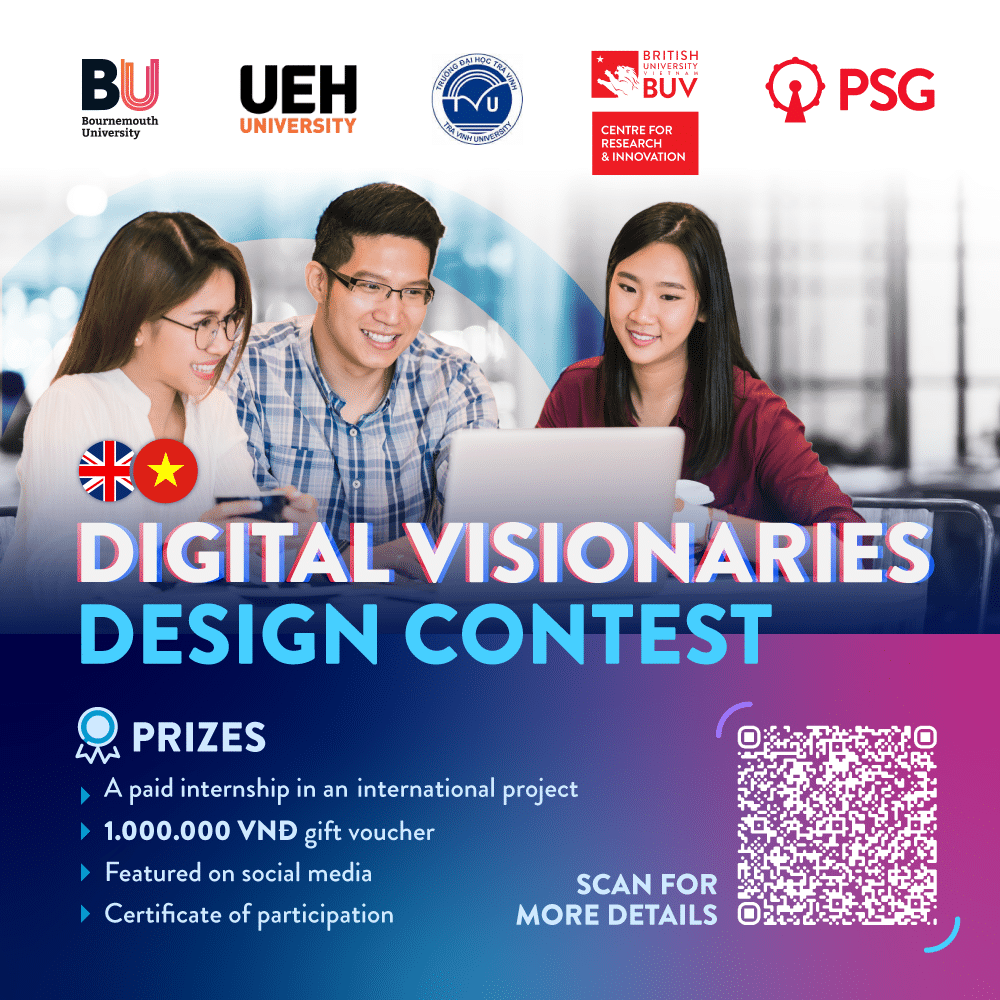 About the Contest: The "Digital Visionaries Design Contest" aims to seek a team of highly motivated and capable designers for the "SOARing to Digital Transformation" project while providing opportunities for students to participate in shaping the future of innovative higher education in Vietnam.
Who Can Participate? This contest is open to all BUV students, including both current students and alumni. We're looking for individuals who are willing to work as part-time creative interns for our project from Nov 2023 to Mar 2025 (work from home, flexible hours).
What's in it for You?
Join the Creative Team: You'll become the official paid intern of a professional international project team, working directly with esteemed professors and researchers from renowned universities in the UK and Vietnam.
Gift Voucher: The top designs will be awarded a 1,000,000 VND gift voucher.
Showcase Your Talent: Get featured on university and project social media platforms.
Certificate of Participation: Earn a certificate recognizing your valuable contribution to this innovative project.
Contest Details: Your mission is to create a prototype of a public online space that effectively showcases our project. You have the creative freedom to design and present information using unlimited platforms (e.g.: Google Sites, WordPress) and design tools (e.g.: PowerPoint, Miro, Figma, Sketch). Please check the contest details here or follow our project Facebook fanpage for more updates.
This is your chance to demonstrate your design prowess and make a tangible impact on Higher Education.
Contest Timeline:
Submission Deadline: October 31, 2023
Interviews: November 1 – November 7, 2023
Winners Announced: November 8 – November 15, 2023
How to Apply: To apply, simply submit your prototype, portfolio, and CV (if available) to dx4vnhe@gmail.com by 11:59 pm on October 31, 2023. For additional details, please visit our Facebook page or feel free to email us at dx4vnhe@gmail.com.
Don't miss this exceptional opportunity to contribute to the evolution of education in Vietnam. Your creative skills can make a real difference!
Join the contest, let your imagination soar, and be part of something remarkable. Together, we can shape the future of education in Vietnam!

Read more