 BUV Daily
[BUV x Scholarship for Vietnamese Students] Meet Scholarships Winners to get to know how to conquer scholarships
May 07, 2021

07:28:29
The online event of scholarship sharing organized by British University Vietnam (BUV) will take place on the Zoom platform, on Sunday, May 9, 2021. This is a valuable opportunity for high school students to meet the former scholarship winners, and to learn from them the application process and explore the British learning environment.
British University Vietnam (BUV) launched a 53 billion VND scholarship and financial aid program in 2021, including many prestigious scholarships such as the British Ambassador Scholarship, the President Scholarship, the Lion's Heart Scholarship for students facing life challenges, and many other renowned scholarships, to include opportunities to experience foreign education right here in Viet Nam.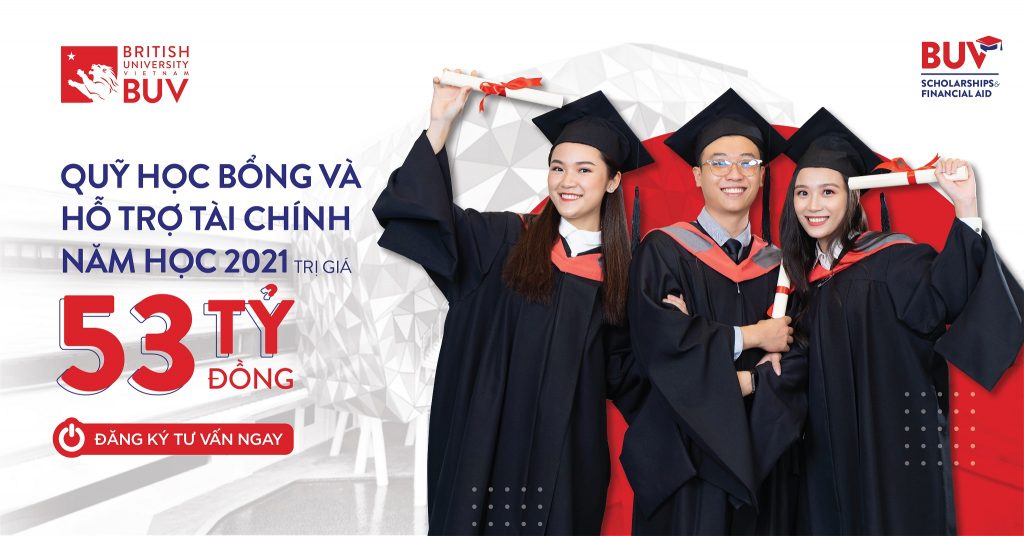 With the aim of assisting students in interacting with previous scholarship winners, hence developing an outstanding personal statement and impressive portfolio, completing the scholarship application, and gaining experiences when having an interview with the Admission Council, the online event of scholarships sharing hosted by BUV in conjunction with the Scholarships for Vietnamese Students Community will be an excellent chance for those who have dreamed of studying in an international programmes.
Ms. Hannah Dinh, founder of Hannah Ed and the Scholarship for Vietnamese Students forum, and student Do Duc Manh, President of the President's scholarship worth 75 percent of study fees at BUV, were among the special guests at the ceremony.
Special guest, Ms. Hannah Dinh
As the founder of Hannah Ed and the Scholarship for Vietnamese Students forum, Ms. Hannah Dinh has been helping Vietnamese students in searching for scholarship opportunities and realizing their dreams of studying abroad.
Ms. Hannah Dinh graduated from Master of Management program, majoring in Finance at Waikato University – New Zealand, top 500 universities globally, with a full scholarship from the Government of New Zealand ASEAN (2012). During her study, she achieved many scholarships for outstanding students such as the Citibank scholarship, the Financial Risk Management Exam Scholarship of the Risk Management Professionals Association of USA, CFA exam of the Association of Financial Analysts, Fellowship for New Zealand Economists Forum. Ms. Hannah Dinh has worked at large corporations such as Microsoft, Facebook and is currently working at Google – Dublin, Ireland.
BUV President Scholarship winner, Do Duc Manh
Before winning the President Scholarship and enrolling in Marketing Management at BUV, Manh was an English-majored salutatorian at Nguyen Tat Thanh Specialist School (Yen Bai).
Manh was also given a scholarship to Drexel University (USA) at $ 48,000 per year for five years of study and a scholarship to Temple University at $ 15,000 per year.
The scholarship winners' experience sharing event will take place on the Zoom online platform on Sunday, May 9, 2021, at 8:00 PM. Students will be able to meet prestigious former scholarship recipients, gain inspiration, and acquire more experience in the process of planning applications and writing personal essays to showcase their talent, energy and enthusiasm towards the Admission Council.
For more information and questions about the event, please access to: http://tiny.cc/HannahEd_Event

Read more