 BUV Daily
BUV launches the second year of Lion's Heart Scholarship valued at 1 billion VND
Jun 24, 2021

09:30:54
There is only one month left until the application deadline of the Lion's Heart Scholarship awarded by the British University Vietnam (BUV) to disadvantaged students. This is the second year in a row that BUV has provided this scholarship in order to motivate and encourage talented young students to realise their academic dreams.
In July 2020, the first "Lion's Heart" scholarship valued at VND1 billion was awarded to Nguyen Thi Oanh – a girl who had to pick up discarded bottles and wash dishes to earn money in order to provide care for three sick adult relatives, but she has always made great effort to overcome difficulties. Holding the belief that "Education is the most powerful weapon which you can use to change the world", Oanh was determined to apply for BUV's scholarship with the desire to continue her study and later to support her mother and fulfill the goal of opening a free nursing centre for lonely elderly people. Oanh wrote in her essay to BUV: "I believe that no matter how difficult life is, nothing is impossible as long as we know how to believe and make the effort. The value of each person is created by oneself". Having passed the direct interview with the BUV Scholarship Panel, Oanh has proved her profound skills, spirit, efforts and excellently won the only scholarship that covers the entire tuition fees for English-for-university, Pathway courses, and an undergraduate course at BUV in addition to living and accommodation expenses for the duration of her study. 
The undergraduate programmes at BUV are delivered in Vietnam and directly awarded by University of London and Staffordshire University – two prestigious UK public universities.
The Lion's Heart Scholarship Programme was developed by BUV with the goal of encouraging and motivating students with physical, health, or family disadvantages to cultivate strong will, bravery, and extraordinary "fighting" spirit to overcome personal barriers, strive for excellence, and inspire positivity to those around them.
As part of BUV's 2021 Scholarship Fund of up to VND53 billion, the Lion's Heart Scholarship promotes BUV's mission to provide high-quality British degrees and a world-class university campus in Vietnam and to create a new generation of discoverers, explorers and creative thinkers who are educated, trained, and prepared to thrive in future (4IR) fields of work and life.
The application submission deadline of the "Lion's Heart Scholarship" programme is 5:00 p.m Monday, August 2, 2021.
Information about the Lion's Heart Scholarship:
The scholarship programme applies to the ten following courses at BUV with degrees awarded by Staffordshire University or BUV. Specifically:
International Business Management

Marketing Management

Accounting and Finance

Finance and Economics

Events Management

Computer Games Design and Programming

Contemporary Creative Practice: Graphic Design/ Illustration/ Photography

Cyber Security/Cloud, Networks and Security

Tourism Management

International Hospitality Management
To be eligible for the scholarship, all applicants must: have completed upper secondary school at the time of application with a minimum of GPA in Year 12 of 7.5 before being awarded the scholarship. Candidates will be assessed and selected for the interview round based on the following factors: good academic results, active volunteer/ community work experience, relevant proposed study, demonstrating to the Scholarship Panel the leadership potential and potential contribution to the University, and a need for financial support to pursue the study. In addition to the scholarship selection criteria above, students need to submit authorised evidence of disability or in need of financial support.
There are no requirements for evidence of English ability at the time of application. To facilitate students' application, the language in use in the application can be English or Vietnamese. However, it is recommended that applicants should have a minimum English achievement level equivalent to an IELTS Foundation (overall band-score 4.5).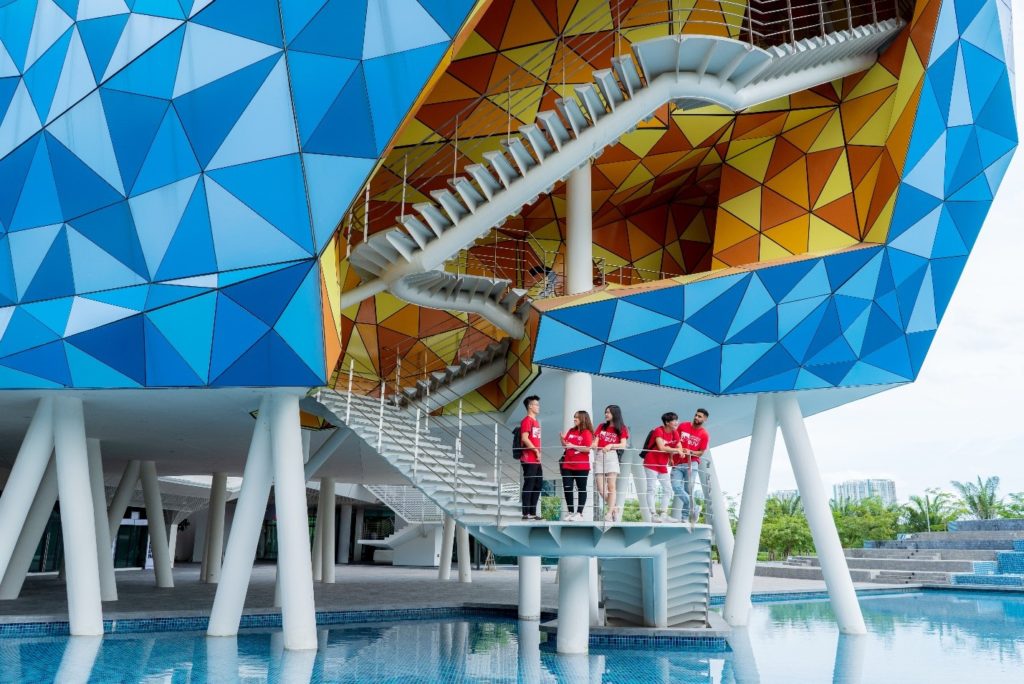 In addition to financial support, the Lion's Heart scholarship winner will receive the same benefits as other students of BUV do: UK programmes taught by 100% international faculty; an international standard learning environment with advanced educational technologies in the campus with an investment of over USD25 million for its first phase – rated as one of the leading educational campuses in Asia; flexible schedule of 3 months study with 3 months internship, giving students the opportunities of doing internships right from the first year at large domestic, international corporations in BUV's partner system; programmes that provide students with physical, mental support, and equip students with comprehensive, professional skills, as well as vibrant student activities, etc.

Read more