 BUV Daily
BUV launches "Keep moving forward" campaign to spread good vibes and optimistic messages among the community to contribute to the Covid-19 disease prevention fund
Apr 30, 2020

09:00:30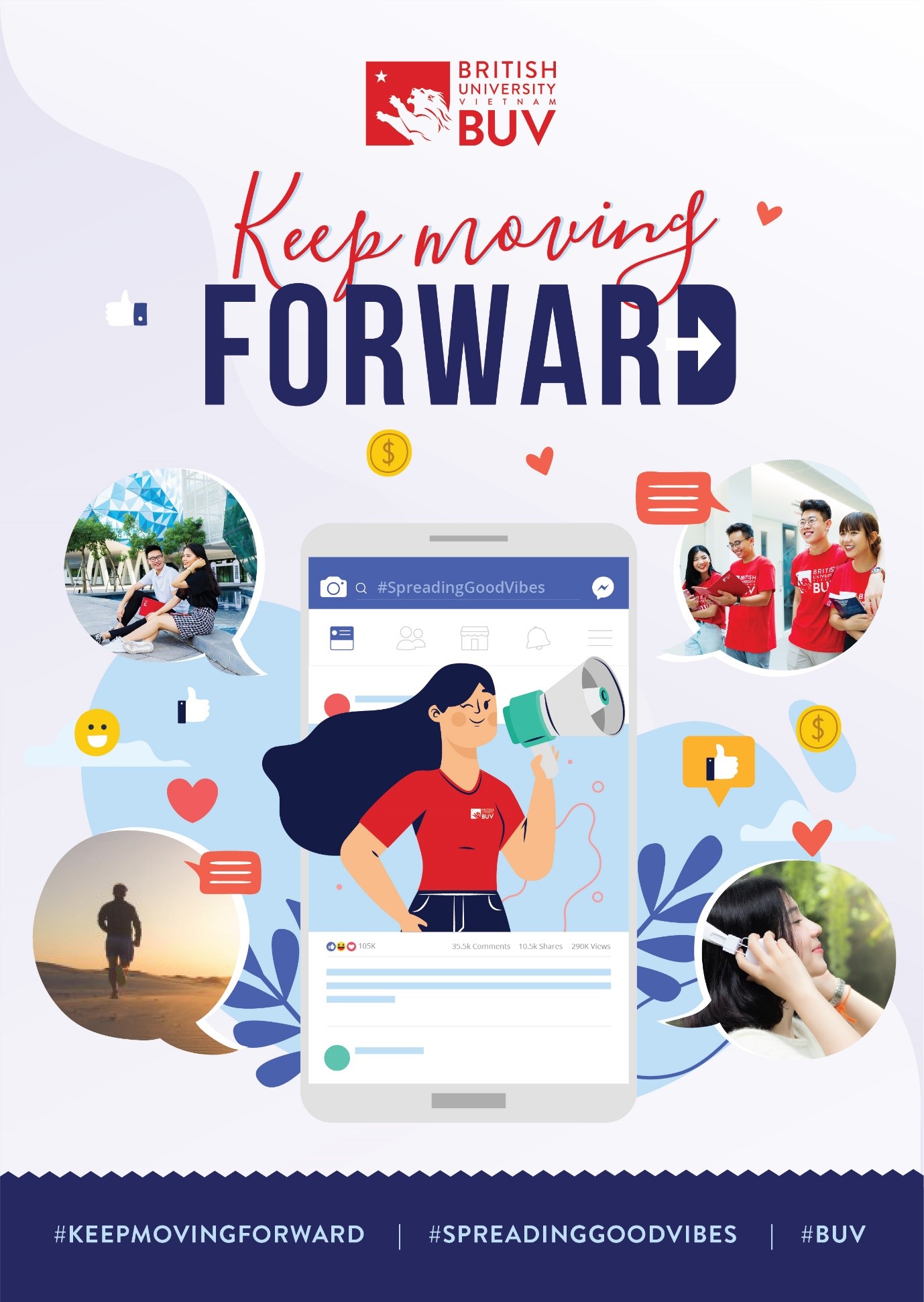 In the past few days, the COVID-19 pandemic has affected our lives. Our work has been interrupted, life has turned upside down, production and business activities have been delayed, and high school students and parents feel anxious about their future study plans.
However, Vietnam is responding effectively to the pandemic and becoming a symbol of success with limited resources. Vietnam is limiting the number of cases and the epidemic is still under control. Social distancing has been loosened; life is gradually returning to normal.
More than ever, let us continue to believe in a bright future and stand together to fight the disease by taking practical action. Create a positive and optimistic mindset to push yourself forward and spread good vibes to those around you.
Believing that is the way we carry on and create the good things in life, British University Vietnam (BUV) kicked off the campaign "Keep Moving Forward" with the desire to spread good vibes and optimistic messages among the community. Whoever you are, don't lose faith in the beauty of life and keep moving forward, even when there are challenges ahead.
For each of your positive messages, BUV will contribute 100,000 VND to the "Covid-19 Disease Prevention Fund" of the Central Committee of the Vietnamese Fatherland Front on your behalf. The campaign "Keep Moving Forward" will take place from May 1, 2020 to May 10, 2020 on Facebook.
Help spread the positive message with 3 simple steps:
?Step 1: Post a positive message in the form of text, photo or video recording of a beautiful moment, a moment of joy during the day or anything that is meaningful to you or to the people around you to help them have more positive energy
?Step 2: Post on your personal Facebook page and set it as public
?Step 3: Attach the hashtag #KeepMovingForward, #SpreadingGoodVibes; #BUV and tag at least 5 friends
Let's spread the optimism and join hands to help the community with BUV!

Read more