 BUV Daily
British University Vietnam Scholarship and Financial support fund worth 46 billion VND opened for application for the academic year 2022
Dec 03, 2021

02:41:48

From December 1, 2021, British University Vietnam (BUV) scholarship and financial support fund worth 46 billion VND officially opened applications for the academic year 2022 and the deadline for application is 25th May 2022.

This is also the first year BUV launched the Founders' Scholarship with a value of more than 770 million VND for the most 2 qualified prospective students who apply for the Banking and Finance programme at BUV, awarded by the University of London (UoL) – one of the oldest and the most prestigious universities in the UK. Founded in 1836, the University of London is a federation of 17 self-governing Member Institutions, including the London School of Economics and Political Science (LSE), UCL and Goldsmiths, University of London.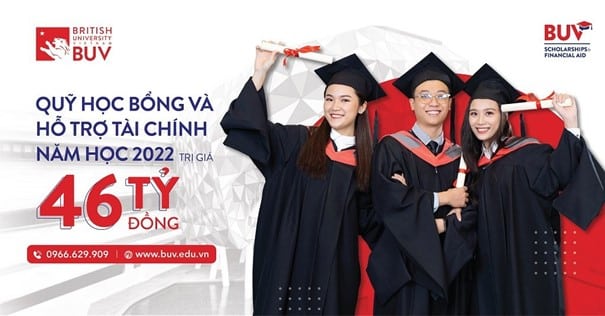 In the 2022 academic year, the BUV Scholarship fund continues to implement various scholarships with the most valuable ones covering 100% of the tuition fee. The application
In 2022, the BUV scholarship fund will continue to offer Vietnamese students prestigious full scholarship programmes, including four British Ambassador Scholarships for comprehensively outstanding students and one Lion's Heart Scholarship for a student with difficult circumstances or disadvantaged background.
The British Ambassador Scholarship worth 800 million VND includes the full tuition of a bachelor's programmes at BUV awarded by Staffordshire University (UK), alongside foundation course and travel expenses during the interview for students living far away (if any). Admission criteria include academic achievements, experiences participating in social activities, extracurricular activities, as well as refined personal development goals and plan for the future.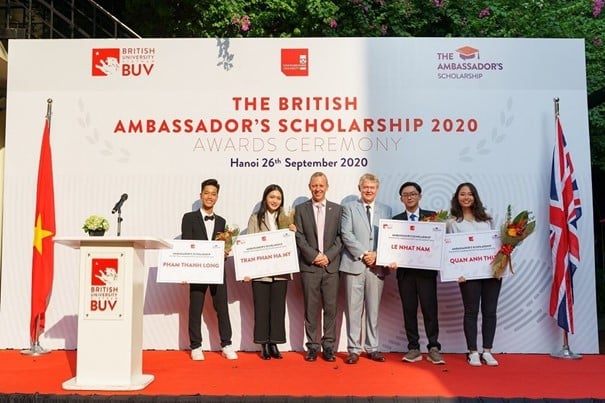 T
The Lion's Heart Scholarship worth 1 billion VND covers the full tuition of one English foundation course, degree foundation course, bachelor's programmes, alongside living expenses and housing during the time they study at BUV.
Recently, the only Lion's Heart Scholarship of 2021 was awarded to Do Thi Phuong Anh – a female student from SOS Children's Village in Hai Phong, who has shown her strong determination to study hard despite of her disadvantageous situation. Nguyen Thi Oanh, the winner of the Lion's Heart Scholarship in 2020, is also a well-deserved student as she overcame difficulties to study hard and make great academic achievements while making money by picking up scrap and washing dishes, at the same time, taking care of her ill mother & grandparents. This scholarship has provided motivation and aids to talented young people who are facing disadvantageous circumstances to be able to continue their studies.
Founded in 2018, the British University Vietnam (BUV) scholarship fund aims to provide students with the opportunity to study UK undergraduate and graduate programmes in an international learning environment in Vietnam. This goal also aligns with BUV's mission which is to provide Vietnamese students with authentic British degrees and an international learning environment, to create a generation of young people who are passionate about learning, exploring, and creative thinking that will change the world.
Prof. Dr. Raymond Gordon (Vice-Chancellor and President of BUV), shared: "Providing support, within its capacity, for talented students to access its high–quality British degree programmes and an international standard study environment of the school, irrespective of their financial and or social position, is central to BUV fulfilling its mission. Accordingly, BUV will continue to grow its scholarship programmes and give talented young Vietnamese people the opportunity to realize their education dream and go on to contribute to Vietnam's future. The talent of BUV's graduates and their capacity to positively impact the future is BUV's key contribution to Vietnam."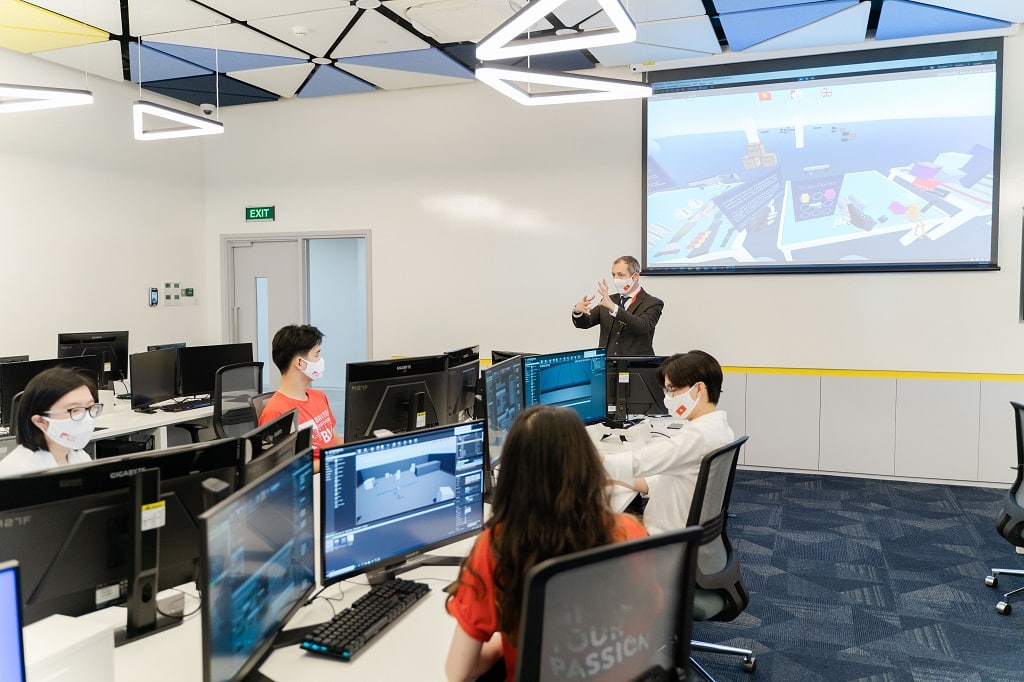 BUV is the first international university in Vietnam to offer a bachelor's degree directly from the prestigious University of London and Staffordshire University. BUV's training programmes and lecturers are regularly assessed by both universities to ensure that they meet the exacting standards, which are governed by the UK Government and endorsed by the Quality Assurance Agency (QAA) who grants permission for degrees to be offered and ensures that the quality of the institutions and their awards are of the highest level.
Currently, BUV offers a variety of bachelor programmes in 4 schools: School of Business, School of Hospitality and Tourism, School of Creative Industries, and School of Computing and Innovative Technologies. Each of these schools offers a suite of undergraduate degrees – BUV also offers master's degrees and short-course programmes. In addition, BUV offers English courses and foundation programmes that pathway to direct entry into BUV or British and other international universities.
During the course of the study, BUV students can also choose to participate in exchange study programmes to a partner university in the UK, or transfer study, transfer credit to continue studying at the University of London, Staffordshire University, or many other universities in the UK or the global network of partners if they have the same education system and credit system.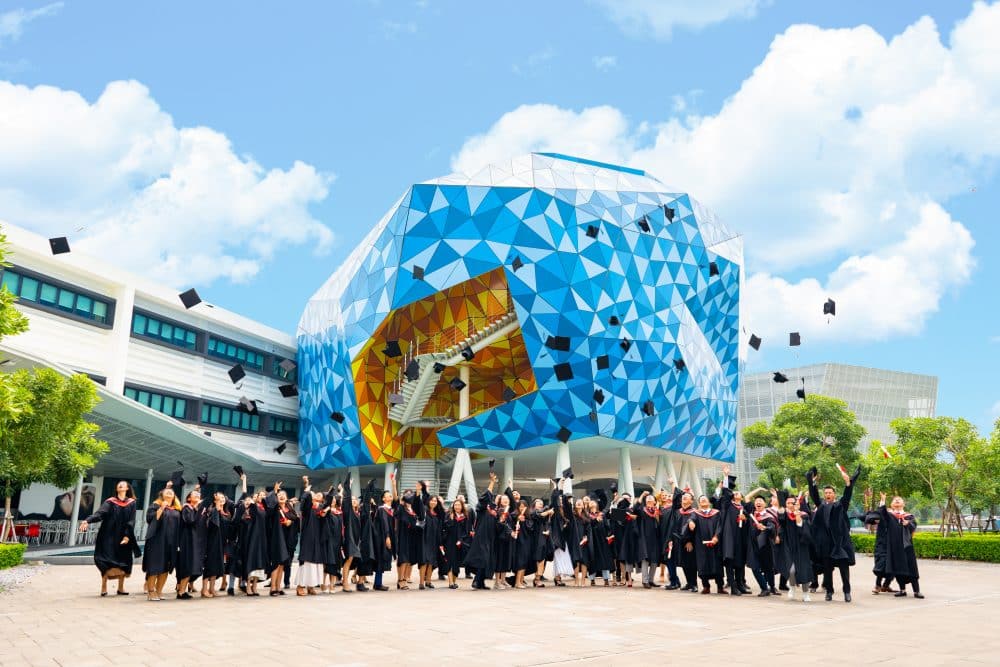 Over the past 11 years of development, BUV has successfully built an international university model combining high technology, enhancing interaction and connection between faculty and students, while ensuring top quality output for students. The 3-month internship programmes give students the opportunity to do internships right from the first year, preparing a set of practical skills ready to meet the needs of the labour market.
From the beginning of the year until now, there have been 1,814 internship opportunities for BUV students at many large domestic and multinational companies and corporations in the network of BUV's partners. In fact, 100% of graduates at BUV find a job or go on to graduate school within 3 months of graduation.

Read more