 BUV Daily
BUV has officially launched the 'BUV's Ecopark Campus Inaugural Year Scholarship Fund' worth 34 billion VND
Feb 06, 2018

09:52:02
This morning, on February 6th, 2018, British University Vietnam officially announced the 'BUV's Ecopark Campus Inaugural Year Scholarship Fund' with a value of up to 34 billion for Vietnamese students with excellent academic records, talents and social contributions.
When launching this Scholarship Fund, BUV is not only looking for talented individuals, but also aims to bring the dream of studying at a British education institution to Vietnamese students.  In 2018, the Ecopark campus will officially begin operation after the completion of Phase 1, with a total investment of 25 million USD. In the future, after completing construction on a total area of 6.5 hectares, the campus will be able to accommodate more than 7,000 students.
With the launch of the Scholarship Fund on the occasion of the inauguration of the Ecopark campus, BUV hopes to attract students who love the UK but do not wish to, or do not have the ability, to study abroad. Students will have the opportunity to access teaching and facilities at the same standard as would be found in the UK, offering a world class level of education. The scholarship fund includes a number of separate programmes aimed at different kinds of students in Vietnam. The scholarship awards vary depending on the student's academic and extra-curricular record, each worth from 85 million VND up to 700 million VND (Equivalent to 100% of tuition fees).
This demonstrates that the scholarship fund is not just for students with high scores in academia, but for students who have excellent achievement in sports, music, arts, and social contributions, among other extracurricular activities. Through this initiative, BUV aims to develop students' skills and abilities in all walks of life. This is one of BUV's core missions since the University's inception.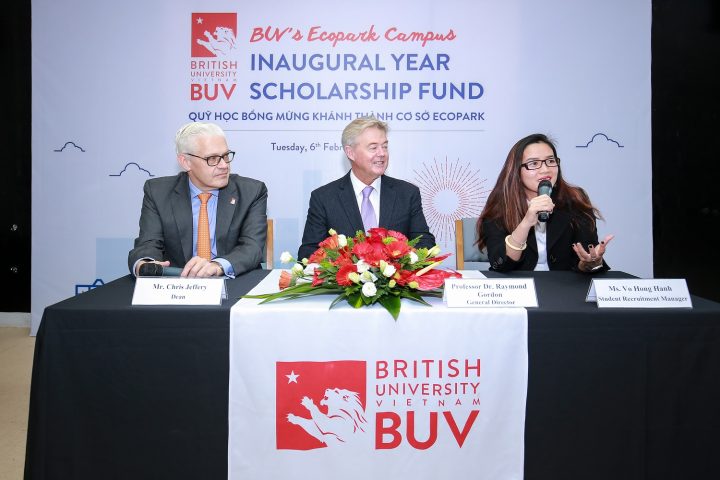 The Scholarship Fund also offers many opportunities for high school graduates with excellent exam scores, high marks in international Olympiads, students attending top high schools and BUV partner high schools. Students of international schools, international affiliate programs, public and private universities in Vietnam who wish to study at BUV are also eligible to apply for valuable transfer scholarships. In addition, BUV also offers high-value scholarships to residents of the Ecopark area, where the new campus is to be opened in 2018.
Mr. Chris Jeffery, Dean at BUV shared the following comments: "By investing 34 billion VND in this scholarship fund, BUV aims to contribute to opening the door to UK education for Vietnamese high school and university students. We're not only awarding scholarships to students of academic excellence, and this scholarship fund also targets a diverse range of high school and university students – those with gifted talents and social contributions. I hope that in the future, there will be an increasing number of Vietnamese high school and university students with the chance to access and experience high-quality, international education, right here in their hometown."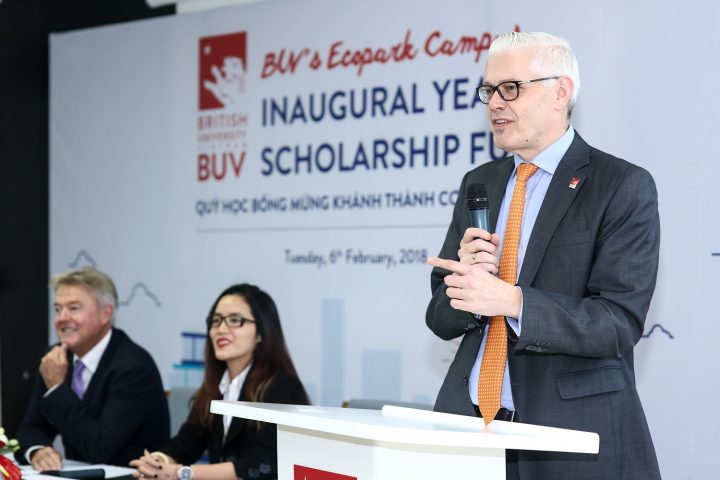 Prospective students are able to choose any of the following degrees available at BUV:
– BA (Hons) International Business Management
– BA (Hons) Marketing Management
– BA (Hons) Accounting and Finance
– BA (Hons) Tourism Management
– BA (Hons) Banking and Finance
– BA (Hons) Finance and Economics
– Master of Business Administration (MBA)
In addition, students will also be able to apply for upcoming new programmes, expected to launch in 2018: Hotel and Hospitality, Game Design, Cyber Security Management, and Graphic design.
Commenting on the launch of BUV's Ecopark Campus Inaugural Year Scholarship Fund, Mr. Steph Lysaght, Deputy Ambassador of the UK in Hanoi said: "Not only providing UK-quality educational programmes and educational environment here in Vietnam, BUV has also launched a number of attractive scholarship programmes which meet the needs of all Vietnamese high school and university students. BUV's newly introduced scholarship programme will help improve the accessibility of Vietnamese young people to the high-standards of British education in their own country. I think the scholarship fund is a model that should be widely replicated and implemented to improve the quality of education in the future. "
For those students who wish to register for scholarships or would like find out more information, please contact 096 662 9909 to receive professional consultation from the BUV Student Recruitment department.

Read more