 BUV Daily
British University Vietnam launches a scholarship fund worth VND 40 billion
Feb 20, 2020

09:11:45
British University Vietnam (BUV) officially launched a VND 40 billion scholarship fund, opening hundreds of opportunities for talented students to access one of the world's leading education systems – UK education. In 2020, Vietnamese students have the opportunity to receive "The British Ambassador's scholarship", a full scholarship valued at VND 800 million for students who study at British University Vietnam with a degree awarded by Staffordshire University (United Kingdom).
Founded in 2018, the BUV Scholarship Fund aims to give students the opportunity to study UK undergraduate and postgraduate programmes in an international learning environment in Vietnam.  In 2020, BUV is officially raising the scholarship fund to VND 40 billion with hundreds of scholarships.  In particular, 2020 is also the first year that BUV will award the " The British Ambassador's scholarship " – a full scholarship valued at VND 800 million.
The British Ambassador's scholarship covers the tuition fees for Pathway programmes and an undergraduate course at the British University Vietnam, awarded by Staffordshire University, in addition to the travelling costs for attending the scholarship interview round for students who are not in Hanoi and Hung Yen (if needed). Selection criteria include academic results, volunteer/community work experience, personal development goals and plans, among others.
This is a scholarship that BUV is honored to be awarded by His Excellency Gareth Ward, British Ambassador to Vietnam, on its 10-year anniversary ceremony.  His Excellency Gareth Ward shared: " In the past 10 years, the British University Vietnam has become widely recognised as a symbol of success in educational cooperation between the UK and Vietnam. BUV's ability to deliver high quality British education and an authentic international learning environment in Vietnam makes it an ideal institution to offer the British Ambassador's Scholarships. I look forward to meeting the next group of scholars".
British University Vietnam (BUV) is the first and only international university in Vietnam to award direct degrees from the prestigious University of London and Staffordshire University. BUV's mission is to provide Vietnamese students with authentic British degrees and an international learning environment, to create a generation of young people who are passionate about learning, exploring and creative thinking that will change the world.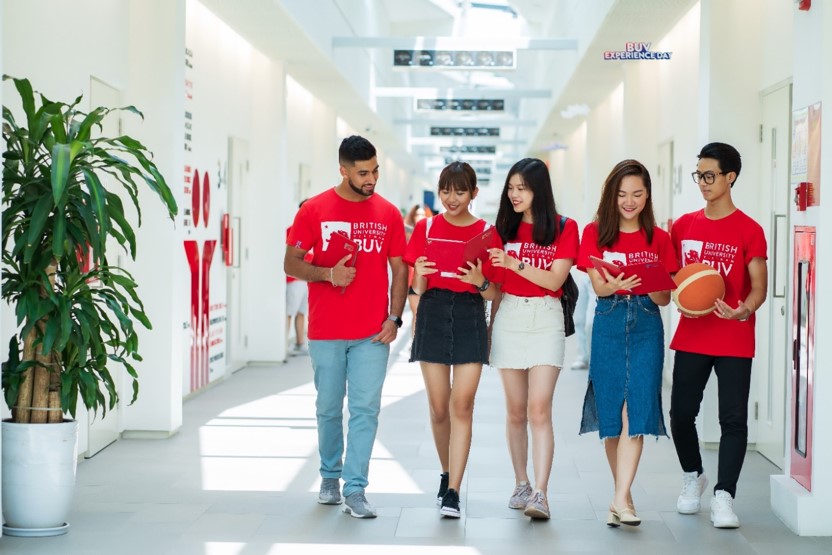 Established in 2009, BUV provides teaching for 11 undergraduate programmes and an MBA. 100% of graduates from BUV have a job or continue higher education within 3 months after graduation. With a wide network of more than 300 enterprise partners in various fields and internship programmes from the first year, BUV helps students gain professional knowledge and practical skills to meet employers' requirements as well as be ready to develop their career right after graduation.
Students will study at BUV's new campus in the Ecopark township, with facilities funded by an investment of US $25 million for the first phase accommodating up to 2,000 students.  BUV's new campus, with state-of-the-art teaching and learning facilities and an iconic design, is indicative of 4IR and is being recognized as one of the best educational environments in Asia. Upon completion of the three phases, the entire BUV campus at Ecopark will have a total investment up US $70 million, meeting the training needs of 7,000 students.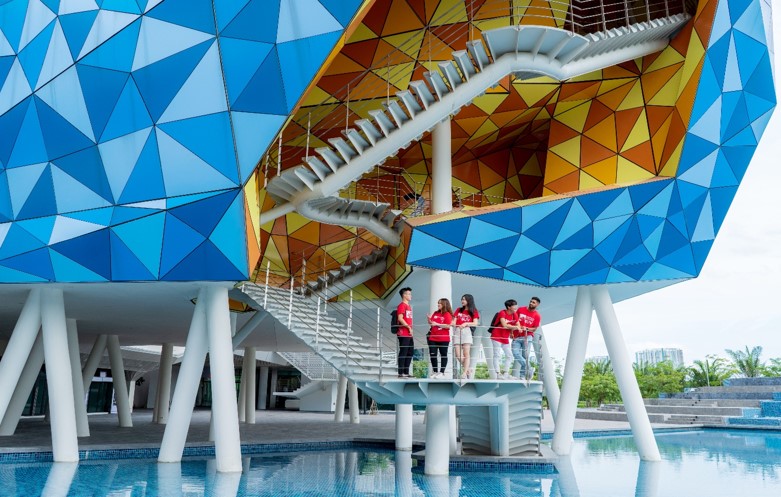 Prof, Dr. Raymond Gordon, Vice Chancellor and President of British University Vietnam emphasized: "BUV is honoured to receive the backing of the British Ambassador for its major scholarship offering, which is testament to the quality of the education offered by the University and its ability, through its outstanding campus, to authentically represent a British learning environment in Vietnam. These scholarships will provide many young Vietnamese students access to state-of-the-art British education programmes, facilities and learning experiences and, through this, a very high potential future for themselves, their families and Vietnam".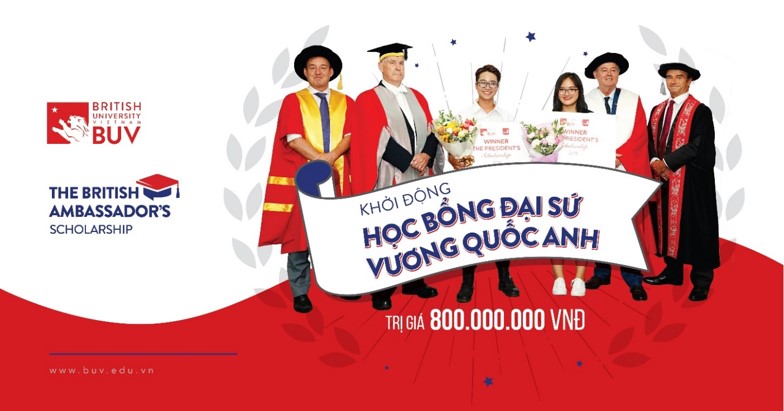 To give the students and parents additional information on scholarship opportunities at BUV and the selection criteria and document preparation, BUV has organized an information sharing session from 13:30 to 15:00 Saturday,  February 22, 2020, livestreamed on BUV's fanpage at https://www.fb.com/Britishuniversityvietnam.
For those interested, please visit https: //www.buv.edu.vn/ or contact the hotline 0966 629 909 or email: info@buv.edu.vn.

Read more