 BUV Daily
British University Vietnam (BUV) has officially received application for the November intake of the 2021-2022 school year
Sep 16, 2021

07:08:47
BUV has officially recruited for the November intake of 2021-2022 school year. Not being examined based on National Baccalaureate Examination, students applying to BUV only need to meet two prerequisites: High school graduation (or equivalent: A level, Pre-international university, …) and IELTS 6.0 (No skill below 5.5).
For the November Intake of 2021-2022 school year, BUV officially receives applications with the following academic and English conditions:
– Academic requirements: Students need to submit transcripts and a high school diploma/ temporary graduation certificate/ certificate of high school completion or other equivalent certificates (A level, International foundation programme, …);
– English language requirements: Students need to have an IELTS certificate of at least 6.0 (no skill below 5.5) or equivalent English certificates (TOEFL, …) or take the English entrance test at BUV – This condition may vary by discipline.
Students only need to follow 3 simple steps below to apply for a course at BUV, and have the opportunity to receive scholarships, as well as special offers for the 2021-2022 school year.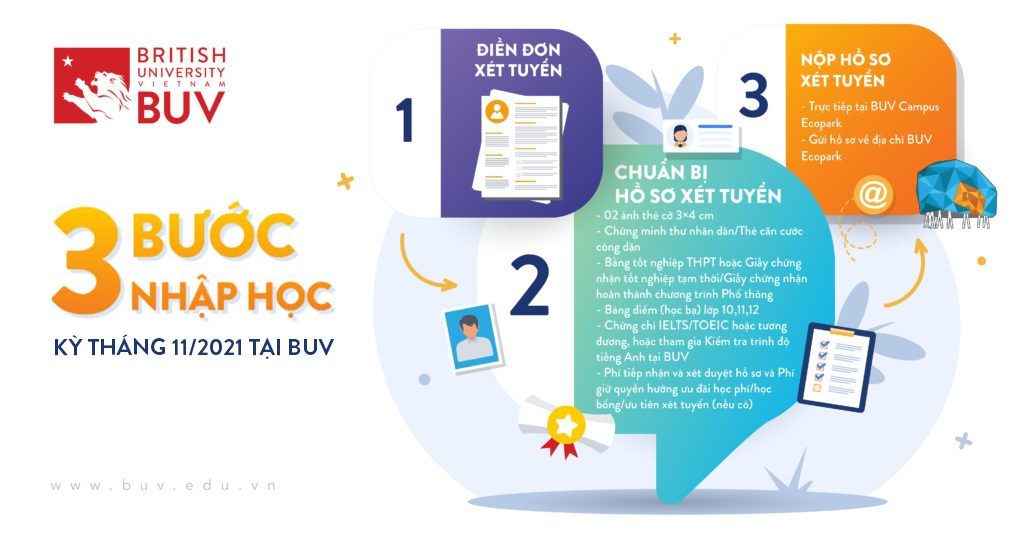 Step 1: Filling in the application form
Option 1: For the convenience of all students in any area in Vietnam, BUV has updated the online application form on the BUV website. Students can access the link here to download and complete the application form.
Option 2: Students can register online here.
Step 2: Preparing the application checklist
With the second step, candidates need to note a number of required documents in the registration documents. For a detailed list of required documents and qualifications, please visit here.
Note: Lack of one of the above documents may lead to delays in application processing. Qualifications must have notarized copies.
Step 3: Submitting the application
Students can submit their application directly at BUV Ecopark Campus, or send their application via post to British University Vietnam, Ecopark, Hung Yen with fee receipt of payment VND 1,200,000 and deposit fee receipt.
British University Vietnam (BUV) is the first and only international university awarding 100% British Degrees in Vietnam. Established in 2009, BUV provides teaching for 11 undergraduate programmes and an MBA. 100% of graduates from BUV have a job or continue higher education within 3 months after graduation. With a wide network of more than 300 enterprise partners in various fields and internship programmes from the first year, BUV helps students gain professional knowledge and practical skills to meet employers' requirements as well as be ready to develop their career right after graduation.
Students will study at BUV's new campus in the Ecopark township, with facilities funded by an investment of USD $36 million for the first phase accommodating up to 2,000 students. BUV's new campus, with state-of-the-art teaching and learning facilities and an iconic design, is indicative of 4IR and is being recognized as one of the best educational environments in Asia. Upon completion of the three phases, the entire BUV campus at Ecopark will have a total investment above USD $80 million, meeting the training needs of 7,000 students.
Professor Dr. Raymond Gordon, President of British University Vietnam, shared: "Our mission is providing British degrees and an authentic international campus environment. We are proud to say that we are creating the next generation of discoverers, explorers, and creative thinkers, who will change the world."
If you have any questions on completing admission documents, please contact us via our hotline 096 662 9909 or email info@buv.edu.vn.

Read more