 BUV Daily
British University Vietnam and University of Limerick collaborate to create added opportunities for Vietnamese students
Nov 06, 2023

14:08:56
On the 19th of October, the British University Vietnam (BUV) welcomed Mr. Conor Finn, Deputy Head of Mission, and Ms. Huong Nguyen, Bilateral Relations Adviser from the Irish Embassy, to the Ecopark campus in Hanoi. The occasion was the signing ceremony of a significant collaboration agreement between BUV and the (Ireland), paving the way for valuable opportunities for Vietnamese students and graduates.
At the signing ceremony, senior leaders from BUV, led by Professor Rick Bennett, Deputy Vice Chancellor and Vice President, and Ms. Roisin Hayes, Regional Manager for Southeast Asia at the University of Limerick, discussed collaborative ideas and action plans. These discussions primarily centred around student and staff mobility between the two institutions, enhancing academic and cultural exchange.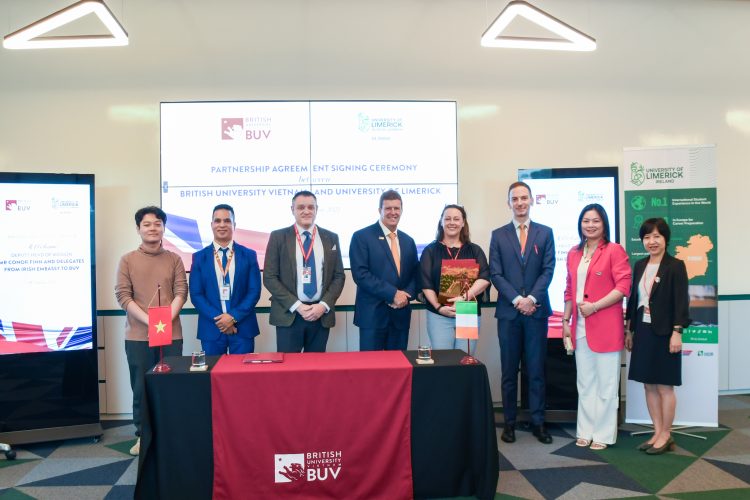 With this collaboration between BUV and the University of Limerick, Vietnamese students are now presented with a unique opportunity to further their education and expand their horizons on an international stage, all while strengthening the educational ties between Ireland and Vietnam.
About University of Limerick and Kemmy Business School:
The Kemmy Business School @ UL has a well-earned reputation for excellence in business education, providing a first-class educational experience that prepares graduates for successful and rewarding careers. The University of Limerick itself is highly regarded, ranking among the top 100 young universities globally and sitting at number 426 in the global rankings. Furthermore, it holds the prestigious title of being the third-ranked European university for Career Preparation and Graduate Employability. With the two-year stay-back visa for Vietnamese students, this collaboration is a great opportunity to take advantage of.

Read more