 BUV Daily
British University Vietnam 10-year anniversary ceremony
Dec 26, 2019

10:13:38
Founded in 2009 from 100% foreign investment, British University Vietnam (BUV) has had a 10-year mission to deliver to Vietnamese students the opportunity to study in a world-class British education environment and to contribute to the development of undergraduate education as well as improve the quality of human resources for Vietnam.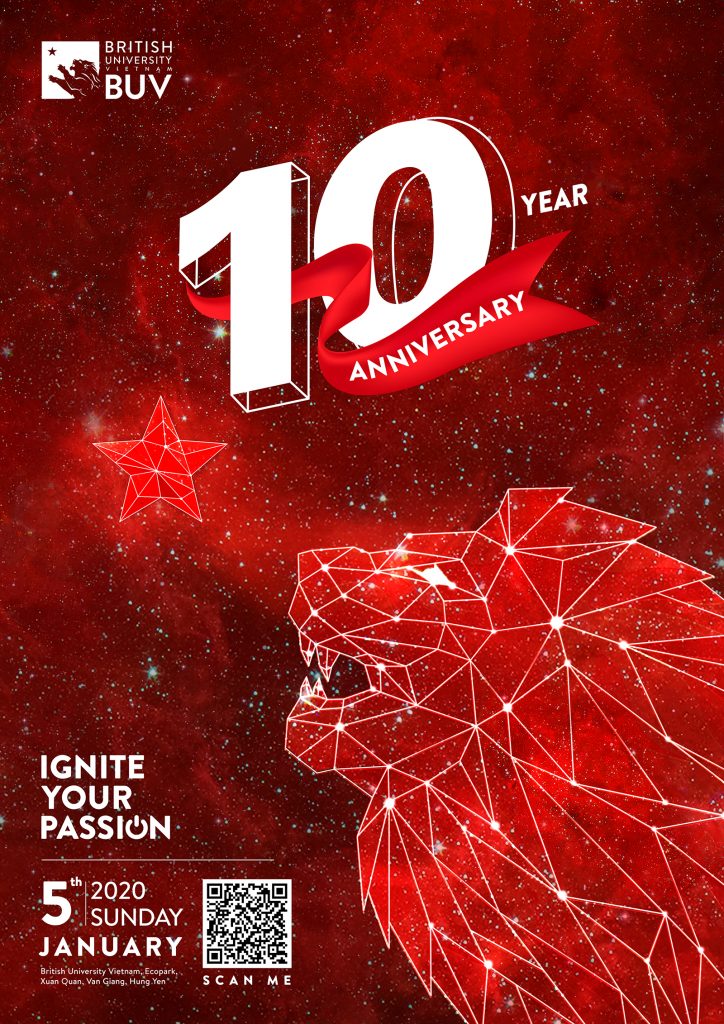 BUV now offers in total 11 bachelor's programmes and 1 MBA programme, taught in English, by our 100% international faculty and awarded by not only BUV but also two prestigious UK institutions: Staffordshire University and University of London.
At the end of 2018, BUV inaugurated and put into operation their Ecopark Campus which currently accommodates up to 2,000 students but, upon completion, will eventually accommodate up to 7,000 students. Implementing our educational mission, BUV always strives to create the best conditions for Vietnamese students to "ignite their passion" and confidently pursue and nurture their talents. BUV aims to bring to Vietnamese youth a world-class educational environment, leading them to success in their career and future life.
To look back on our proud 10-year journey, and look forward to our future mission and vision, British University Vietnam will hold the "BRITISH UNIVERSITY VIETNAM 10-YEAR ANNIVERSARY CEREMONY" on Sunday, Jan 5th 2020 at BUV Ecopark Campus, Van Giang, Hung Yen.
The 10-year development of British University Vietnam (BUV) couldn't have happened without the dedication and effort of the international faculty, the Board of Management and the staff of BUV together with the trust and support from parents, students and thousands of partners. BUV would be honoured to have your presence at the event.
Please kindly register for the event as below:
+ Register via link: http://bit.ly/BUV10year, or    
+ Register via hotline of BUV: 0966.62.9909     
+ Inbox BUV fanpage: https://www.facebook.com/Britishuniversityvietnam/
For more details, please visit: https://www.facebook.com/events/2863706910346899/

Read more