 BUV Daily
11 Things About BUV- Join this mini-game to cheers for BUV 11 years of passion
Mar 22, 2021

04:18:42
2021 marks the 11th birthday of the establishment of British University Vietnam (BUV). Through 11 years of development and determination, BUV has made remarkable achievements and contributions to education in Vietnam where it has allowed students to find, develop and fulfil their passions. To celebrate this special occasion, BUV is conducting a minigame called "11 things about BUV" with a desire to listen to, share and to save the precious moments between BUV and the community.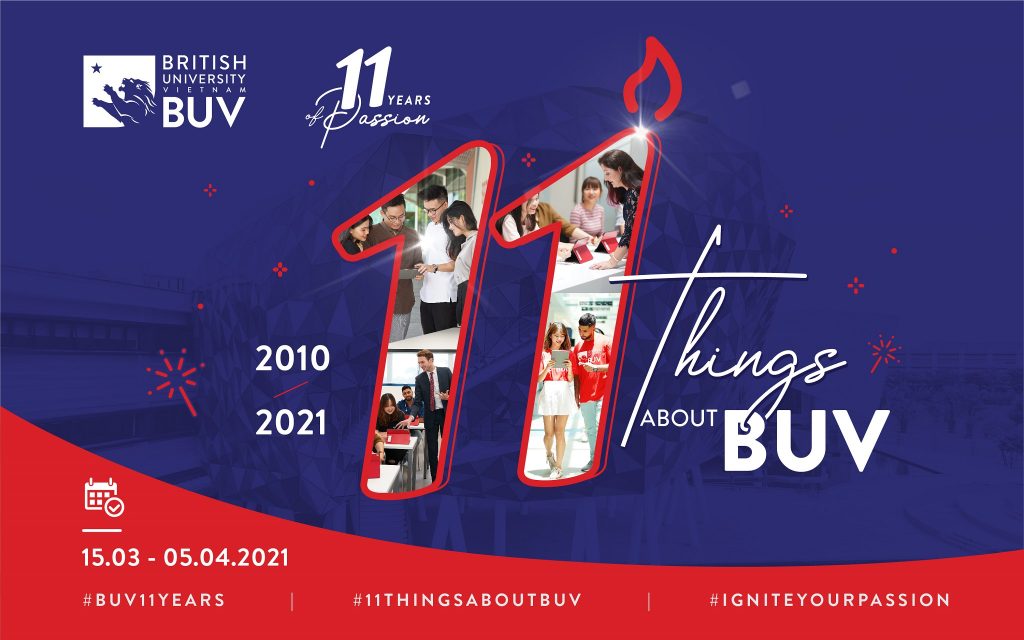 ELIGIBILITY:
All students, alumni, faculty, staff and partners who have been with BUV, people who care about, love and have memories with BUV (no age limit).
HOW TO JOIN:
Step 1: Add BUV 11-Year of Passion frame to your profile picture and leave it public until April 15th, 2021 (Add frame following this link http://bit.ly/BUV11yearsAva)
Step 2: Share 11 things about BUV on Facebook (post, post with pictures, video, notes…) in Vietnamese or English language, set your post as public and include all 3 hashtags #BUV11Years #11ThingsAboutBUV #IgniteYourPassion
The shared content can be a sentence of 11 words, 11 separate words, 11 paragraphs, 11 pictures, … Be creative to let "11 things" become innovative, unique and impressive!
Step 3: Comment the link of your post in the post
PRIZES:
01 PASSION Prize: An Apple watch and a special gift set from BUV, total valued at 11 million VND (Selected by the judges)
01 IMPRESSION Prize: An Amazon Kindle Oasis and a special gift set from BUV, total valued at 7 million VND (Voted by the audience, for those who have the highest votes – shares, comments and likes)
02 CREATIVITY Prize: A polaroid camera, film and a special gift set from BUV, total valued at 5 million VND (50% points by the judges, 50% points by the audience's vote)
11 INSPIRATION Prize: 01 Bluetooth JBL speaker and a gift set from BUV valued at 1 million VND (50% points by the judges, 50% points by the audience's vote)
SELECTION CRITERIA:
Prize selected by the judges:
A real inspirational, impressive sharing
Creative format
No typo
Prizes selected by the audience:
1 valid like/react = 1 point
1 valid comment = 2 points
1 valid share = 3 points
* 1 react / comment / share is considered valid when not using automated tools
* 1 account's comment will be counted for only once. The comment need to be meaningful. Comment with only sticker/emo/meaningless word will not be counted.
* 1 valid share need to be set publicly so that the judges can check
FORMS OF AWARDS
(*) Winners bring all valid documents to the ceremony (The organiser will contact the winner for details).
The Prizes will be delivered by post to the address provided by the winner or given at the British University Vietnam campus or by post (based on real circumstance)
TIMELINE
– Publish your post and copy the link into the comment section under the mini-game announcement post (15/3) on British University Vietnam fanpage: Before 23h59, 25/3/2021
– Valid public vote: Before 23h59, 25/3/2021
All likes/react, shares, comments after this time will not be recognised
– Time to announce results on Facebook: Tentatively on 20h00, 04/4/2021
– Awards: Tentatively April 15th, 2021
VALID POSTS AND VALID ACCOUNT

VALID POSTS
Entries must be at least 11 things about BUV (unlimited form)
The entry is posted on the participant's personal Facebook, completing all steps required
Entries must be updated on a valid Facebook account. Submissions using automatic tool for like/ comment/ share will be disqualified.
REGULATIONS ON INVALID ACCOUNTS
A fake Facebook account: no interactions with friends and/or with other accounts on the Facebook timeline within 06 months before the announcement of the mini-game.
The Organisers reserve the right to immediately remove any entry with the intention to cheat on likes/sharing/comments.
GENERAL PROVISIONS
During the mini-game, if an unexpected problem arises, the decision from the organiser will be final.
Submissions should ensure not to violate any copyright. The infringing entries will not be selected and the organiser is not responsible for any related issues.
The Organiser reserves the right to refuse any entry at any time if it finds that the entry does not fit the mini-game criteria.
Submissions should not violate Vietnamese customs and traditions.
The Organizer reserves the right to use the entry to promote, communicate on all mass media and social networks without paying any fees.
The Judges will have the right to select the winner
Prizes will not be exchanged for cash.
The organiser's decision will be final.
If you still have any enquiries about the rules for the mini-game and how to join, do not hesitate to contact the Organiser by inbox messaging the British University Vietnam fan page: https://www.facebook.com/Britishuniversityvietnam.
#BUV11Years #11ThingsAboutBUV #IgniteYourPassion

Read more