 Scholarship
BUV Officially Kicks off Scholarships and Financial Aid Fund in 2023
Dec 02, 2022

17:09:35
In 2023, BUV's Scholarship and Financial Aid Fund will continue to provide Vietnamese students with more scholarships, creating opportunities for outstanding individuals to access an international standard education and achieve excellence through a British standard bachelor's degree. Besides the usual scholarships, BUV has established a new full scholarship named after Sir Graeme Davies and increased the number of Lion Heart Scholarships to 02, with a total fund value of up to 42 billion VND.
Officially established in 2018, the British University Vietnam (BUV) Scholarship and Financial Aid Fund has always been associated with the mission of giving students the opportunity to study British undergraduate and graduate programmes in an educational environment of international standards, right here in Vietnam.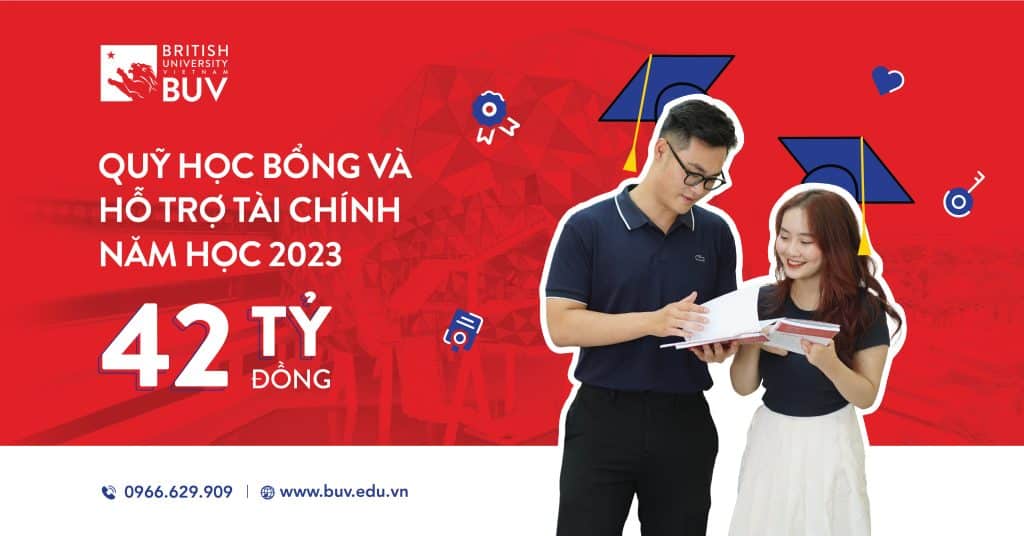 After more than 4 years of operation, the Fund has awarded hundreds of scholarships and financial support with a total value of tens of billions of dongs, providing countless opportunities for excellent students to access internationally recognized education and pursue a British bachelor's degree, regardless of personal circumstances. This year, the Fund will be launched with a total value of over 42 billion VND in many prestigious scholarship categories, continuing to offer Vietnamese students more scholarships than in 2022.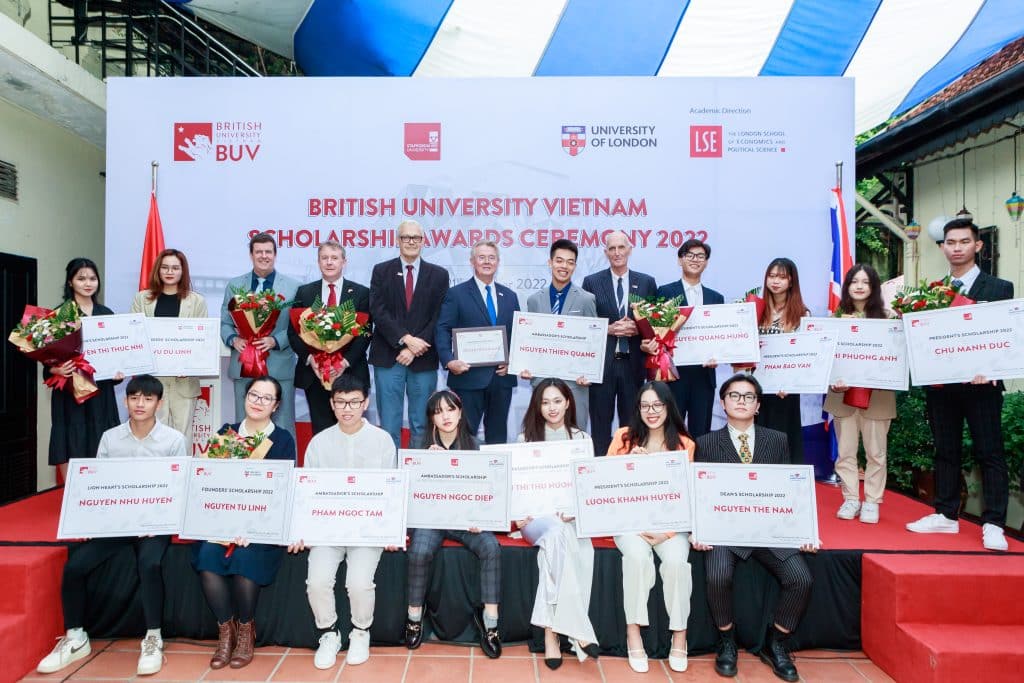 The most prestigious category is a full scholarship, covering four British Ambassador's Scholarships for excellent students, covering all fees for the Pathway programme and the Undergraduate programme.
The scholarship fund also includes other scholarships such as The Founders' Scholarship, President's Scholarship, Dean's Scholarship, and Talent Scholarship for students with outstanding achievements in the field of sports and arts; Key Partnership Scholarship for excellent students from BUV's partner high schools, and many other scholarships and financial aid packages for distinguished candidates from high schools.
Some notable changes include the establishment of a full scholarship named after Sir Graeme Davies, the
late BUV Chancellor and Chair of the University Council, in honor of his contributions to the development
of BUV as well as the education of Vietnam; and the increase of the number of Lion's Heart Scholarship
to 02 scholarships – the programme for students who have had physical and mental disabilities but have
risen to overcome their circumstances and inspire others.
The deadline for application for the BUV scholarships in 2023 is also earlier than in 2022, encouraging students to discover and make choices about the future university environment.
Detail:
Application deadline for Key Partnership Scholarship: 15/02/2023 (Round 1) and 01/03/2023 (Round 2)
Application deadline for Nationwide Scholarships: 25/03/2023

Read more