Studying a Master of Business Administration (MBA) is a life changing journey and an important milestone on the path to success in business. The MBA programme at British University Vietnam (BUV) offers an exciting opportunity for working professionals to join this path.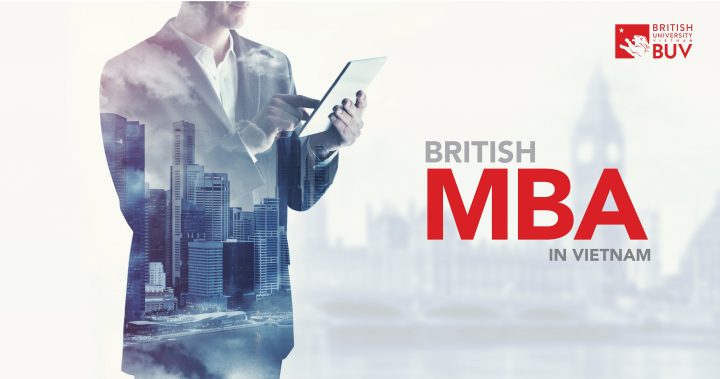 World-class quality education
The MBA programme at BUV brings together global business knowledge and understanding. Course participants exchange and learn from one another as well as the faculty, sharing valuable insights from their part of the world. We focus on personal development and supporting participants in achieving their own plans for the future, with emphasis on proactive studying, utilising personal working experience as the foundation for building new knowledge. Rather than opt for traditional, passive learning methods, our MBA is a tour de force in active learning and high-level problem solving.
 Theory and knowledge are combined in our course to ensure that all develop a detailed overview of a number of business environments. The programme also focuses on developing high-level communication and team-working skills. This is the hallmark of an engaging and exciting executive education that one can only receive at a world-class academic institution.  
State-of-the-art city campus
We place heavy importance on providing world-class campus facilities and learning spaces to stimulate course participants' minds. Our classrooms and Learning Resources Centre (LRC) are designed and built to British standards, fitted with a range of audio-visual equipment to assist different learning methods.
The LRC provides a range of carefully selected materials in various fields of business study. We put great effort in gathering the most reliable and relatable learning resources, textbooks are brought in from all over the world and they're frequently updated.
As an exclusive benefit, our MBA course participants will have unlimited access to Staffordshire University's online archive, containing thousands of articles, journals, research papers and e-books in all fields of study.    
British University Vietnam's determination to build a state-of-the-art, international standard campus represents our commitment to providing the best quality education.
A life changing journey
A British MBA is a major leap for any professionals in their future career opportunities. MBA graduates will be well prepared for high level management roles, with the ability to solve problems, apply theory and demonstrate a unique and deep understanding of management skills and leadership.
British University Vietnam is selective in admission, and we ask a lot from our MBA course participants. Your peers are likely to share the same ambitions, passions, and drive for success. With the guidance of excellent faculty members, you'll learn to harness this ambition. 
Our high-profile strategic partnerships involves both local and international organisations. We regularly invite experts to give workshops and seminars, along with fieldtrips and visits to company premises. This offers excellent opportunities to meet high-level executives and learn from their practical experience. Furthermore, the MBA programme is a meeting place of expert and management level professionals, creating an exceptional networking environment to approach potential clients, partners or suppliers for future business.
Mr. Chris Jeffery, Dean of British University Vietnam states that "The MBA programme at British University Vietnam is a perfect choice for individuals with the desire and ambition to progress their career to top level positions in any number of organisations. We strive to provide a life changing journey, where students can discover their potential, develop new vision, improve lifestyle, broaden their social networks and boost their career opportunities."
Course modules:
Focusing on an all-rounded development of students in the field of business, the MBA programme at British University Vietnam provides both in-depth theoretical expertise and applied practical experience.  
Managing people and organisations
Leadership and strategic management
Strategic market management
Financial concept practice
Risk management
Performing in organisations
International business
Marketing Innovation
Projects
Scholarships
As an encouragement and motivation for working professionals to progress their career even further, British University Vietnam offers a range of scholarship varying from 15% to 30% of tuition fee.
Fee policy
BUV's tuition is very affordable in comparison with similar courses at other institutions. We offer students the choice to pay in small instalments to reduce financial burden. 
 Entry requirement
Hold a Bachelor's Degree from a recognised Higher Education Institution
At least 1 year full-time working experience
Application essay (*)
Supporting references from suitable sources
Admission Interview
(*) Essay questions to be considered:
How do you feel a MBA will help your career and why how has your work experience shaped this belief.
Discuss the greatest opportunities and threats that are affecting your business sector globally and specifically related to Vietnam.
Please give an example of when you have demonstrated leadership skills and/or a significant contribution to a team. Specifically highlight what your role was in the situation.
Looking at your particular skill set which areas do you feel need to be developed to support your career development?
Describe one occurrence that has exemplified you as an individual.