British Ambassador's scholarship
The British Ambassador's Scholarship programme is a full scholarship valued at more than 800,000,000 VND and covers the tuition fees for Pathway programmes and an undergraduate course at the British University Vietnam in addition to the travelling cost for attending the scholarship interview round for students who are not in Hanoi and Hung Yen (if needed). BUV Bachelor programmes are taught in Vietnam but awarded by UK reputed public universities.
A key feature of the programme is to contribute to Vietnam's development through providing the world class higher education opportunities offered at the first British owned university in Vietnam. The awardees are selected based on a combination of previous academic performance, relevant experience of community work and the potential to become leaders in the public sector, business and academia. The scholarship programme is named after The British Ambassador to Vietnam, including 04 full scholarships every year.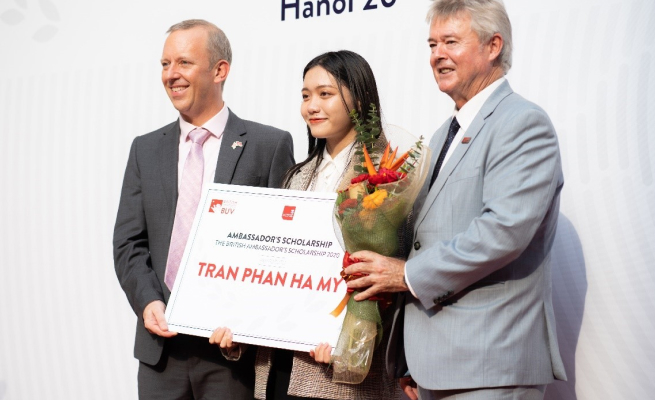 Important information
Applied Majors
The scholarship programme applies to the following courses, which are entirely taught at BUV:
BSc (Hons) International Business Management
BSc (Hons) Computer Science: Cyber Security/Cloud, Networks and Security
BA (Hons) Marketing Management
BA (Hons) Accounting and Finance
BA (Hons) Tourism Management
BA (Hons) Events Management
BA (Hons) Contemporary Creative Practice: Graphic Design/ Illustration/ Photography
BA (Hons) Computer Games Design and Programming
Eligibility
To be eligible for the scholarship, all applicants must:
Be a citizen of Vietnam and reside in Vietnam at the time of application,
At the time of application be not more than 30 years of age,
Before being awarded the scholarship, have completed secondary school at the time of application with a minimum of GPA in Year 12th of minimum 7.5,
There are no requirements for evidence of English ability at the time of application, however the language in use in the application and both interview rounds will be English. Hence it is recommended that applicants should have a minimum English achievement level equivalent to an IELTS score of 6.0.
Submit a personal statement, (please refer to the 6 questions in the scholarship application form) by the stated closing date,
Meet the English language entry requirements of the applied programme of study,
Not hold any other scholarships.
Selection Criteria
A Scholarship Panel will select candidates based on an assessment of the following factors:
Academic results
Volunteer/Community work experience
Relevance of proposed study
Need for financial support
Potential contribution to the University
Leadership potential
General Terms and Conditions
Awardees are eligible for the scholarships during the time that they are studying the 3-year course and Foundation is required. The withdrawal of a student at any time will lead to the scholarship being terminated.
British University Vietnam will not refund any fees paid for courses which have been or are being studied by scholarship winners.
This scholarship will cover all tuition and resource fees only, other charges are not included. The scholarship will be deducted from the annual tuition fee of the winners and subject to change upon the winner's academic performance. Continuation of the award is subject to successful completion of all assessments.
Should the applicant withdraw from the programme before satisfactory completion of the programme, he/she will have to comply with the Refund Policy laid down by the British University Vietnam.
If a scholarship holder withdraws from the programme of study, the University reserves the right to obtain full reimbursement of the tuition fees, and any other fees and allowances that have been incurred. These must be repaid to University within three months of withdrawal.

How to apply
Step 1 - Application Period Opens
Applicants can register for the scholarship through various channels:
Online registration on BUV's website (www.buv.edu.vn)

At British University Vietnam, Ecopark Campus, Ecopark Township, Hung Yen
If you have any question about Scholarship, please check our frequently asked questions here.
Step 2 - Guidance on applications
Candidates need to submit their full application with academic transcript of Year 12 and other supporting documents to complete the scholarship application package.
Supporting documents required for your full application by include:
Scholarship application form
Personal Statement
Notarised copy of National ID card
Notarised copy of high school graduation diploma or relevant
Notarised copy of the original high school transcript
IELTS / TOEFL certificate (if available)
Evidence of disability (if relevant) or in need of financial support (if relevant)
2 passport-sized photos (must be 2 copies of the same photo taken within the last 6 months)
Notarised copy of certificate or award or prize (if available)
Notes:
All documents that are not in English shall be translated to English and certified.
Only shortlisted candidates will be contacted via email and post.
The finalists will be informed of detailed schedules and guidelines for next steps.
Step 3 - English proficiency test
Applicants who are not available for this test or cannot be contacted will have their applications withdrawn unless they have submitted a valid IELTS certificate of minimum 6.0 with no individual sub-band below 5.5 with their application. If candidates do not live in Hanoi, arrangements to attend the test will be undertaken at the centres authorised by British University Vietnam closest to the candidates' place of residence.
Step 4 - Final Interview
Only the top 20 candidates will be invited to attend a formal interview with the Scholarship Interview Panel at BUV Ecopark Campus.
Applicants will need to travel to BUV Ecopark Campus for the final Interview. All agreed travel costs (flight/ train and bus ticket – economy class only) will be covered by the University.
All short-listed candidates will be informed of the final decision.
To receive the scholarship students will have to agree to the written offer and to the terms of scholarship.

Testimonials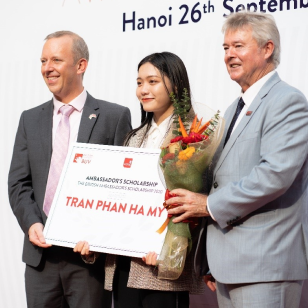 Trần Phan Hà My – British Ambassador scholarship 2020 winner/ Majoring in International Business Management
"It's the process of reflecting on your values: Participating in many extracurricular activities to find a field that suits you, reading a lot of books to figure out the values you pursue, listening to what beloved people evaluate about you. Above all, think about what you can contribute to the school, because when you get something, find a way to give the value in return."