British University Vietnam (BUV) offers scholarships of up to 280 million VND in value for students achieving high marks in the 2017 High School graduation exams, as well as for International Olympiad Competition medalists. Our aim is to provide motivation for potential students wishing to study in a modern and international university environment.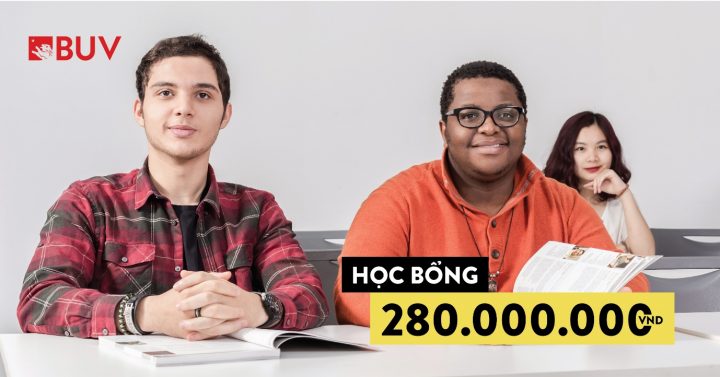 Merit scholarships for students with high marks in the 2017 high-school graduation exams
Scholarships will be given to students with 7.0 and above average scores of 04 graduation exam subjects:
Average score of 7.0 and above: 85,000,000 VND scholarship
Average score of 8.0 and above 170,000,000 VND scholarship
Average score of 9.0 and above: 280,000,000 VND scholarship  
The scholarship will allow high-school students easier access to an authentic British university environment. With no selection process required, a limited number of scholarships will be given to early and eligible applications.
Scholarships for high-school students with International Olympiad Competitions medals
BUV offers scholarships of equivalent value to high-school students who were awarded medals in the International Olympiad Competitions:
Bronze Medal: 85,000,000 VND scholarship
Silver Medal: 170,000,000 VND scholarship
Gold Medal: 280,000,000 VND scholarship
An International Olympiad Competition medal along with a globally recognised bachelor's degree will be an excellent combination, giving students the extra competitive advantage for success in the future. This scholarship programme is BUV's way to recognise and encourage high-school students who are looking for an education that will open up pathways to their future.
UK educational standards with the affordable cost of Vietnam
BUV is the first and only university in Vietnam to provide undergraduate courses from the prestigious University of London and Staffordshire University. Graduates of BUV will be awarded with the official degree from these universities, opening up further study or work opportunities in any country in the world, with just 1/3 of the cost compared to studying abroad. BUV also offers transfer programmes for students studying abroad, in public/private universities or in joint programmes, ensuring that any student who is interested can have access to authentic UK education.
In addition, we provide financial aid such as tuition fee discounts, flexible payment periods, accommodation cost support, and a new loan scheme in collaboration with Maritime Bank, in which students and families can borrow up to 80% of the total tuition fee, with 0% interest rate.
Vibrant student life
BUV students can choose to participate in and organise various events and activities throughout the year. The 14 clubs are founded and run by the students themselves. There are also workshops, seminars, field trips and business competitions to join. BUV provides all the facilities to the standard of an international university.
Our study majors:
Undergraduate programmes awarded by University of London:

BSc. (Hons) Banking and Finance
Undergraduate programmes awarded by Staffordshire University:

BA. (Hons) International Business Management
BA. (Hons) Marketing Management
BA. (Hons) Tourism Management
BA. (Hons) Accounting & Finance

Dual degree programme awarded by BUV and Staffordshire University:

BA. (Hons) Finance and Economics