The HRH Prince Andrew, Duke of York, Scholarship is the most prestigious award given annually by British University Vietnam. The Launching Ceremony on November 25th 2017 will officially mark the commencement of this scholarship's 2018 application period.
With hopes to contribute to Vietnam's development through providing world-class higher education opportunities to our students, British University Vietnam annually awards 4 HRH Prince Andrew Full-Tuition Scholarships to Vietnamese students wishing to gain access to quality education and having the desire to develop their career as well as pursue life goals.
The HRH Prince Andrew Scholarship is the only scholarship in Vietnam to be named after a member of the British Royal Family – Prince Andrew, Duke of York, UK. The scholarship is valued at up to 700,000,000 VND for each award, covering the full tuition fee of Staffordshire University undergraduate programmes taught at British University Vietnam, foundation courses and travel expense occurred during the interview round (applying to students not living in Hanoi)
The awardees are selected based on a combination of previous academic performance, relevant experience of community work and the potential to become leaders in the public sector, business and academia. Since its inception in 2010, there have now been 26 excellent individuals who had claimed the title of Scholarship Winner.
The 2018 Launching Ceremony
The Launching Ceremony for the 2018 HRH Prince Andrew Scholarship will officially mark the scholarship application period for 2018 September intake. In attendance will be BUV's senior management representative, along with representative from the British Embassy in Vietnam.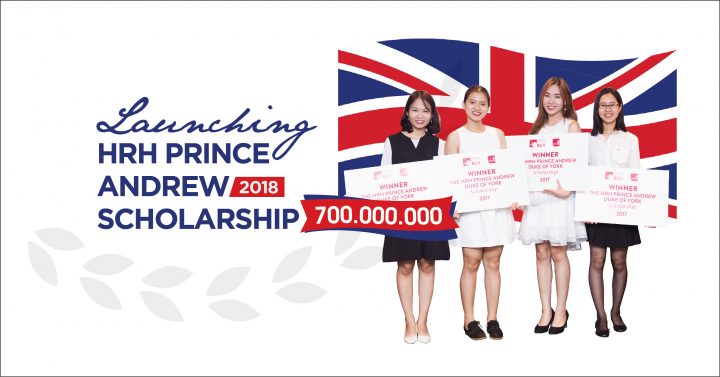 This will be an open event, we welcome all students, parents and individuals who are interested in this scholarship opportunity as well as in British Education and British Degrees. Participants will receive valuable information on the application process and the benefits of studying in the British environment at BUV, the event will also feature the appearance of our Scholarship Winners from previous years.
Time and Date: 9:00 – 11:30, Saturday, November 15th, 2017
Location: British University Vietnam – 193B Ba Trieu, Hai Ba Trung, Hanoi.
Hotline: 0966 62 99 09