Tran Khanh Trang, a BUV student majoring in Finance and Economics was one of the few selected excellent students to join the International Student Festival in Trondheim, Norway (ISFiT). The world's largest student conference held every two years in Trondheim, Norway, took place from 9 to 19 February with the participation of 450 excellent students in various fields, including community leaders from all over the world. ISFiT is where all voices are respected. ISFiTis is also where students meet people experiencing serious crises of discrimination and injustice.
For Trang, the trip was a wonderful journey that gave her special experiences for the first time. It was the first time she visited Europe, visited Norway, Sweden, Germany, and discovered new places in Stockholm and Berlin, with its cultural heritage, and some of the oldest museums in the world. Trang also went skiing in Granåsen, met and heard stories from friends in countries she'd never known before (Namibia, Bahrain, Panamá); enjoyed traditional Norwegian performances, as well as visited the forest in Lian, Norway. Acting as a BUV student ambassador, Trang always introduced BUV beautiful images to friends all over the word during the trip. Wearing a BUV backpack and BUV red hoodie, this tall girl with intelligent and bright eyes felt very proud to tell her friends about BUV – a wonderful university where she is studying.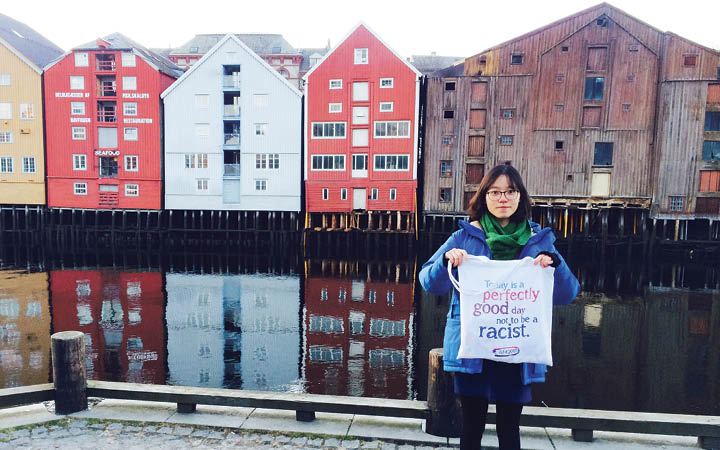 Sharing her secrets to win full and partial scholarships like ISFiT, Trang indicated that she always tries to improve herself, her desire to learn, experience and contribute to the community. To apply successfully, Trang believes that choosing the programme which is suitable for her personality is a determining factor. Trang is available to discuss directly and help other students in finding opportunities, preparing and applying for such scholarship programmes.