 Job Description
British University Vietnam (BUV) is the first and only international university in Vietnam to directly award British degrees from the prestigious University of London and Staffordshire University. BUV is rated a 5 Star university of excellence by the world recognised QS accreditor, and is also recognised with a University-wide accreditation from the UK's Quality Assurance Agency (QAA).
BUV has three main brand drivers:
Offering accredited British and international higher education and training in Vietnam.
Providing 5-star university campuses, learning spaces, and services.
Including a compulsory personal and social growth program that prepares students for the future of life and work.
Established in 2009, BUV provides teaching for undergraduate and graduate programmes. Employability rates for students are exceptionally high with 100% of graduates from BUV either employed or continuing higher education within 3 months after graduation.
With a wide network of more than 300 enterprise partners in various fields, and 12-week internship programmes, BUV helps students gain professional knowledge and practical skills to meet employers' requirements as well as be ready to develop their careers immediately after graduation.
Students study at BUV's award winning campus in the Ecopark township near Hanoi. With its state-of-the-art teaching and learning facilities and an iconic design, BUV is recognised as one of the best educational environments in South East Asia.
Job Title
Senior Student Recruitment Representatives
POSITION PURPOSE
This position is expected to provide high quality and effective performance in recruiting new students to study English, Pathways, Undergraduate & Postgraduate programmes for British University Vietnam annually. He/she takes charged for the entire student recruitment process starting from initial admission planning throughout to programme enrolment of prospective students and at the same time provide additional support to junior peers & management to achieve team's target.
AREAS OF RESPONSIBILITY
Student Recruitment
To actively update information and promote recruitment activities to pre-university English, foundation, undergraduate & post-graduate programmes at BUV
To provide excellent consultation on course information, campus tour, admission process & policies, entry requirement, scholarship & financial aid opportunities for prospective students/parents/organizations in a professional and timely manner.
To provide consistent and high-quality follow-up actions by email/phone/online meeting/face-to-face appointments to help prospective students & parents in the application & enrolment process.
To build & execute annual admissions plan. Provide high quality and consistent performance & high conversion rate in sales process to achieve both personal and the team's student recruitment target.
Customer service and relationship management
To provide excellent level of customer service all the time. Oversee and manage to take care the students/parents' concerns including documentation and administrative tasks throughout the admission process to guaranty customer satisfaction.
To build & develop harmony working relationships other departments such as Marketing Communication, Admissions Office, Student Service, etc teams to follow up and support address any problem in the recruitment and enrolment process of prospective students and parents.
To maintain, generate and effectively further develop recruitment sources from professional & personal networks to increase number of potential leads and enrolments besides leads and database provided by the existing channels of the department.
 Database management
To ensure the prospective student database is updated comprehensively, easy to approach, trackable, reportable & analysable in a timely manner.
To continuously update and follow CRM's guideline to master all key functions and requirement of the system.
To develop and implement strategies, plans and tactics according to all individual student database, including email/phone/appointment plan for prospective students/parents.
General
To supervise and support junior peers in their daily tasks to improve their & team's performance.
To actively take part and take charge in the organisation's internal, promotion and student recruitment events/seminars which occasionally be organized during weekend and in different provinces in Vietnam and overseas.
To provide periodic market research to update education industry knowledge and trend, especially in international university market.
To prepare and submit reports/proposals requested by Line manager and undertake any other assignments/duties when required by management
POSITION SPECIFICATIONS
COMPETENCIES (knowledge, skills, and abilities)
Essential 
Vietnamese national, preferably aged from 23 – 32
Holder of a bachelor's degree, preferably in Business, Management, Foreign Languages, or relevant field
At least 2 years proven consultant/sales/customer service experience, in which at least 1 year in education sector, preferably relating to international higher education or proven track record of relevant work experiences demonstrating student recruitment ability.
Excellent selling, consulting and presenting skills, with a strong sales aptitude, customer focus and relationship building
Proven ability to achieve high level of attention to details and information accuracy
Excellent in working under pressure to meet individual and team targets.
Excellent written and verbal communication skills in both Vietnamese and English.
Computer literacy in MS office applications (Word, Excel, PowerPoint, Outlook, Teams).
Desirable 
Study background from international universities in Vietnam or oversea universities is an advantage.
Strong researching, analytical and problem-solving skills
Good in planning, organizing and especially in executing
Experience in working with professional database management/CRM systems is an advantage.
COMPETENCIES  (behavioural)
Customer and Service Orientation
Results Orientation
Communicating Effectively
Relationship Building and Networking
Team work & Collaboration
Desirable
Problem Solving and Decision Making
Planning and Organising
Creative Thinking and Innovation
Managing & Developing people
BENEFITS
Highly competitive salary package (plus benefits) for Vietnamese and expatriate candidates depending on qualifications/experience.
13th month Tet bonus (Vietnamese candidates).
Annual cost of living adjustment.
Annual salary increases and bonuses based on performance.
Recognition & awards programmes.
20 days annual leave, plus Xmas closure, public holidays and 5 days paid sick leave.
Healthcare plan (Private accident, medical, and dental insurance, including annual health check)
Education support for staff, spouse, and children
Transportation support.
Business travel insurance.
Flexible working arrangements.
Various staff events through the year (outings, year-end party, sports activities, and other events).
Onsite fitness and sports centre.
Opportunity to work within a professional and multi-cultural environment.

Application
Interested candidates should prepare an up-to-date CV and application letter indicating for which position you are applying. Please then select SUBMIT YOUR CV button on our JOBS AT BUV webpage or email to hr@buv.edu.vn.
EQUAL OPPORTUNITIES AND DIGNITY AT WORK POLICY
All staff are expected to understand and enact the University's commitment to ensuring equality and diversity in all activities. This commitment is enshrined in the BUV mission statement and our core values.
Every member of staff has a responsibility to ensure colleagues are treated with dignity and respect. The University is committed to creating a work environment for all staff that is free from harassment, intimidation, and any other forms of bullying at work, where everyone is treated with dignity, respect, and professional courtesy.
Submit Your CV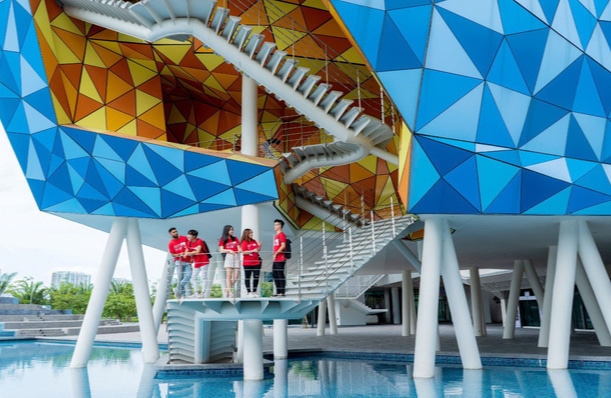 Contact details
Contact Name: Human Resources Department
Method of contact: Email or post
Address: Ecopark township, Van Giang, Hung Yen
Email: hr@buv.edu.vn