 Job Description
BRITISH UNIVERSITY VIETNAM (BUV)
British University Vietnam (BUV) is the first and only international university in Vietnam to directly award British degrees from the prestigious University of London and Staffordshire University. BUV is rated a 5 Star university of excellence by the world-recognised QS accreditor, and is also recognised with a University-wide accreditation from the UK's Quality Assurance Agency (QAA).
BUV has three main brand drivers:
Offering accredited British and international higher education and training in Vietnam.
Providing 5-star university campuses, learning spaces, and services.
Including a compulsory personal and social growth program that prepares students for the future of life and work.
Established in 2009, BUV provides teaching for undergraduate and graduate programmes. Employability rates for students are exceptionally high with 100% of graduates from BUV either employed or continuing higher education within 3 months after graduation.
With a wide network of more than 300 enterprise partners in various fields, and 12-week internship programmes, BUV helps students gain professional knowledge and practical skills to meet employers' requirements as well as be ready to develop their careers immediately after graduation.
Students study at BUV's award-winning campus in the Ecopark township near Hanoi. With its state-of-the-art teaching and learning facilities and iconic design, BUV is recognised as one of the best educational environments in South East Asia.
 POSITION PURPOSE
Responsible for the management and direction of the Information and Communications Technology (ICT) unit, and assume a firm-wide leadership role for the ICT function, including achievement of annual departmental performance targets, policy formulation, process development, operational management, strategic planning and budgeting.
Provide the necessary vision and leadership for developing and implementing ICT initiatives that will enhance teaching and learning, improve services that support student learning, administrative processes, and communication, as well as improve cost effectiveness and business development in a constantly competitive market place.
Develop strategies for technology integration and alignment with business goals, while working with heads of institutions in setting priorities for the deployment of information technology & new processes – which include identification, implementation and evaluation of systems and services that cross information services unit and organisational boundaries.
Lead in planning an enterprise-wide architecture blueprint and implementing the necessary information systems, infrastructure, processes and technology standards to support the organisation's current operations and future growth.
Advise senior management on information systems requirements and oversee the procurement, implementation and maintenance of these systems.
 AREAS OF RESPONSIBILITY
Leading: Creating a vision of the future & selling it
Providing input & leadership in technology as the technical member of top management.
Defining the enterprise architecture blueprint, as well as establishing its enterprise-wide ICT standards & operating procedures.
Governing: Establishing an optimum ICT governance framework & organisational structure
Optimum balance in governance structure (assignment of decision rights) between global / centralised & localised needs.
Designing & implementing the optimum organisational structure for ICT while ensuring that there is adequate staffing in terms of relevant skills & numbers to support the organisation business objectives & continued growth; and
Ensuring that proper control mechanisms & accountability checks are in place.
Investing: Shaping the ICT portfolio
Participate in and contributing to the strategic planning & business decision-making process at senior management level.
Maximise value of ICT investments by aligning ICT portfolio with business goals; and
Facilitate the ICT Project prioritisation process.
Managing: Fostering change
Change management to ensure holistic approach to adopting technology (taking into account people & process aspects in addition to technology).
Recognise & lead end-to-end solution growth opportunities across different institutions.
Project Management experience.
Mapping: Continuous improvement
Ensure that all systems at all institutions within BUV are assessed periodically with the objective of identifying "best practice" for existing processes.
Ensure that consultancy and advisory assistance is provided to internal customers pertaining to improvement with the purpose of rolling out new products or programmes, or improving operational efficiency & productivity.
Job Title
Senior Manager, Head of ICT
POSITION SPECIFICATIONS
COMPETENCIES (knowledge, skills, and abilities)
Vietnamese national
Holds an advanced degree in Computer Science, Information Technology or related field.
At least 10 or more years of relevant work experience, including ICT industry and/or higher education industry experience.
Recognised internally and externally as knowledge and skill leader in ICT.
Assumes leadership role in developing/implementing enterprise-wide ICT strategy.
Regularly seeks and contributes expertise / insight on ICT & process management to other members of the senior management team.
Sets direction for area of knowledge and experience to strengthen use of information technology and process management to support achievement of business objectives.
Possess background and in-depth understanding of ICT policies, procedures, practices and technology.
Ability to foster high morale amongst staff and peers while creating and leading customer-focused teams.
Committed to helping to embody BUV 's core values and actively participating in efforts to entrench these values amongst staff.
Able to provide guidance, direction and peer review to all levels of staff in ICT.
Encourage teaming and networking across departments and institutions within BUV.
Able to challenge prevailing thoughts and propose new solutions in line with organisational needs.
Receptive to new information and points of view expressed by others, and encourages upward feedback.
Fosters teamwork & an environment of continuous improvement.
Sets high standards for personal conduct and work.
Leads by example and serves as role model for on-going self-development.
Responsible for the development, training and coaching of staff.
COMPETENCIES  (Behavioural)
Ability to hire A Players
Ability to develop people
Flexible with high energy
Strategic thinking/visioning
Proactive
Customer-oriented
High standards
Can do mind set
BENEFITS
Highly competitive salary package (plus benefits) for Vietnamese and expatriate candidates depending on qualifications/experience.
13th month Tet bonus (Vietnamese candidates).
Annual cost of living adjustment.
Annual salary increases and bonuses based on performance.
Recognition & awards programmes.
20 days annual leave, plus Xmas closure, public holidays and 5 days paid sick leave.
Healthcare plan (Private accident, medical, and dental insurance, including annual health check)
Education support for staff, spouse, and children
Transportation support.
Business travel insurance.
Flexible working arrangements.
Various staff events through the year (outings, year-end party, sports activities, and other events).
Onsite fitness and sports centre.
Opportunity to work within a professional and multi-cultural environment.

Application
HOW TO APPLY
Interested candidates should prepare an up-to-date CV and application letter indicating for which position you are applying. Please then select SUBMIT YOUR CV button on our JOBS AT BUV webpage or email to hr@buv.edu.vn.
EQUAL OPPORTUNITIES AND DIGNITY AT WORK POLICY
All staff are expected to understand and enact the University's commitment to ensuring equality and diversity in all activities. This commitment is enshrined in the BUV mission statement and our core values.
Every member of staff has a responsibility to ensure colleagues are treated with dignity and respect. The University is committed to creating a work environment for all staff that is free from harassment, intimidation, and any other forms of bullying at work, where everyone is treated with dignity, respect, and professional courtesy.
Submit Your CV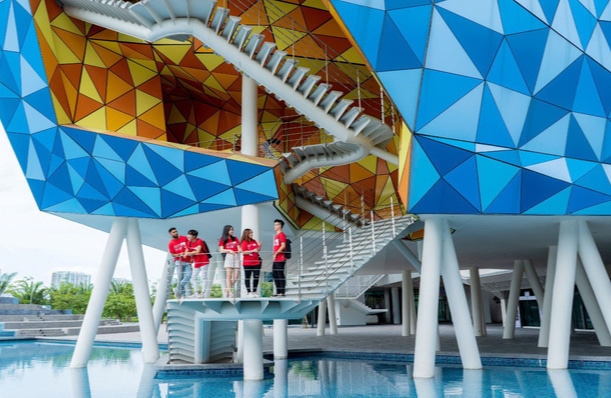 Contact details
Contact Name: Human Resources Department
Method of contact: Email or post
Address: Ecopark township, Van Giang, Hung Yen
Email: hr@buv.edu.vn