 Job Description
British University Vietnam (BUV) is the first and only international university in Vietnam to award direct degrees from the prestigious University of London and Staffordshire University. BUV's mission has two foci which are to provide high-quality British degrees and a world-class campus in Vietnam, and to create a new generation of discoverers, explorers and creative thinkers who are educated, trained and prepared to thrive in future (4IR) fields of work and life.
Established in 2009, BUV provides teaching for 11 undergraduate programmes and an MBA. 100% of graduates from BUV have a job or continue higher education within 3 months after graduation. With a wide network of more than 300 enterprise partners in various fields and internship programmes from the first year, BUV helps students gain professional knowledge and practical skills to meet employers' requirements as well as be ready to develop their careers right after graduation.
Students will study at BUV's new campus in the Ecopark township, with facilities funded by an investment of US $36 million for the first phase accommodating up to 2,000 students. BUV's new campus, with state-of-the-art teaching and learning facilities and an iconic design, is indicative of 4IR and is being recognized as one of the best educational environments in Asia. Upon completion of the three phases, the entire BUV campus at Ecopark will have a total investment of up to US$80 million, meeting the training needs of 7,000 students.
For more details, please visit our website at: www.buv.edu.vn
Job Title
Senior Marketing Officer
Reports To
Marketing and Communications Manager
Job Objectives
Implement integrated marketing communications campaigns to ensure the maximum promotion of the University, support the current and future business objectives and build relationships with various stakeholders.
Main Responsibilities
Work with the marketing manager to work strategically on creating project plans and map out the tasks needed to implement that plan to help the University reach its key goals and priorities
Develop marketing communications campaigns to ensure the maximum promotion of the University, support the current and future business objectives and build relationships with various stakeholders;
Plan and implement creative and engaging events in coordination with other marketing communications activities; Lead event preparation and manage all deliverables within deadlines; Work with relevant agencies in big-scale events for effective event management.
Support BUV's activities in organizing or presenting at high schools and other events;
Write or actively involve in preparing diverse marketing distributions (brochures, press releases, website material, media articles, video clips, etc.);
Ensure that brand guidelines are adhered to in all marketing activities across the University; Maintain and manage BUV's corporate image and identity, which includes the use of logos and signage;
Manage website and look at data analytics; Conduct website content audits to maintain the proper content and interface to users;
Update databases and use the customer relationship management system;
Take part in social media tracking and media clipping, brand mentioned in both mainstream and social media;
Undertakes the necessary market research to have a depth-understanding of the industry;
Identify collaboration opportunities with external business partners in events, sponsorship and joint marketing activities;
Keep up to date with marketing developments, trends, and tools to communicate British Vietnam University stories effectively;
Be responsible for the follow-up with admin jobs in the Marketing and Communications Department;
Contribute to the University's overall success by performing all other duties and responsibilities as assigned.
Job Requirements
Vietnamese national
Advanced in English and Vietnamese, both written and oral communications;
Holder of bachelor's degree in Communications, Marketing, or Business or equivalent combination of education and experience preferred;
At least three years of related experience.
Competencies
Careful
Proven experience as senior marketing executive or similar roles;
Excellent written and verbal communication skills, both in English and Vietnamese;
Ability to work independently or as a part of a team, always deliver attentive responses to requests for assistance;
Can-do attitude, proactive and solution-oriented at all times;
Passion for finding innovative ways to increase performance;
Strong work ethic with a dedication to excellence;
Ability to produce high-quality product while managing multiple projects simultaneously, with discipline in meeting deadlines in a fast-paced environment;
Enthusiastic and hardworking;
Benefits
Competitive salary package (gross)
Recognition and Reward Programs
13th month Tet bonus
Performance bonuses
Paid Time-off (annual leave, sick leave, holidays)
Healthcare plan (Private premium accident, medical insurance, dental insurance, free assessment to medical suite)
Business travel insurance
Onsite fitness and sports centre
Education support for staff and children
Transportation support
Flexible working arrangement
Opportunity to work within a professional and multi-cultural environment
Various staff events throughout the year (outing, year-end party, sports activities and other events recommended by the staff committee)

Application
Interested candidates should send an updated CV with a recent photo, a Cover letter in English, and supporting documents to the HR Department. We will invite short-listed candidates for interviews. Recruitment will remain open until the position is filled.
Submit Your CV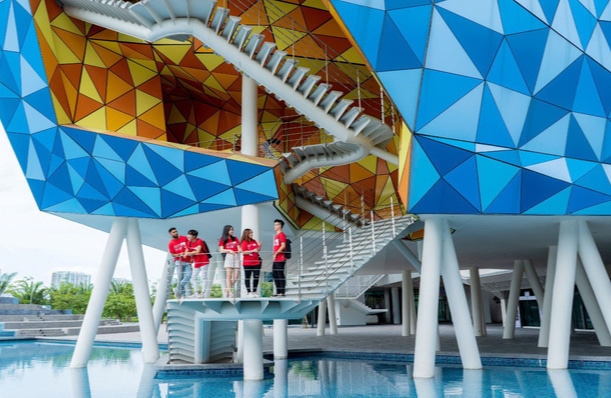 Contact details
Contact Name: Human Resources Department
Method of contact: Email or post
Address: Ecopark township, Van Giang, Hung Yen
Email: hr@buv.edu.vn