 Job Description
British University Vietnam (BUV) is the first and only international University in Vietnam to award direct British degrees from the prestigious University of London and Staffordshire University. BUV's mission has two main objectives:
• To provide high-quality British degrees and a world-class campus in Vietnam;
• To create a new generation of discoverers, explorers and creative thinkers who are educated, trained and prepared to thrive in future (4IR) fields of work and life, in an international environment.
Established in 2009, BUV provides teaching for undergraduate programmes and an MBA. Employability rates for students are exceptionally high with 100% of graduates from BUV either having a job or continuing higher education within 3 months following graduation.
With a wide network of more than 300 enterprise partners in various fields, and internship programmes from the first year, BUV helps students gain professional knowledge and practical skills to meet employers' requirements as well as be ready to develop their careers immediately after graduation.
Students study at BUV's world class and state of the art campus in the Ecopark township, with its state-of-the-art teaching and learning facilities and an iconic design, BUV is recognised as one of the best educational environments in Asia.
For more details, please visit our website at: www.buv.edu.vn.
Job Title
Digital Resources Officer
Reports To
Learning Resource Centre Associate Manager
Experience
1 year of experience
Position Purpose
This position is responsible for the management, support, encouragement, development, provision, and assistance of students' use of the Learning Resource Centre (LRC), teaching and learning within curriculum departments through students' use of the LRC and learning resources including e-material and printed material.
Key Responsibilities
Provide support to students, lecturers and colleagues in accessing learning materials like eBooks, e-library, databases, newspapers, and reference books. Solve complex and diverse problems relating to circulation and information services on a daily basis.
Operate the Library Management System (Koha), including inputting data, issuing and returning resources, operating the reservations system and stock checking.
Work with other teams and departments to get data to order textbooks, iPads, databases and other teaching and learning materials on time and at proper quality.
Work with suppliers and publishers to acquire learning materials, upload them to learning management systems and make payments accordingly.
Find new learning resources, set up trials, and receive quotations and feedback to propose to the management team and follow up.
Liaise with partner universities and faculty members to manage blackboard accounts.
Ensure that inventory & stock are in good order, including shelving new and returned books. Maintain resources in their correct order for easy retrieval by students and lecturers, creating an ordered and professional Library environment.
Prepare, maintain, and provide statistics and reports. Perform clerical duties as consulted by managers.
Create documentation, guides and deliver presentations to assist students, lecturers, staff and other library users in using library facilities.
Work with virtual classes and events and uploaded materials to Learning Management Systems.
Perform other related duties as assigned by the academic management team.
Competencies (knowledge, skills, and abilities)
Essential
Vietnamese national
Holder of bachelor's degree preferably in Education/relevant subject
Excellent written and verbal communication skills, both in English and Vietnamese
Computer literacy – MS Office applications (Word, Excel, PowerPoint, Outlook) and library software applications in future scheduled working conditions
Good team worker
An appropriate manner for dealing with staff and students
Desirable
At least 1-year experience in a similar position in an academic library or an educational organisation
Able to work under high pressure
An appropriate manner for dealing with staff and students
An ability to cope with interruptions while concentrating on diverse task
Competencies (behavioural)
Essential
Careful
Hard-working
Responsible
Active
Desirable
Benefits
Competitive salary package (gross)
Recognition and Reward Programs
13th month Tet bonus
Performance bonuses
Paid Time-off (annual leave, sick leave, holidays)
Healthcare plan (Private premium accident, medical insurance, dental insurance, free assessment to medical suite)
Business travel insurance
Onsite fitness and sport center
Education support for staff and children
Transportation support
Flexible working arrangement
Opportunity to work within a professional and multi-cultural environment
Various staff events throughout the year (outing, year-end party, sport activities and other events recommended by the staff committee)

Application
Interested candidates should send an updated CV with recent photo, a Cover letter in English, and supporting documents to the HR Department. We will invite short-listed candidates for interviews. Recruitment will remain open until the position is filled.
Contact details
Contact Name               : Human Resources Department
Method of Contact      : Email or post
Address                            : Ecopark township, Van Giang, Hung Yen
Email                                : hr@buv.edu.vn
Submit Your CV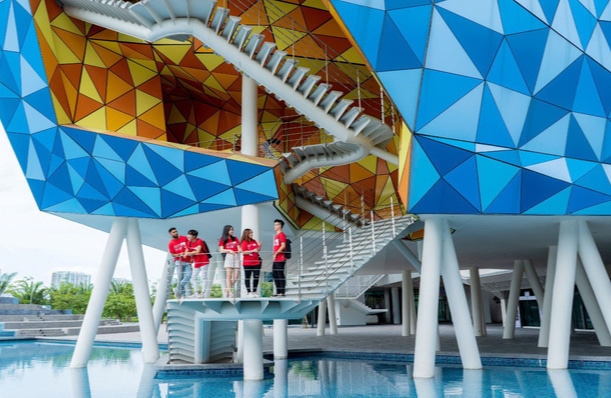 Contact details
Contact Name: Human Resources Department
Method of contact: Email or post
Address: Ecopark township, Van Giang, Hung Yen
Email: hr@buv.edu.vn