 Job Description
BRITISH UNIVERSITY VIETNAM (BUV)
British University Vietnam (BUV) is the first and only international University in Vietnam to award direct British degrees from the prestigious University of London and Staffordshire University. BUV's mission is to develop highly employable graduates who are first and foremost good human beings with ethics of kindness and caring. They will also be:
cross-disciplinary in skills and language;
innovative, imaginative, and respectfully confident;
committed to continuous learning and development.
BUV expects all its staff, students, and stakeholders to be courteous and care about the well-being of people; to respect their environment; and be socially and culturally inclusive.
Established in 2009, BUV provides teaching for undergraduate programmes and an MBA. Employability rates for students are exceptionally high with 100% of graduates from BUV either having a job or continuing higher education within 3 months following graduation.
With a wide network of more than 400 enterprise partners in various fields and internship programmes from the first year, BUV helps students gain professional knowledge and practical skills to meet employers' requirements as well as be ready to develop their careers immediately after graduation.
Students study at BUV's world-class and state-of-the-art campus in the Ecopark township, with its state-of-the-art teaching and learning facilities and iconic design, BUV is recognised as one of the best educational environments in Asia.
POSITION PURPOSE
The Associate Manager, Marketing Automation & Digital will be responsible for leading the marketing (MKT) automation team to deploy, and manage the system, build a customer-centric Customer Journey Mapping, implement relative digital campaigns, and provide the brand team, product marketing team, and digital team with valuable data-driven insights and analytics.
This position will report to the Senior Manager, Marketing & Communications and work closely with all other teams in the Marketing & Communications department to deliver the department's goals through the successful deployment Marketing (MKT) automation system and launching effective digital marketing campaigns on this solution.
The ideal candidate should be proactive, tech-savvy, and keep up with the latest Martech trends.
AREAS OF RESPONSIBILITY
General requirement:
Master the digital platforms, the workflow and Marketing technologies to provide strategic advice and consultation to the leadership.
Lead the digital change of the University, be the champion and key stakeholder of digital transformation process.
Lead the Marketing Automation & Digital team to set up and build relevant working processes and procedures for digital areas.
Marketing Automation & CRM:
Play the role of project leader to deploy marketing automation project and as platform administrator to set-up working process, rules and manage the system.
Coordinate with ICT and suppliers to manage and maintain the platform in the most effective manner to ensure smooth operations.
Establish optimization solutions and continuous improvement plan across digital and social channels using the power of MKT automation solution.
Develop data-driven digital strategy to be aligned with brand strategy, and work out annual/quarterly/monthly plans leveraging informative and insightful systems' analytics.
Leverage the system to deploy aggressive and effective organic search optimization, re-targeting and other digital campaigns (organic and paid ad)… to achieve team's KPIs and overall business results.
Deploy A/B testing for every CRM campaign, digital campaign, especially for new brand campaign Key Visuals, messages and content across digital platforms including social medias, website, landing pages… to find out what works and what doesn't before MKT team rolls-out a campaign.
Represent MKT team to collaborate with ICT team, and other stakeholders in deploying CRM for BUV.
Extract data, reports from MKT automation system, CRM… and make necessary analysis with proven information to help brand team, product team create insightful and effective marketing campaigns.
Define and illustrate a practical and reasonable CJM with specific touchpoints and actions.
Collaborate with other teams to continuously improve website quality in terms of UI, UX…as a part of MKT Automation optimization.
Others:
Oversee the work of MKT automation team.
Keep up to date with the ever-shifting social media landscape & digital mediums.
Any other responsibilities that may be assigned from time to time.
Job Title
Associate Manager, Marketing Automation & Digital
POSITION SPECIFICATIONS
COMPETENCIES (knowledge, skills, and abilities)
Essential
A Diploma or bachelor's degree in marketing communications, IT or Digital related.
A minimum of 5-7 years of experience in Martech or Digital marketing with a proven track record of success in deploying marketing automation solutions and digital campaigns.
A tech-savvy digital marketing leader with solid understanding of both digital and up-to-date marketing technologies.
Key skills:
Proficient in marketing automation and CRM platforms.
Advanced English skills, proficient in speaking – listening skills.
Excellent project management and prioritization skills with strong attention to detail, and high-quality work ethic.
Must be resourcefuland a data-driven performer.
Ability to operate under deadline and coordinate multiple projects simultaneously.
Highly self-motivated and have experience working in a fast-paced, team-oriented, collaborative environment.
Demonstrate ability to learn and adapt quickly and be excited to expand his/her skills.
Experience in these areas is a major plus: branding, IT, CRM.
A resilient team leader, a supportive and collaborative team player.
Desirable
Readiness towards learning, honesty, attentivity, and sensitivity towards marketing trends;
Readiness toward learning, and a sense of responsibility.
Experienced with Adobe MKT automation.
COMPETENCIES  (behavioural)
Essential
Work organising and time management skills
Creative thinking & innovation
Teamwork and collaboration
Detail-oriented, attentive
Can-do attitude, proactive
Effective communication
Desirable
Explanatory presenting skills
Attitude – Perseverant
Attitude – Integrity
BENEFITS
Competitive salary package (gross)
Recognition and Reward Programs
13th month Tet bonus
Performance bonuses
Paid Time-off (annual leave, sick leave, holidays)
Healthcare plan (Private premium accident, medical insurance, dental insurance, free assessment to medical suite)
Business travel insurance
Onsite fitness and sport center
Education support for staff and children
Transportation support
Flexible working arrangement
Opportunity to work within a professional and multi-cultural environment
Various staff events through the year (outing, year-end party, sport activities and other events recommended by staff committee)

Application
Interested candidates should send an updated CV with recent photo, a Cover letter in English, and supporting documents to the HR Department. We will invite short-listed candidates for interviews. Recruitment will remain open until the position is filled.
 Contact details
Contact Name               : Human Resources Department
Method of Contact      : Email or post
Address                           : Ecopark township, Van Giang, Hung Yen
Email                               : hr@buv.edu.vn
Submit Your CV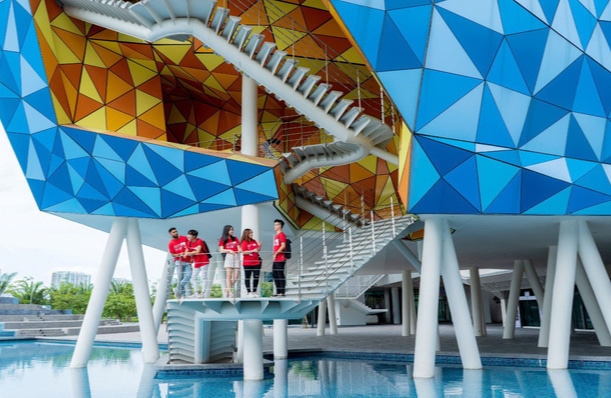 Contact details
Contact Name: Human Resources Department
Method of contact: Email or post
Address: Ecopark township, Van Giang, Hung Yen
Email: hr@buv.edu.vn