BUV Open Day 2017, hosted by British University Vietnam, attracted many parents and high school students' from Hanoi and other provinces.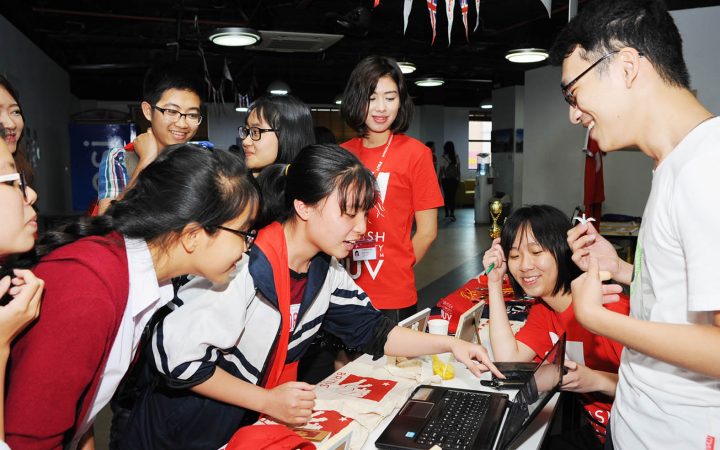 Coming to BUV Open Day 2017, high school students visited BUV's international studying environment, a "Miniature UK" exhibition, featuring vivid imagery of famous cities, and gourmet cuisine of the country. Luong Anh Ngoc, a student of Quoc Oai High School in Hanoi, said: "Today is the first time I have come to BUV, I like the space here because it inspires students. Not only has my knowledge of the UK been enhanced, I have received enthusiastic and helpful advice on the BUV scholarship programmes."
Both parents and students joined useful information seminars such as: career orientation with human resource professionals, successful tips to win a 700 million VND scholarship, talk show of the university's international students, free IELTS exams. In particular, interactive classes with topics relating to finance, accounting, economics, marketing and tourism attracted many students who are still confused, and not yet fully aware of these programmes. Sharing her feelings about BUV Open Day 2017, Thach Thao, a student from Yen Hoa high school said: "I have learned a lot of interesting things, experienced new things, and have got some useful advice about the future. I liked the International Business Management class today, very useful and interesting."
Discovering the exciting student club system, singing, playing and receiving valuable presents was a great part of the fun that could not be missed. Apart from IELTS tips and scholarship tips, all students got detailed consultancy about studying programmes which matched their competencies and interests, as well as international student exchange programmes. Mr. Chris Jeffery, Dean of BUV said: "Today's event is all about experiencing British Education and about how a British Degree can help you develop your career. So, we are very pleased to welcome hundreds of Vietnamese students today to our campus here, in BUV. So, they can start their journey to get their career of choice."
At this event, BUV awarded a lot of scholarships and bursaries of degree programmes and IELTS courses to all students who applied and enrolled in 2017.