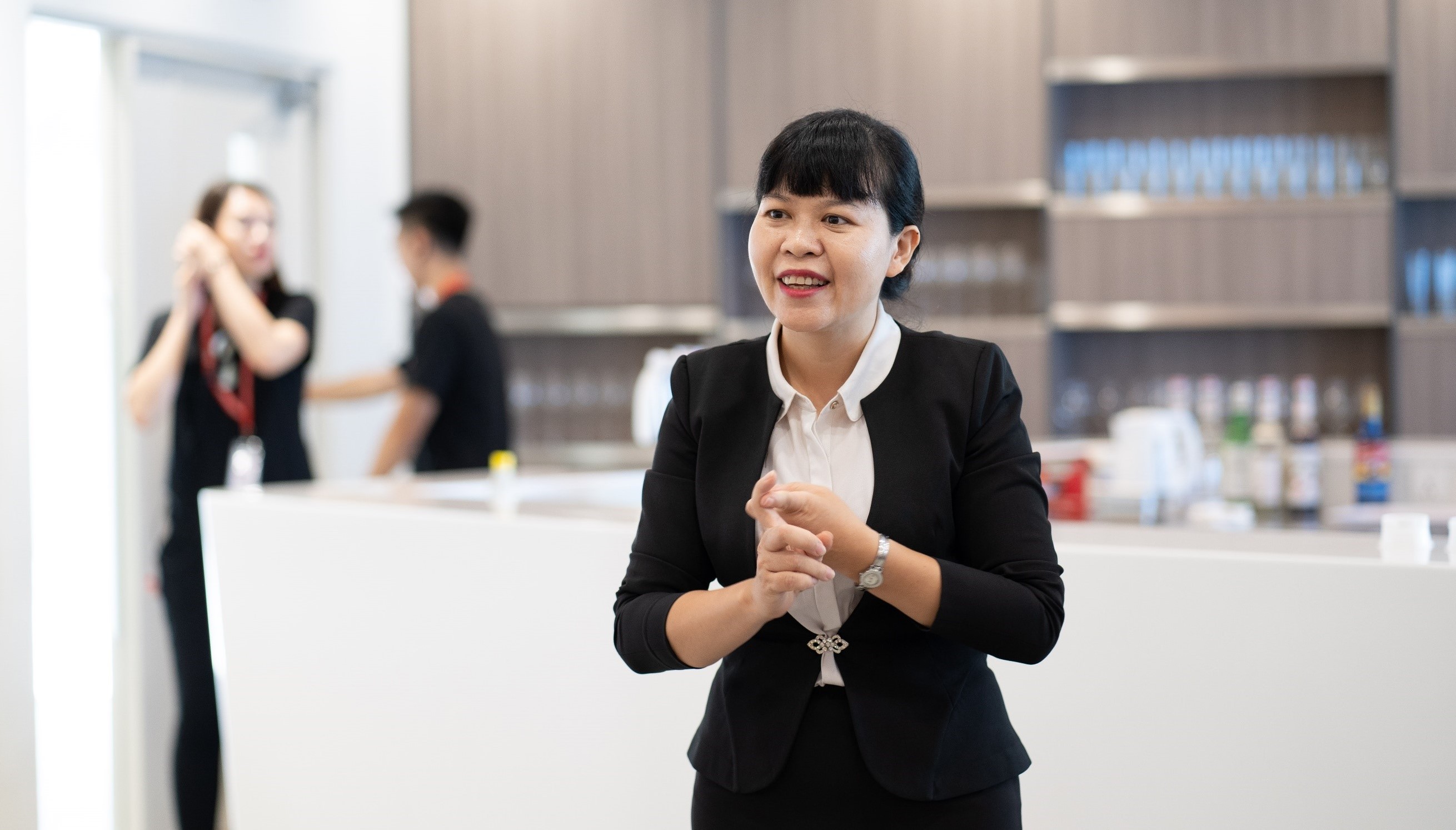 BUV partners with leading national and international business organisations to foster mutually beneficial partnerships that provide students and alumni a diverse and dynamic career path as well as employees who not only have the knowledge and language ability required for today's business world but also the skills to make them 100% work ready.
Through guest lectures/seminars by corporate executives, company visits, sponsorships and tailored programmes, we maintain excellent and supportive relationships with many reputable organisations across Vietnam and throughout the SEA region as well as the UK.
If you are interested in partnering with British University Vietnam to enhance your image, provide trainings/workshops with your expertise, or access our high-quality pool of candidate for internship or employment, please contact us at SE@buv.edu.vn.
Our Alumni
Where are They now?
A BUV degree is for life
Faculty and team continues after graduation to make sure that we can support your career development and fasten your path to success. As alumni of BUV you are granted access to a growing number of exclusive and exciting benefits and privileges. These include:
Exclusive Networking Events with Business Leaders
Special Social Events and Activities
Alumni Email for life
Continued Career Counselling and Support, including regular employment opportunities with leading local and international businesses
Graduate Degree Application Counselling and Guidance
Exciting discounts & special offer of memberships from BUV's partnered service providers
Please click here to update us on your journey
In addition to full employment within three months of graduation for all our graduates, we are equally proud of our alumni who choose to go further with their studies overseas. BUV graduates have been offered places on graduate programmes from some of the world's top universities including London School of Economics (UK), The Strasbourg School of Management (France), Warwick University and many others.
Our Outstanding alumni stories
Vu Tra My
International Business Management, Staffordshire University – Class of 2016
 My graduated from BUV with First-Class Honours in her International Business Management bachelor's degree. My is now pursuing Master's degree in Media & Communications at City, University of London, one of the top 5 universities in the UK. My studied A Levels in the UK, following a scholarship at a boarding school. She then found the opportunity to study her undergraduate degree in a British education environment right here in Vietnam – BUV. My realised that she can still get world-class qualifications while being near to family and friends. That's why she chose British University Vietnam.  
During her study, My achieved Merit Certificates for Academic Excellence for having the top grades in her class. During her third year, My was awarded a free Study Trip to the UK for 18 days for having the highest grades in the whole university.
My shared that at BUV, she didn't just learn facts and figures, but gained so much more in other vital skills. My has developed her ability in independent study, research, analysis, evaluation, leadership, teamwork, presentation, and communication.
Her study at BUV has helped her to conquer many challenges during her internships, and helped her to improve her academic and professional English. My recently obtained an IELTS score of 8.5 – 9.0.
My's message to BUV students is as follows: "I believe that hard work always pays off. If you think you've worked hard and it still goes nowhere, it only means you haven't put enough time, effort and dedication to it."
Nguyen Vu Nam Phuong
Marketing Management, Staffordshire University – Class of 2015
Phuong has been an energetic and dynamic student since high school. She was born and grew up in Buon Ma Thuot – a small highland city in Central Vietnam. Phuong expressed her passion to come to Hanoi and study at BUV, and as a result she was awarded the HRH Prince Andrew Scholarship in 2012. Phuong studied Marketing Management and graduated with First Class Honours, and the highest grades among her cohort in the Class of 2015.
Within 1 month of graduation, Phuong got a number of offers from local and international companies. After 1.5 years working as Country Manager for Vonvon Inc., (a Korean Tech company), she developed more than 1.2 million active users in Vietnam, with 5-16 million visitors every month. Currently Phuong works as a freelance marketing professional who gives consultancy to local companies on integrated marketing management and brand identity development.
Phuong shared with us that the foundations of marketing knowledge and skills she gained in BUV have helped her tremendously in her work. Phuong has seen that during her 2 years working, many people misunderstand what marketing is.  But Phuong was lucky to have accurate and deep expertise in marketing management, all as a result of her study at BUV.
During her bachelor's degree studies, Phuong always tried to balance her academic achievements and social contributions. This enabled her to form a holistic set of skills and build a wide network. Many years after graduating, Phuong recently reached out to Jon – one of her lecturers, to ask for some help and consultation, and Jon happily gave her advice and useful research papers. The two were able to discuss and reminisce about her time at BUV.
Nguyen Khanh Linh
Banking and Finance, University of London – Class of 2016
Now Linh has finished her study at BUV she plans to pursue a Master's degree in the UK. She graduated with Second Class Honours (upper division) under our UoL international programme. Linh states that BUV is a wonderful place to study and to belong to, and she really enjoyed her time here with BUV's teachers, classmates and staff:  "Thanks to BUV, I've developed many skills and knowledge in English communication, leadership, problem solving, research and analytical skills".
Dang Viet Anh
International Business Management, Staffordshire University – Class of 2013
Viet Anh is a highly self-motivated, adaptable and organised individual who graduated from BUV with a Merit in International Business Management. After graduating, he applied for the position of Operations Staff in Noi Bai Catering Service – a subsidiary of Vietnam Airlines. His international degree as well as the experiences he gained through internships during his 3 years of study has equipped him with the skills and knowledge to be successful in his very first position. He has since been promoted to the position of Supervisor at Vietnam Airlines Catering Services.
Viet Anh is passionate about working in aviation services, and he is dedicated to developing his future career, which we know will be a great success.
Viet Anh's message for BUV students is the following: "You can't be a master of everything, so find your strengths and learn to master them."
Vo Tran Trang Thy
International Business Management, Staffordshire University – Class of 2016
Trang Thy was one of four BUV students awarded The HRH Prince Andrew, Duke of York Scholarship, in 2013.  She graduated in 2016 with a First Class Honours degree in International Business Management, awarded by Staffordshire University.
Through her years at BUV, Thy repeatedly achieved the Academic Merit Award and Excellent Academic Achievement Award in 2013, 2014 and 2015, and an Honourable Mention Award by the AmCham Scholarship in 2015.
Thy is now a Commercial Management Trainee at Nestlé Vietnam, as she wants to pursue a career in Marketing for the FMCG industry. This Management Trainee programme will assist Thy in her goal to become a Brand Manager in just 3-5 years.
Thy shared the following feelings after graduation: "College is one of the most memorable times of your life. It is a time for acquiring both hard skills and soft skills for your future career, and experiencing meaningful activities such as joining clubs or charities, while getting exposed to the professional world, expanding your network and making some lifelong friends. In Vietnam, BUV is the best place for that combination. Choosing BUV, you are really half way there. The other half is you enjoying the journey and making your college life a dream come true."
Pham Vu Uyen Phuong
International Business Management, Staffordshire University – Class of 2016
Phuong is one of 4 students who received The HRH Prince Andrew, Duke of York Scholarship in 2013. She graduated in 2016 with First Class Honours. During her time at the university, Phuong also achieved the Academic Merit Award awarded by the Dean for high academic results.
"The scholarship offered me a great opportunity to pursue British world-class education – which I always dreamed of when I was in high school, and I could not afford the expensive tuition fee of international university in Vietnam or studying abroad.
The knowledge I gained from BUV is really practical and it enabled me to learn about the business world more easily and closely. I was also equipped with the interpersonal skills needed to sharpen my employability."
Phuong is currently working as a Marketing Assistant for Consumer Health Care products at Sanofi Vietnam - one of the biggest multinational Pharmaceutical companies worldwide, headquartered in France.
Nguyen Mai Lan
Marketing Management, Staffordshire University – Class of 2015
Lan gained her Bachelor of Arts in Marketing Management with First Class Honours in 2015. After graduating from BUV, she started her career as a Study Manager at Apollo English Vietnam. With her Marketing degree and knowledge, she was fully equipped to understand customer insights, and therefore meet their expectations. This assisted her tremendously in her work and in her sales record. During her 8 months being in charge of student recruitment, Lan always reached and exceeded her revenue targets. Lan then went on to work as a Marketing Executive of Apollo English 360 Vietnam. In this position, Linh said that she has been able to apply all the knowledge she gained at university, making marketing plans, increasing brand awareness, and boosting the company. Lan is now pursuing a Master of International Business at MDIS, Singapore.
Lan says that even with her energy and vitality, she still needs to relax sometimes. For her, meeting her friends and reading books are her favourite methods for winding down.
Mai Lan's message to BUV students is that "success is merely a collection of failures, so don't be afraid to make mistakes."
Doan Huong Linh
Marketing Management, Staffordshire University – Class of 2015
Linh graduated with First Class Honours in Marketing Management in 2015. She is currently working as a Senior account executive at Bubble Marketing Agency and is planning on further study in Denmark this year.
During Linh's years at BUV, she proved herself as a very active student who was appointed as a Student Ambassador, member of the Student Association Committee, and received the Dean's certificate of contribution to the University and society. Linh has shared that studying at BUV helped her gain critical thinking skills. She developed these through workshops, lectures, and with support from the faculty and her lecturers.
This means that Linh has learnt how to solve problems by seeing them from different perspectives, to be creative and efficient in getting jobs done. Linh is also grateful that BUV's academic semester had a 3 month-break, enabling her to take on internships at different corporations and SMEs. This meant that when she graduated, she was work-ready. That's why she's now already a Senior account manager, trusted by her bosses and empowered to deal with large clients and make important decisions on her own.
Linh's message to BUV students is as follows: "Set a goal and stick to it, once you know what you love to do and with the support from BUV, you can gain experience during your study, and you will be work-ready even before you graduate."
Doan Van Tuan
International Business Management, Staffordshire University, Class of 2014
 Tuan graduated with First Class Honours in International Business Management. After graduating, Tuan entered the real estate market and worked as a leasing executive at Colliers International and Vinhomes Times City real estate trading centre. He then opened his own company, JNL Vietnam Ltd. in November 2015. His main business is leasing property to corporations and expatriates. Tuan has shared that his time at BUV really equipped him with the skills and knowledge to be confident and build relationships with customers and partners. His degree in International Business Management also helped Tuan learn how to manage teams effectively as well as partner with Vinmart+ on their projects.
In September 2016, Tuan started his MSc in Real Estate at EBS University in Germany (ranked 3rd in the world for Real Estate Management in 2016) and was awarded a Silver Scholarship (50% of tuition fees).
Tuan plans to stay in Germany to work and continue his own company's development, building connections between German businesses and Vietnamese corporations.
Nguyen Quang Son
Banking and Finance, University of London – Class of 2015
 Son is a graduate of Banking and Finance at the University of London, he has had a passion for maths since he was a young student and that passion led him to the UoL degree. He graduated with First Class Honours. Son has an impressive academic performance record with a gold medal in The British Mathematical Olympiad and the highest score on the Corporate Finance Exam of The University of London among all test takers worldwide, and recently he has been successfully admitted to LSE & HEC Paris for a Master's degree in Finance. Son is now working as an Investment analyst in a Singapore-based private equity firm and he's applied his knowledge, expertise and skills from his Banking & Finance course to his current job. We know that Son will continue to be successful in future.
Nguyen Mai Chi
Accounting and Finance, Staffordshire University, Class of 2016
Chi was an outstanding student who was awarded The HRH Prince Andrew Scholarship in 2013, and has now graduated with First Class Honours in Accounting and Finance. During her 3 years at BUV, Chi was a very active student, in the Student Association Committee in 2014 and 2015, taking part in and organizing many student events and activities. Being the President of the Dance Club, Chi also worked as a fitness instructor as her part-time job. At the same time, Chi completed internships at 3 different companies including Mazars and Prudential.
Chi says that "BUV always supports and encourages students to develop both study and social skills. I had the chance to get access to the most up-to-date international business knowledge, and moreover, since all the modules, examinations and assignments are done in English, my English skills have improved significantly. Sometimes, we had to carry out a project or presentation on a real company and on real economic situations; this helped us understand more about the global economy and gain practical experience.
 Not only does BUV equip students with knowledge but BUV also helps students to gain necessary skills for careers and higher study including team-working, event management and leadership, all through various activities and clubs. As BUVers, our team was able to organize the Christmas party, Halloween party and summer trip by ourselves with the support from BUV."
 Chi's message to BUV students is "If you have a dream, plan for it and stick to the plan. If you ever fall down, stand up and keep moving forward."
Do Tuan Huy
Banking and Finance, University of London – Class of 2016
 Huy encountered many challenges during his time at BUV. These challenges helped him understand more about himself, discover his strengths and weaknesses, improve his time management skills, and his ability to work under pressure. Huy has learnt to be self-motivated, but still knows to seek help when he needs to. The knowledge Huy gained also gave him valuable insights into how different parts of the world work.
Huy is now one of 28 Participating Youths representing Vietnam in the Ship for Southeast Asia and Japanese Youth Program 2016 (SSEAYP 2016).
Huy's message for BUV students is the following:
"You have to find the method that works for you, be it working, studying or anything. While it is true that the experiences and methods other people share with you are valuable, those things were drawn from their own lives and forged from their unique perspectives. It might work for them, but might not be as effective for you. So take what you can from the advice of parents, teachers, friends, but don't blindly follow them. After all, you will eventually have to know yourself best"
NGUYEN THANH CUONG
International Business Management, Staffordshire University – Class of 2015
Cuong is a graduate of Staffordshire University with Second Class Honours – 1st division. During his study at BUV, he also showed himself as a very active, dynamic and self-motivated student while participating in many social activities and events. Cuong strongly believes in people's good intentions, and that coaching can help them utilize and maximize their potential. That's why he accepted an offer to work for Growth Catalyst Vietnam, a sales and coaching training company.
Cuong knows that he has gained lots of fundamental knowledge and skills from his International Business Management degree  and the extra-curricular activities he participated in, such as careers workshops and soft-skills training sessions. As a BUV student, Cuong had the chance to get to know and talk with many senior managers through different programmes and activities of BUV, which gave him real knowledge of the working world.
Cuong's favourite quote is "Quality questions create a quality life. Successful people ask better questions, and as a result they get better results" - Tony Robbins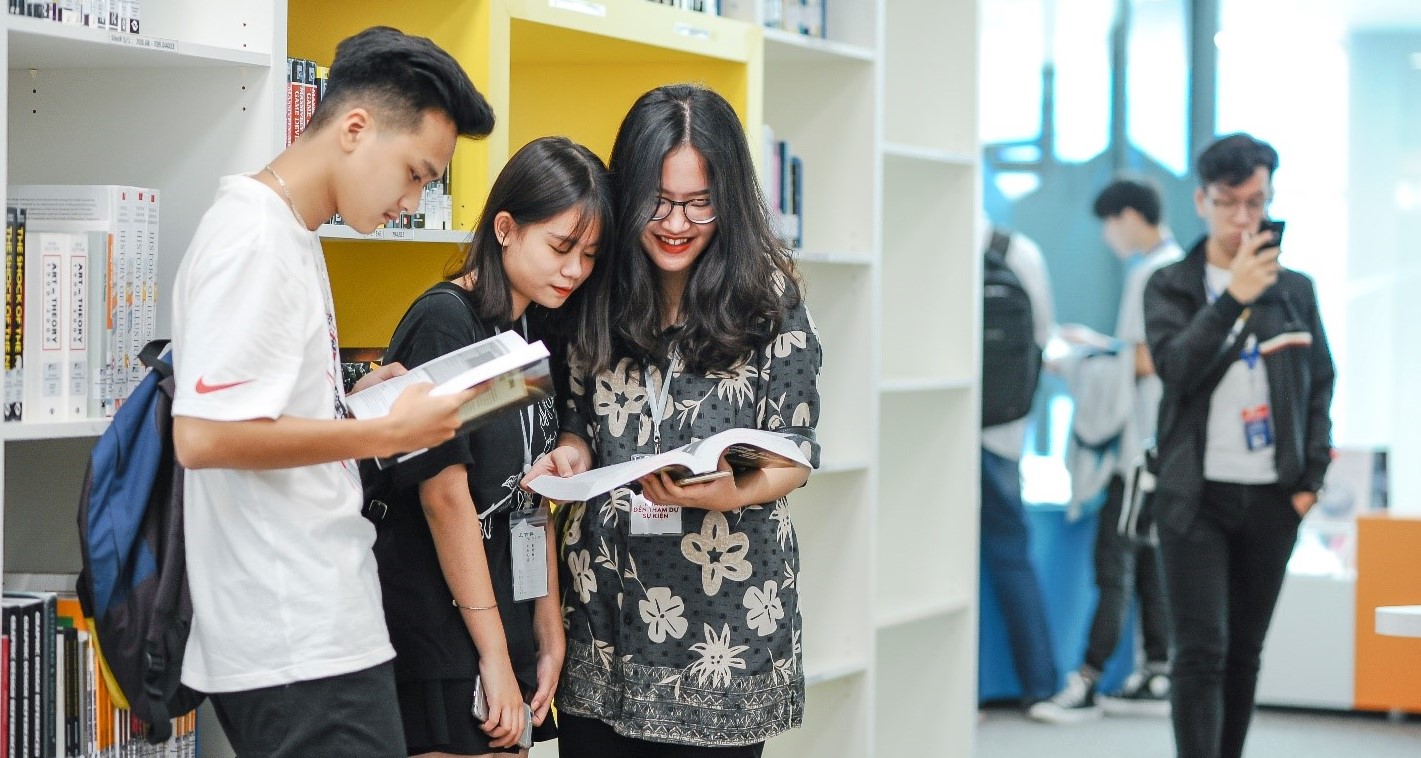 Career Prospects
BUV students also have an extensive skills based training courses to ensure that you stand out of the crowd, through our first year experience programme as well as careers seminars.
If you need any employment and internship advice, career consultation, or simply need someone to talk about your interests and passions to find out what you are good at and what your strengths are, drop by our Student Experience Department on Level 3 – we are always available to assist.
Internships
Steve Jobs and Bill Gates both started their career as an intern!
Internship plays a crucial role in student life at BUV, our students can apply and take internships from the first year of their study and our Student Experience Team offers counselling services to help each individual achieve the goals that they and their family have set, providing a tailored well rounded experience that provides an excellent preparation to getting your first role within business.
Through our links with UK firms, the British Business Group Vietnam, as well as other business chambers, alongside with VCCI and VBF, we can reach out to all organizations to provide the best possible opportunities to our students.