On April 8th, 2017 British University Vietnam was honoured to become one of 75 FDI enterprises receive the Golden Dragon Award for high quality education services, voted by consumers. BUV has won this award for 5 years in a row.
The Golden Dragon Award is a prestigious award, initiated by the Vietnam Economic Times since 2000.  British University Vietnam is proud to be named in the ceremony honouring businesses that deserve this award.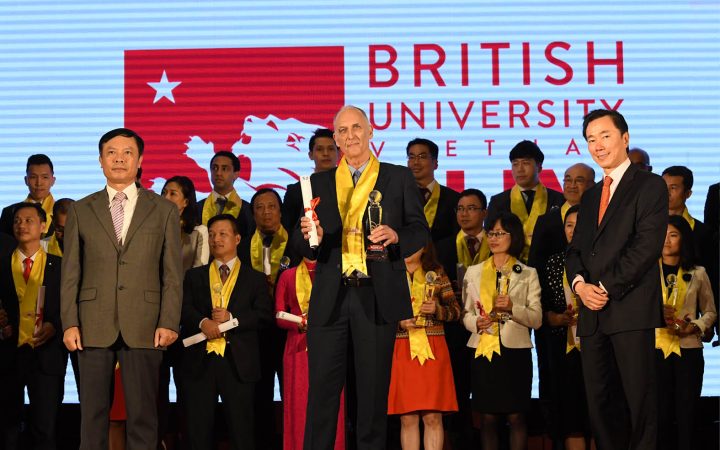 On a behalf of BUV, Mr. Tony Summer, Deputy Dean received this award. He said: "I am extremely honoured and proud to represent BUV to receive the prestigious Golden Dragon Award 2017. This award objectively judges and recognises the company's performance as an educational institution, our student's achievements, as well as the University's tremendous contribution to community and society. BUV will continue to maintain the highest quality of teaching by our international Faculty and develop our facilities as the number or Programmes we offer grows. Our work at BUV provides opportunities for students to access UK higher education here in Vietnam and will help to develop high quality human resources for Vietnam in the forthcoming years."
BUV strives to upgrade the quality of its training, facilities, and human resources to ensure that Vietnamese students have a world-class education with experience, job opportunities and a vibrant student life. Along with the prestigious Golden Dragon Award, our Ecopark campus with a total investment of 70 million USD, once again affirms BUV's commitment to long-term and sustainable development in Vietnam.