Succeeding in the Tourism industry requires students to have a rich knowledge and experience of famous destinations, history, culture of each landmark and also a full understanding of tour operations as well as management skills. In order to support Tourism Management students with a sound overview of local tourism, BUV organised, for the first time, a field trip to Da Nang – Hoi An, one of the top tourist attractions in Vietnam, from 21st to 23rd of April.
The trip lasted 03 days and 02 nights and brought fascinating experiences for our students. They had the chance to meet and talk with leaders of Da Nang Department of Tourism, gained insights and updates about fact  figures and strategies to develop this famous city's tourism. They then visited iconic landmarks such as Son Tra Peninsula, Ngu Hanh Son Mountain, the ancient town of Hoi An, My Son sanctuary, Han market, and more.
This educational trip helped students to understand more of what they have learnt from the academic modules, and all expenses of the trip were covered by BUV. "It was a great opportunity to learn from tourism managers and also discover how they apply their experiences in making important decisions to achieve sustainable tourism" – Ogbu Benneth Chima, student of Tourism Management.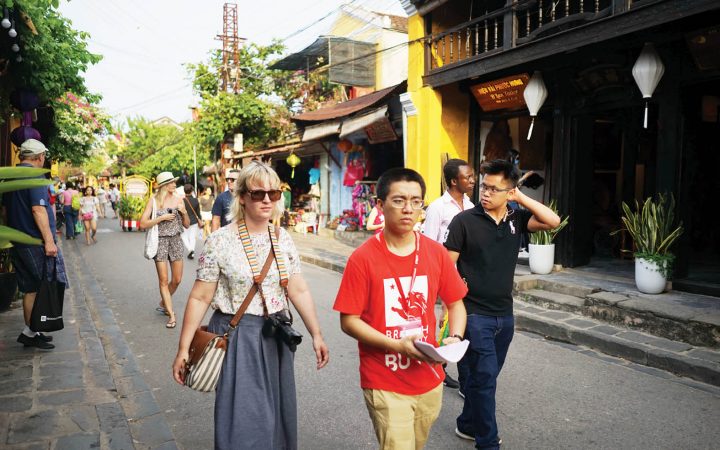 With the aim of supporting Vietnam's Tourism industry, BUV launched its Tourism Management course in 2015 to educate and provide high quality employees to work in the industry. Since then, BUV has been focusing on incorporating application into classroom theory, deploying large scale projects such as our Ecopark facility with a 5-star restaurant and hotel complex, exclusively built for practice and skills improvement of our students. The facility is planned to be operational by the beginning of 2018, with its high practicality, the facility will help inspire and boost students' creativeness, bringing them productive and efficient learning hours.