BUV Open Day is the biggest annual event held by British University Vietnam for high school students nationwide.  BUV Open Day is hosted on Saturday 15th April 2017 from 8.30 am to 3.00 pm at BUV Hanoi campus 193 Ba Trieu, promising to be the most anticipated BUV event this year, providing high school students with a vibrant British education experience day with a lot of useful information.
Joining this event, all high school students will discover a British study environment in a state of the art space from the welcome gate. All of them will be able to visit a miniature UK with scenic simulations, vivid images and features of famous British cities such as London, Liverpool, Manchester, Oxford, Bath, Cardiff and so on. In addition, they will experience demonstration classes with different majors such as marketing, finance, business administration and tourism. To students who are going to take the IELTS exam, this event will give them a great opportunity to do a placement test for free and learn tips for their dream IELTS score. Especially, participating in BUV Open Day 2017, all high school students will find out about full scholarships valued at 700,000,000 VND.  They can get direct consultation about how to submit their application as well as refer to previous scholarship winners' experience.
Open Day 2017 is also an impressive journey with "Miniature UK" exhibition, UK specialities, conferences with BUV students and lecturers, exploring the 13 student clubs with many attractive activities.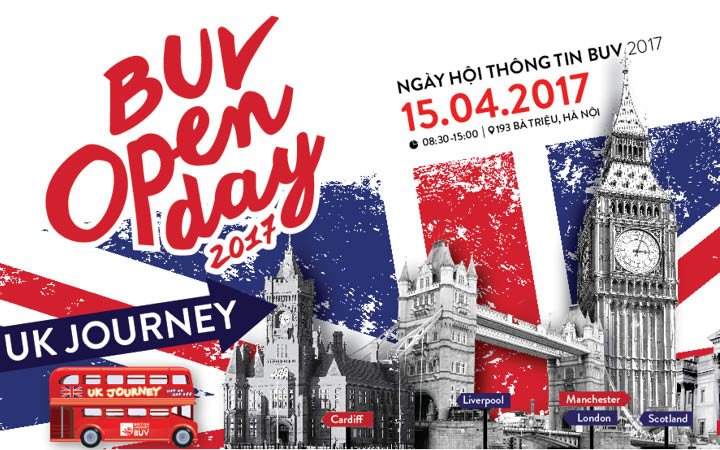 Apart from useful information, scholarship opportunities and a British tea break, all attending high school students will have a chance to participate exciting games and get a valuable "gift combo" and bursary scheme at BUV Open Day 2017.
Bursary Scheme at BUV Open Day 15th  April 2017
Discount 10% of degree tuition fee only for all registrations on Open Day for all launching degree courses in the year 2017
4 Degree Scholarships with value of VND 100,000,000 for 4 most outstanding applications on Open Day for all launching degree courses in the year 2017 (GPA of Grade 10 and 11 >= 8.0)
Discount VND 5,000,000 of IELTS course tuition fee for all registrations on Open Day for all launching degree courses in the year 2017
6 bursaries with value of VND 10,000,000 for 6 highest scoring students in the IELTS placement test organized in Open Day