On May 11th2017, British University Vietnam (BUV) and Vietnam Maritime Commercial Joint Stock Bank  signed an agreement to offer a  0% interest rate loan programme for tuition fees. This loan is available and offered to all students wishing to study at British University Vietnam.. The goal of this programme is to bring the dream of an authentic United Kingdom bachelor's degree to youths all over Vietnam.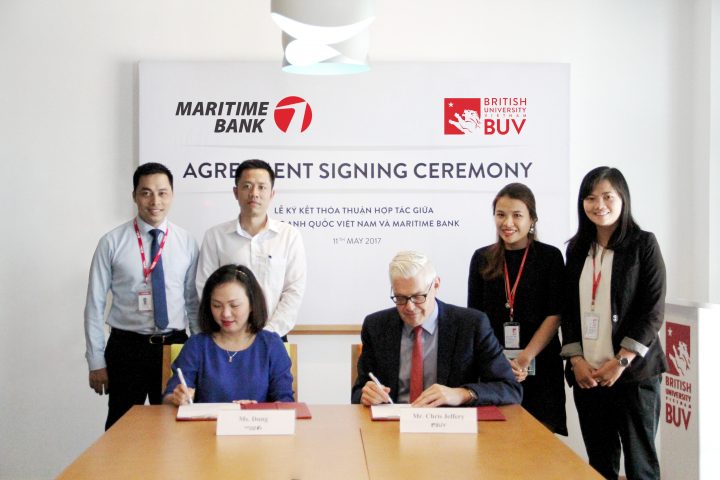 Under the agreement, Maritime Bank will assess applicants for a 0% interest rate loan to students' parents for tuition fee payment at BUV, on the receipt of written confirmation of admission from British University Vietnam. The loan amount will be in line with the financial status and payback ability of the student's family, and will not exceed 80% of the total fees of BUV. The university also agrees and commits to cover the lending interest rate of the disbursed amount, according to the schedule and principal repayment of the tuition fee loan, not including overdue interest (if any) or other charges by Maritime Bank.
Maritime Bank and British University Vietnam Sign Cooperation Contract
Mr Chris Jeffery (Dean of BUV) commented on the agreement as follows: "We are very proud of this cooperation. We hope that Vietnamese students will gain the opportunity to access an authentic UK education, equipping them with the right tools that they need to succeed in the future."
This agreement offers students the opportunity to study in Vietnam's top-tier international educational environment, without concern over the cost of tuition. The aim of the agreement is to provide financial support to students' families, but also to offer hope to students who wish to study an international, quality British degree programme.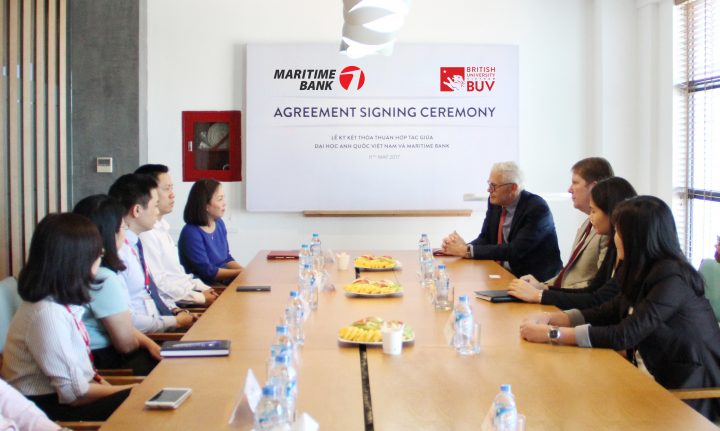 After much research and analysis, BUV came to the decision to join Maritime Bank in a strategic partnership to implement this meaningful programme. Maritime Bank is currently one of five biggest commercial joint stock banks in Vietnam, with a vision of becoming the best commercial joint stock bank in the nation. Both parties look forward to contributing to the improvement of human resource quality as well as the development of education in Vietnam in the future. Mrs Dang Tuyet Dung – General Director of Maritime Bank's Retail Sector, shared her feelings on the agreement, saying that "we believe that this cooperation is a vital step forward towards  long-term development, opening up great opportunities for Vietnamese students"
Additional information on BUV
British University Vietnam is the first and only university in Vietnam to offer bachelor's degrees directly from the United Kingdom. Students studying at BUV will receive their degrees from one of three reputable universities:University of London, Staffordshire University and British University Vietnam. Currently BUV is providing 06 Bachelor's programmes, including Banking and Finance, International Business Management, Marketing Management, Accounting and Finance, Tourism Management, and Finance and Economics. Anually, BUV offers the HRH Prince Andrew full-tuition scholarship for 04 Vietnamese students, with a value of 700,000,000 VND each.
In 2017, with the advantage of a 100% international faculty greatly experienced in Academic English training, British University Vietnam established the BUV Training Centre for English and Management Skills, offering a range of English and short-term specialised training courses for students and working professionals. By equipping our students with English proficiency, knowledge and skills essential for management positions in international and domesticorganisations, BUV Training Centre for English and Management Skills will accompany our students on their road to personal development and an excellentcareer path.