BA (Hons) Marketing Management
General Information
Degree: Bachelor of Art in Marketing Management (Awarded by Staffordshire University)
Duration: 3 years (full-time)
Key Features
The current business environment is strongly orientated towards well-trained and effective marketing personnel. The BA (Hons) Marketing Management award, was created as a result of the demand from employers for graduates with practical marketing skills, underpinned by an understanding of the wider business framework, whether in the context of commercial, industrial, professional or public sector organisations. The course is designed to equip you with the skills and knowledge to give you a head start in your career in marketing and is supported by a large group of specialist marketing and business tutors with strong links to The Chartered Institute of Marketing.
Study the wider business and legal environment, the role of marketing within that environment and how various aspects of an organization come together to serve the market
Aim at more specialist study of marketing and how marketing specialists add value to the organization through the understanding of customers.
Aim at skills and knowledge to start a career in the following areas: sales, advertising, public relations, brand management, retailing and general management.
Course structure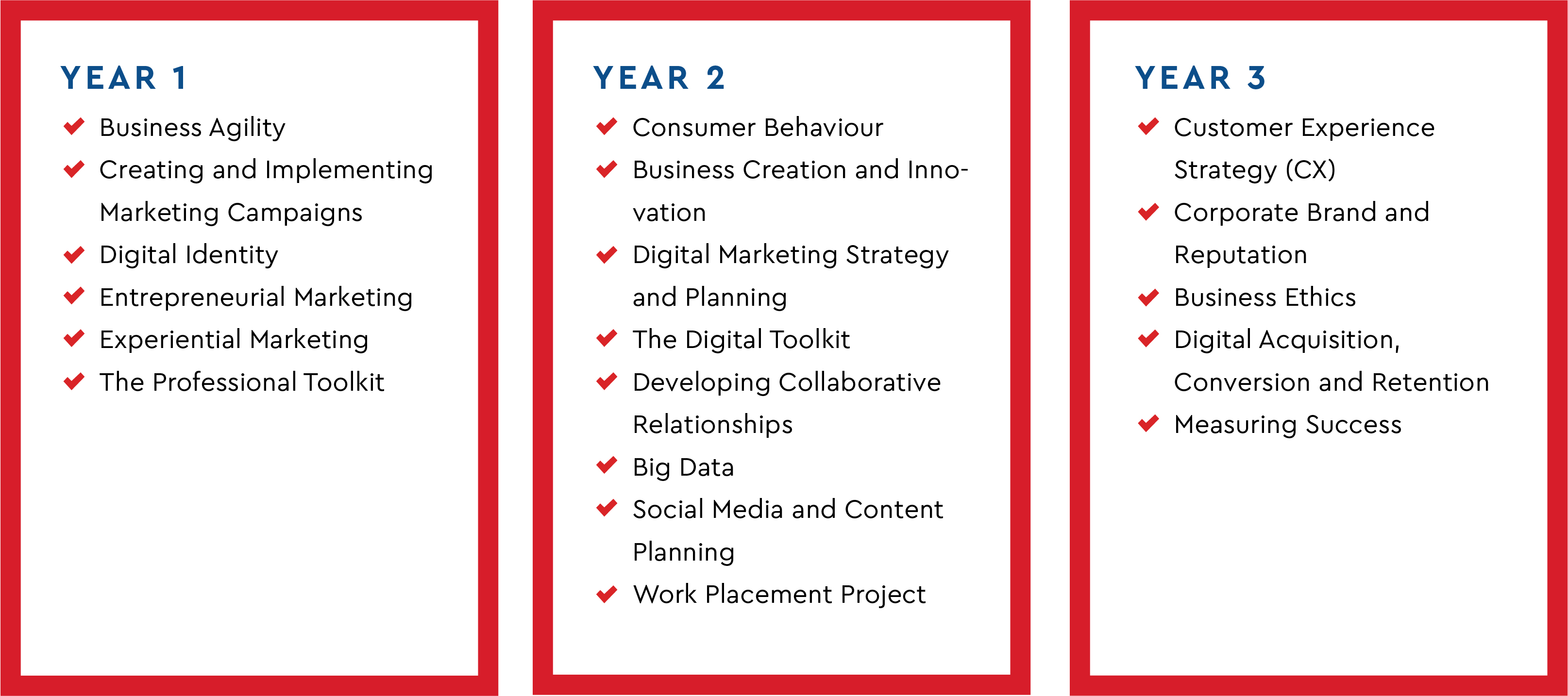 Entry Requirement
Academic Requirements:
17 years old and above and have both:
- Completed Year 12 (or equivalent) and
- A pass in a University Foundation Programme
British University Vietnam allows direct entry to qualifications where a student has satisfied the below requirements:
Obtained satisfactory English Language with IELTS score of 6.0+ (each component must score a minimum 5.5) or TOEFL (IBT) 87 (Minimum component scores: Listening 17, Speaking 20, Reading 18 and Writing 17) or equivalent and have passed at least one of the following options:
- 2 subjects at Advance GCE A level
- An access program passed at the required QAA- recognized standard for entry to Higher Education
- International Baccalaureate diploma with minimum of 24 points
Downloadables